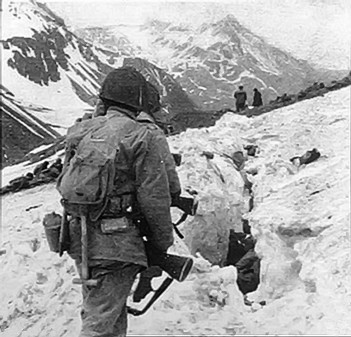 Frank Von Arx was on duty in the Aleutian Islands in Alaska when he wrote this letter to his friend Frank Gartz. He didn't seem to know much about the Second World War Japanese invasion of the Aleutian Islands in Alaska, although it was the first time it happened after more than a century. The Japanese never returned to American soil since 1812.
Frank Von Arx writes about the 11th squadron and how they fought the Japanese troops in Alaska. The conflict started on June 3, 1943, with a Japanese aerial attack at Dutch Harbor, on Unalaska Island. Things didn't work out for either parts, due to bad weather conditions. The fighting continued at Kiska on June 6 and on Attu the following day.
Frank Von Arx's letter begins with "Somewhere in the Aleutians". He must have been very eager to reply to his friend letter since he only received it a few minutes before he started writing his. He says he has the afternoon free and although it is quite unusual to be free, he will use the time to reply, the Chicago Now reports.
He says he hopes to see his friend soon and that he is happy to hear Gartz was a navigator on his side. He also asks Gartz about his fellow comrades, whether they are young or "fresh from civvies" or "old army men" and if there are any overseas men working with him. He praises the 11th Fighter Squadron but says most of those guys there have a two years experience and have been through a lot. They say they want to see the states but Frank does not think they will ever make it. " I have to laugh at the changes they'll see, especially T.S. army life."
Frank seems to complain a little about life during wartime in his letter, saying he dislikes the fact that they have to bring their own water from a mountain stream, just as they have to get their own oil and "shit in wind and snow."
He also lists the three most important rules to Aleutian life: "1. Never take off unless half the engines are running.  2. Never land unless one wheel is down, and 3. Never piss against the wind."
However, he admits it is a nice experience and ends his letter saying he has to go and grab his shots so the doctors don't get upset. He signs himself as Crew Chief Frank, 11th Fighter Sq, A.P.O. 980, c/o P. M. Seattle, Wash.