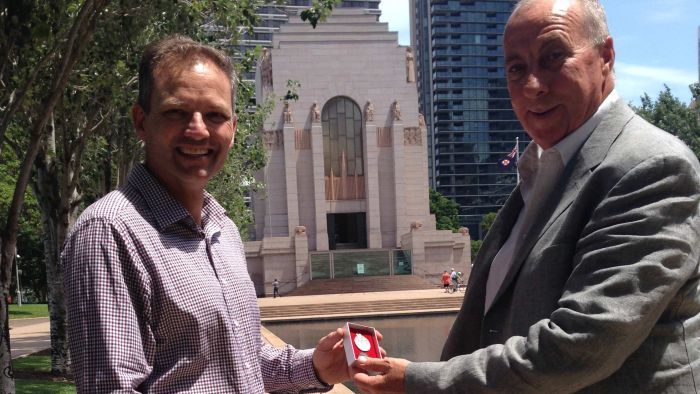 Valentin Henon discovered the dog tag in 2012, after using his metal detector in a field nearby where he lives, in northern France.
He asked for the help of another member from the metal detection history group, Philippe Clerbout, to try and identify the owner of the metal disc. They found out it once belonged to an Australian Private, called Cyril McCarthy, who joined up from Narrabri in 1916 and served at Messines and Passchendaele, with the 'C' Company, 33rd Infantry Battalion of the Australian Imperial Force.
In August 2013, ABC News Online, published the story of the dog tag, which put Lieutenant Colonel Glyn Llanwarne OAM of Lost Medals Australia in contact with Bernie McCarthy, grandson of Private Cyril McCarthy.
The dog tag has been returned to Mc Carthy's family, at the Anzac Memorial in Sydney. Although Valentin and Philippe couldn't travel to Australia to personally deliver the gift, they sent the family a parcel containing Private McCarthy's dog tag, two letters and a Rising Sun collar dog, worn by soldiers on their uniform lapels during the First World War.
"I'm extremely happy and proud. It's an incredible feeling and so gratifying to have it again after it sat there in the ground for so many years," said Bernie McCarthy.
It was surprising, however, the dog tag was found in Campagne-les-Boulonnaise as there was no record of the area being fought over during the First World War. Historians were able to trace down the man's service records and found out that on June 5, 1917, he was moved to the rear with the 1st Casualty Clearing Station at Bailleul, after being wounded in his left arm at Messines in Belgium. From there, he went first at Boulogne, to a Canadian hospital and then to France, where he stayed in a rehabilitation facility, the ABC News reports.
According to Australian War Memorial Aaron Pegram, on its way to the hospital at Boulogne, 'the ambulance wagon on which Pte McCarthy was travelling would have driven through Campagne-les-Boulonnaise,' and there is where the man got rid of his tag so his arm could be treated.
His service record on the Western Front revealed that McCarthy was often sick and had been reported for being drunk on duty and for leaving the camps to go in town without a pass. He was given a 10 shilling fine, listed as "Field Punishment No. 2".
He was injured two times. In 1917, after he recovered from the first wound, he was sent back to the trenches but was wounded again on May 10, 1918. The wound was so severe, they took him to Britain. He was discharged in June 1919.