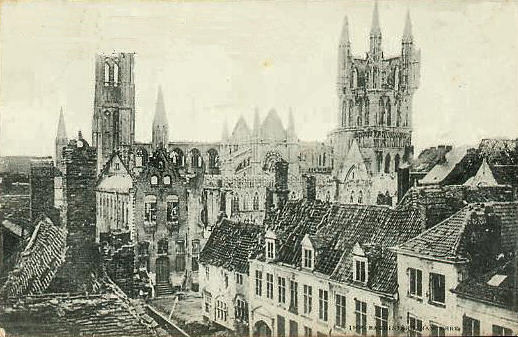 A big rise in the number of tourists is expected in 2014, to mark 100 years since the outbreak of the First World War. Maria Sainsbury has traveled all the way from New Zealand to visit some of the First World War sites in Belgium and France.
Ever since 1928, a group of bugles play the "Last Post" almost every evening, at the Menin Gate monument, in Ypres, to pay tribute to the fallen soldiers of the First World War. Sometimes, if you listen to them, you might just "choke up and cry", said Maria.
A century ago, Flanders was one of the most militarized areas in the world, with the whole of the Western Front measuring 60 kilometers – 37 miles. With the 100th anniversary of the war and four years of events approaching, West Flanders is preparing for a big rise in the number of tourists this year. Maria Sainsbury and other 30 or so, were seen listening to The Last Post. The Belgian government believes these numbers will soon explode, with the sites reaching almost 50 percent more people than in previous years. That makes it a total of two million visitors.
For Lea Winkeler, who is the WWI project manager at Visit Flanders government agency, the First World War centenary is also a very good opportunity for business. She says it is not only about the culture and the heritage but it is also about travel agents and carriers. She believes that although people fought and died in over 50 countries during the war, Flanders connects with the rest of the world through this event, the DW reports.
The Belgian government has invested 30 million euros into the preparations, museums, car parks, exhibitions and events. Some other local private businesses are trying to make the most out of the four year commemoration.
Jean Wyns, of Brussels City Tours, says he doesn't just want to double the number of 550 people he takes on tours every year, but he hopes to get as many as 1,500 visitors every year for the next four years.
As reservations come pouring at the Albion Hotel in Ypres, the owners are now adding 9 more rooms to the 23 already prepared for guests, 28 parking spaces and a meeting room. "For April, May, July and September, we have a lot of periods which are fully booked," said the hotel's owner Christiane Decramer-Praet.
The preparations so far include a new and special beer, called Paschendaele Beer and developed to remember the 1917 Battle of Paschendaele, which ended with almost 500.000 casualties.