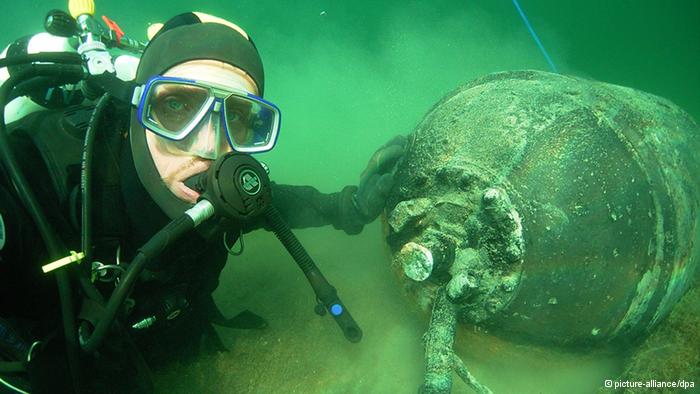 Tourists on the Baltic Sea island of Usedom can sometimes be seen collecting what they think is amber stone, without realizing it is nothing else but pieces of phosphorous, which can very easily catch fire and burn them.About 40 percent of the bombs containing phosphorus and dropped during the British raid on Germany in 1943, ended up in the sea, where they have been rotting ever since. About 65 bombs are found on Germany's coastlines each year.
According to state environment ministry of Schleswig-Holstein in Kiel, Mr Claus Böttcher, who has been researching the munitions off Germany's coast since 2011, about four of these bombs lead to injuries and their number is constantly increasing. It is believed that almost two million tons of munitions, explosives and poisonous gas, including chlorine, phosgene and mustard gas, were dropped into the sea by the Germans who did not want it to fall into the hands of the enemy. About 220,000 were dumped in the North Sea and 65,000 tons in the Baltic Sea, the DW News reports.
According to a spokesman from the Schleswig Holstein environment office, Mr Jens Sternheim, some of the containers at the bottom of the sea have remained intact, while some have corroded and others are completely empty. Researchers believe high releases of toxic chemicals later in the future are unlikely, although at the moment, many of these poisonous chemicals continue to leak all the time. However, Tobias Knobloch from the Federal Maritime Agency in Hamburg has confirmed it is impossible for the chemicals to enter the food chain.
Since underwater cables and wind turbines are set to be installed in some of these polluted areas, the waters will have to be cleared. According to Jürgen Kroll from the State Office of Criminal Investigation in Kiel, "due to the state in which the munitions are in, and the difficult conditions under the water, the experts often have no choice but to explode the old munitions."
A team of experts is currently searching for solutions to deal with this important issue. They are now collecting information on the areas where munitions have been buried.