In January 2009 Tracy and Martin visited the tiny Pacific island of Guam for the second time. We had stopped off there very briefly in 2006 on the way to Truk Lagoon (Chuuk) and Bikini Atoll but had never left the airport on that occasion. Following an article in Dive magazine about the Cormoran and Tokai Maru wrecks we decided to visit in conjunction with a third trip to the wrecks of Coron Bay in the Philippines.
All pictures in this article are by Martin Frankcom
The Buffalo Graveyard – "Sharks Point"
Beneath the cliffs at "Shark's Pit" the massive heap of discarded war equipment beggars belief and seems to spread for ever in every direction. It is reported that there are even some Japanese tanks down at 60 metres however we did not have tri-mix or the necessary support available to us to get down to that depth in order to see for ourselves.
Suffice it to say that even in the depths we chose we were not spoilt for sights – in addition to at least ten Buffalos we found the remains of a locomotive, a bulldozer, a large flat bed trailer and even a couple of wafer thin silver tea trays which sadly were concreted irrevocably to the surrounding metalwork.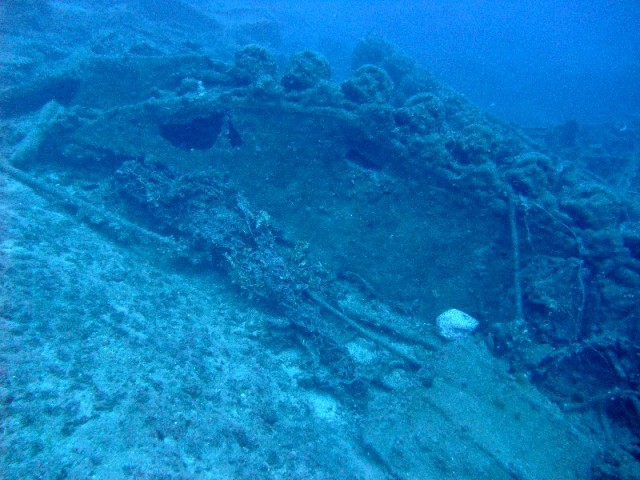 S.M.S. Cormoran
S.M.S. Cormoran and the Take a captured Russian mail ship, convert her by adding armour and guns in the Chinese dockyard of Tsingtao, and you have the Cormoran; or more correctly the Cormoran II. Effectively impounded in the main harbour on Guam she was eventually scuttled in 1917 by her own crew in order to avoid capture by the Americans.
She sits now within the confines of the harbour and is an easy dive by boat, taking less than 20 minutes from the dock to anchoring up over the wreck.
Tokai Maru
Less than thirty years later in World War II the Japanese freighter Tokai Maru was sunk by a US Navy submarine attack and she lies so close to the Cormoran now that it is possible to put your hands on one wreck and your feet on the other! There can't be all that many opportunities to do this anywhere else in the world!
Sadly the visibility within the harbour confines is none too good and getting decent photographs is difficult, however we managed to take a few, especially within the Cormoran's engine room and bathroom.
The American Tanker wreck
This is a most unusual wreck and a very interesting dive despite her somewhat unappetising description of a "concrete barge"! Rather than repeat everything we said in the main Guam page we'll let the photos do the talking instead!
All pictures by Martin Frankcom