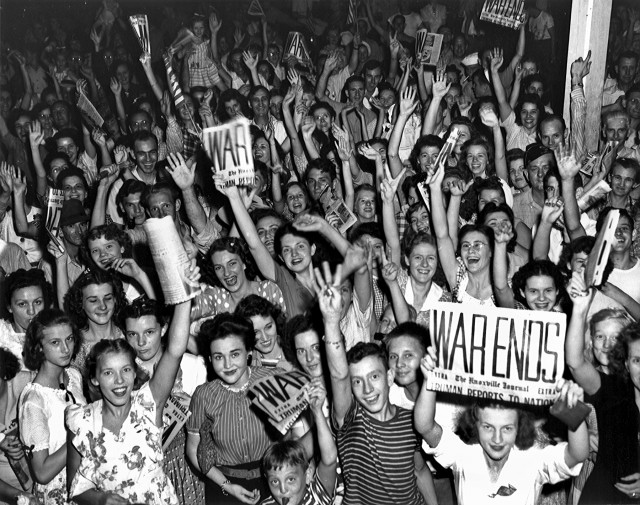 [Via]
Alongside Victory in Europe Day which is commemorated every year in May, Victory in Japan Day is also widely commemorated to remember the end of World War Two in the Pacific region, and particularly the victory over Japan.
This year it has been 70 years this August since Japan was defeated back in 1945.
In England, the Queen and Prime Minister, David Cameron, along with World War Two veterans, prisoners of war held in the Pacific and other dignitaries came together to commemorate the day with a service, parade and flypast over Central London.
It was three months after VE Day, that VJ Day was finally celebrated in 1945. It was brought about by the devastating atomic bombings of Hiroshima and Nagasaki that ensured the Japanese would surrender to the Allies. Around 140,000 people were killed when the atomic bomb was dropped on Hiroshima on 6th August 1945. Then three days later around 74,000 people were killed in Nagasaki by the second atomic bomb, The Independent reports.
Around 30,000 British troops lost their lives in the Pacific theatre of war, more than 12,000 of those died whilst being held prisoners of war by the Japanese.
Thousands of starving and emaciated Allied soldiers were liberated from prison camps throughout Japanese-occupied territory. Almost 100,000 British soldiers fought in Burma against the Japanese, while around 120,000 fought for the Allies who were of African descent. Almost 2.5 million fought in the voluntary Indian Army, along with 60,000 with the Royal Indian Navy and Indian Air Force.
In the Pacific, 51 British air missions were undertaken to support the ground war efforts, while the Royal Navy, Marines and Royal Indian Navy provided assistance to US troops in the region. It was a joint effort with forces from across the British Empire and Commonwealth that made the mission a success.
From further south, 15 Royal New Zealand Air Force squadrons took part in fighting over the Pacific, alongside the Royal Australian Air Force which flew over 45,000 missions in the region.
The Japanese used more than 60,000 prisoners of war from Allied forces to build the massive Burma to Thailand railway.