Near the Dutch town of Arnhem is a small but fantastic Air War museum about the air war from 1940-1945. The museum is housed on the edge of a former German Airfield in a building that housed FLAK (anti-aircraft) soldiers during the war.
The goal of the museum is to find, recover, document and preserve aircraft crash sites that in the Netherlands. Being under the direct approaches to the Ruhr countless Allied an German crashed in the Netherlands. A lot of the planes have been recovered since 1945 but many hundreds more are still buried deep in the Dutch soil or under water in the many lakes and rivers.
Their latest project is the recovery of a German ME-262 Fighter that was found not far from the museum, dumped in a bomb crater by the Germans to hide it from the Allies. The 262 was shot down on the 12 of September 1944 near the village Elden. The pilot Uffz. Schauder was killed.
Watch their video about the dig here:
Remains of the ME-262 were visible in the museum but under tin foil so I could not photograph them. Had I asked I could have seen them but alas, I did not.
What follows are pictures of some things in their collection, there is a lot more to see!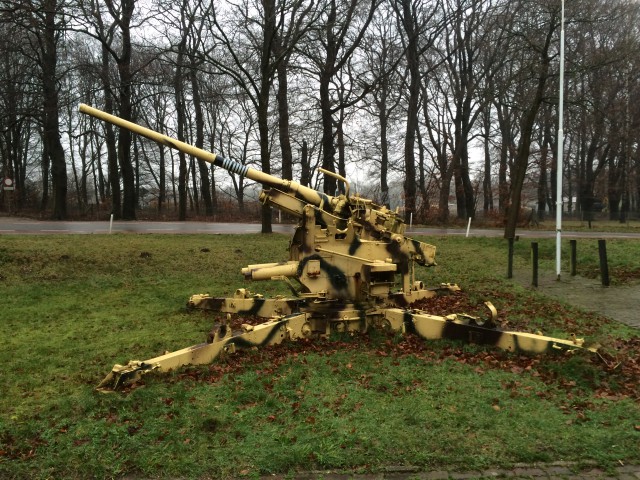 Outside the museum is a German FLAK 88 dual purpose gun that was last used to fire on the British 1st Airborne division trying to get to the Bridge. It was found dumped in a hole with the breach blown.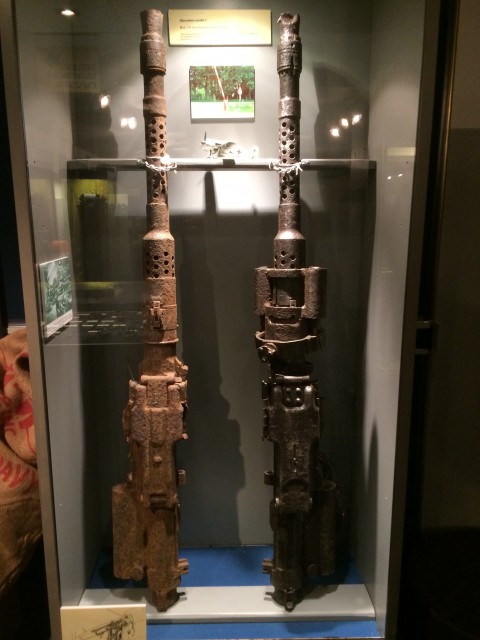 MG 131 on board weapons, these two weapons were found mere yards from the museum entrance. One has been restored, the other was left as found.
Double barrel flare gun, used on airfields for emergencies / recognition.
Part of an oil tank of a Shirt Sterling Bomber, recovered near Heteren (west of Arnhem) by the DAEG, a foundation that recovers lost airplanes and their crew.
Engine of a Messerschmitt 109 GS that was shot down near Doorneburg (east of Arnhem), the pilot got killed in the crash. There are more relics from this airplane in the museum.
A Merlin engine from a Spitfire Mark IXB LF
Several on board weapons from both German and Allied planes.
One of the most amazing pieces in the museum is this former garden shed. It's part of a Short Sterling that was shot down near Arnhem during Operation Market Garden. After the war it ended up in a garden slowly overgrowing with ivy. Then it was rediscovered and rescued by Arie-Jan van Hees and Frans Ammerlaan, this story has been reported in After The Battle number 122.
Museum address:
Hoenderloseweg 10
6816 SW Arnhem/Deelen
http://www.museumvlbdeelen.nl/
Pictures and Story by Joris Nieuwint for War History Online