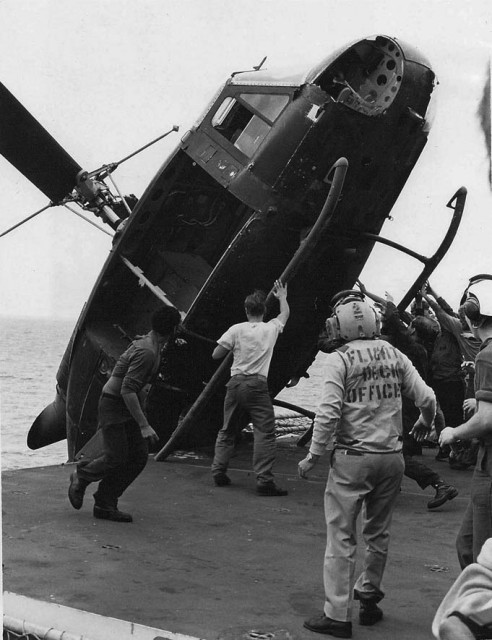 The 'Last Days in Vietnam' is a new documentary about the Vietnam War, and it has now been nominated for an Oscar. The work sets itself apart from other existing short films because it is told through the eyes of the survivors. In particular, the US ambassador to South Vietnam during the war is featured; he was a man who believed in the fight against Communism and wanted to fight till the last man.
As the North Vietnam troops descended on Saigon in the spring of 1975, a massive evacuation was taking place to get as many American troops, embassy workers and Vietnamese out of the country as possible.
The CIA notified the ambassador that the trees and shrubbery around the US Embassy in Saigon would need to be cleared, so that they could build more helipads to airlift evacuees out of the city. Symbolically, a Tamarind tree which had grown outside the entrance of the embassy had to be chopped down to make way for the helipads. Martin had often described this tree as steadfast, just like the American's commitment to the South Vietnamese. But by April of 1975, the tree had been uprooted and America was withdrawing from the South East Asian country.
On the same day, the Marines tried to evacuate the ambassador himself, but he didn't want to leave. There were thousands of South Vietnamese surrounding the embassy looking to the Americans to help them or get them out of the country to safety. Martin felt responsible for helping as many people as he could out of South Vietnam before the Communist troops took over completely.
The documentary captures these moments; pulling together a vivid representation of the last days that the Americans were based in Vietnam. Rory Kennedy directed the documentary and it has been nominated for an Oscar in the category of Best Documentary Feature.
The documentary uses original film clips, documents, audio, media articles, and interviews with troops, officials, and veterans. All of the content comes from survivors and veterans who experienced the war themselves, allowing history to tell the story.  Computer generated maps are also used to show where and how the war took place.
Ambassador Martin's story in the documentary is one of the most poignant. He was emotionally committed to the war effort, especially after losing his foster son in combat. He wanted to win the war for all those who had lost family members in the war effort.  Even when Saigon airport had been bombed and occupied by the Communist troops, the ambassador still refused to believe that the Americans would completely pull out, the Medium reports.
US aircraft carriers in the Pacific undertook the massive task of ferrying evacuees from the mainland to the ships via helicopter, and thousands were rescued this way. Martin was one of the last to be evacuated from Saigon.