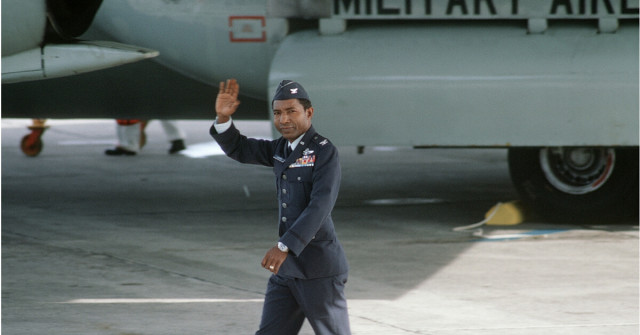 Fred Vann Cherry was born on the 24th March 1928 in Suffolk. At this time the Jim Crow laws were in effect and racial segregation was strictly enforced. Cherry attended racially segregated schools and he graduated from Virginia Union University, a segregated college, in 1951. All his life he had been subjected to blatant racial profiling under the Jim Crow laws but, in spite of this, he felt the need to support his country and he joined the US Air Force.
He had been posted to Korea, promoted to the rank of major, and with over 100 combat missions over North Korea under his belt. Later he served in Vietnam, where he was downed by enemy fire over Vietnam 22nd October 1965 whilst flying a F-105 Thunderbird. He recalls the incident in a story that he wrote, for a collection of war stories told by POW's and Medal of Honor recipients, "In the process of ejection, I broke my left ankle, my left wrist, and crushed my left shoulder. I was captured immediately upon landing by Vietnamese militia and civilians."
His captors, recognizing that he was an African-American and, believing that he would be offended by being incarcerated with a Southern-born white man, they placed him in a cell with Porter Halyburton, a South Carolina native who had been captured five days before Cherry. These two men lived together for eight months and both claimed that the other had saved his life. Halyburton, cared for Cherry in the best possible manner, according to the circumstances in which they that they found themselves.
They lived in revolting 10ft by 10ft cells with nothing more than a bench, the floor or a straw mat to sleep on, but Halyburton meticulously cared for Cherry's infected wounds, cleaning them and changing the dressings. The responsibility for caring for a fellow American and a fellow airman gave Halyburton a purpose for living and the care he gave Cherry uplifted his morale and gave him the will to live.
Halyburton, found friendship as well as inspiration from Cherry as they shared this enforced incarceration together. Cherry was an inspiration to many POW's with his patriotism, his love for his country and his outlook on life, in spite of the racist environment in which he was raised. In the summer of 1966 the two were separated, much to the dismay of both men. They had forged an unbreakable friendship which lasted to the end of their lives.
Col. Cheery spent 2,671 days in captivity, with a great deal of it being in solitary confinement. He wrote, "I spent 702 days in solitary confinement, with the longest period lasting 53 weeks. At one time I was either tortured or in punishment for 93 straight days." He was released, with the first group of American POW's to be sent home on the 12th February 1973 and was very pleased to meet up with his old friend and cell mate, Porter Halyburton, at a military hospital in the Philippines, at Clark Air Base.
Col Cherry had been granted the Air Force Cross and his citation read, "for extraordinary heroism in military operations against an opposing armed force as a Prisoner of War. . extremely strong personal fortitude and maximum persistence in the face of severe enemy harassment and torture, suffering critical injuries and wounds."
On his return to the US, Col. Cherry attended the National War College and the Defense Intelligence School both in Washington and eventually he retired, with the rank of Commander, from his beloved Air Force in 1981.
After retirement he and Halyburton told their story to James S. Hirsch who turned their friendship and story into a book, "Two Souls Indivisible". The friends toured the country promoting the book. In addition to this, Col. Cherry starred in a television documentary, "Return with Honor", which was narrated by Tom Hanks and told the story of fighter pilots held as POW's.
In Col. Cherry's own words, from his 1999 war story, "I know that the faith in God, love and respect for my fellow man that my parents and family instilled in me during my youth carried me through some very difficult years as prisoner-of-war in Vietnam. I was always taught to love and respect others and forgive those who mistreat, scorn or persecute me. . . [This] allowed me overcome the damages of discrimination, Jim Crow, and the social and economic barriers associated with growing up a poor dirt farmer. . . My standard for making decisions is based on doing what is right."
This God-fearing, moral, compassionate man who grew up in an intolerant and racist society managed to rise above his humble beginnings and together with Porter Halyburton, showed the world what love and understanding can achieve. Their captors in Vietnam must have been incredibly frustrated that the racial hatred they hoped to capitalise upon, did not manifest itself, and they were left with two men who became friends and showed what friendship and caring can achieve. Their story is an example to us even today.
Sadly, Col. Cherry's personal life was complicated and he spent a great deal of time in legal wrangling over back-pay, child support and other issues surrounding his personal life. Col. Cherry's died on 16th February 2016 of a heart ailment age 87.
Col. Cherry is survived by his companion Deborah Thompson, three sons, two daughters, 14 grandchildren and six great-grandchildren.