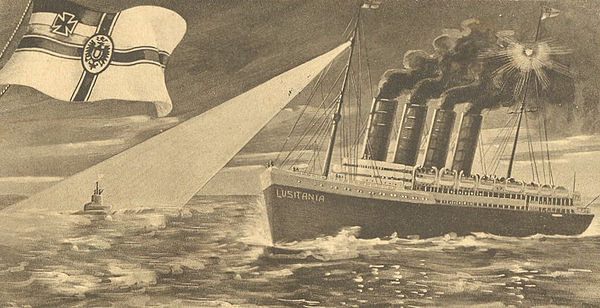 [Via]
During World War One a German U-Boat infamously attacked and sunk the British Lusitania in 1915 and the Leinster in 1918.
The Leinster was attacked just weeks before the end of the war, but was attacked with a torpedo from a German submarine and sunk, killing around 600 people.
Two of those travelling on the Leinster were from County Wexford in South East Ireland. John Hearn and Thomas Esmonde were businessmen from the county.
John worked at Star Engineering in Wexford and employed hundreds of locals from the surrounding area. John was also an active member of the local council and had been since 1899.
He went on to be chairman of the New Ross Technical Committee and was part of the New Ross Division in Wexford's County Council. John had one son, who served in the Auxiliary Territorial Service, and he left behind five brothers.
Thomas Esmonde was not discovered until about three days after the Leinster had been sunk. He was the son of Colonel Esmonde from Macmine. Thomas also played a big role in his local community as chairman of the Wexford Bacon Factory, vice-chairman of Enniscorthy Co-operative Agricultural Society, chairman of the County Committee of Agriculture, and president of the Farmers' Union.
In the early 1900s, Thomas established an abattoir at Macmine and went on to create the Wexford Meat Supply Company, the Wexford People.ie reports.
Another local from the same area in Ireland who died in the disaster was Mrs Clarke who at the time was living in Liverpool. She had been visiting her sister, Mrs Flynn who lived in Blackwater, County Wexford. Mrs Clarke was returning to Liverpool on the Leinster when the attack happened. Mrs Clarke's son was a doctor in the army and had been wounded whilst on duty, so she was going back to look after him. Her body was recovered the day after the disaster, she was taken back to Blackwater to be buried there.
Lieutenant Joseph Furlong was another victim. He was from St Louis, Missouri in the United States, but his father was Michael Furlong who was originally from Lough, Duncormick. Joseph was making his way back to England as he was a Medical Reserve officer as part of the British Army. He had travelled to Ireland to see his father's birth place and where he had grown up. Joseph was buried at Carrig-on-Bannow cemetery.