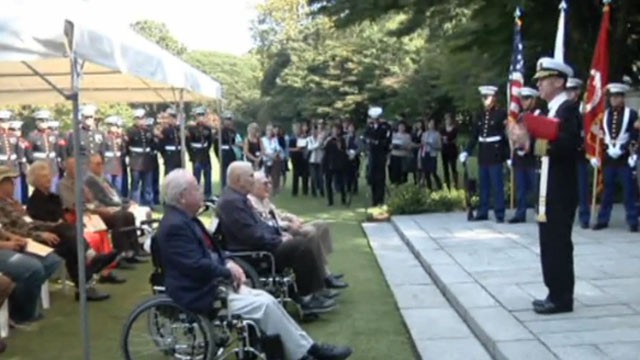 Two American prisoners of war veterans who were captured by the Japanese during World War Two have returned to Japan in a trip of reconciliation 70 years after the end of World War Two.
Nine veterans and their families made the Pacific trip and attended a memorial service at the Commonwealth War Cemetery in Yokohama, in honour of all the soldiers who gave their lives during the war.
The trip will last a week and a US Navy chaplain who attended the memorial service said that this trip was about peace and facing the painful history that the two countries had during the war. Beyond that he said it was about forgiveness and continuing to build the bond between the US and Japan that has grown strong since the war ended.
One of the veterans on the trip was George Rogers, who is now 96 years old. He was an infantryman in the US Army and was captured as a prisoner of war in the Philippines in 1942. George took part in the Bataan Death March, when the Japanese made prisoners march 60 miles. George survived and was then made to work in a steel mill.
Another veteran on the trip was Arthur Gruenberg. Now 94 years old, Arthur had served as a US Marine in the Pacific during the war and had to surrender in the Philippines in 1942. He was imprisoned at Cabanatuan Prison Camp, and was later forced to work at a mine in Fukuoka, Japan.
This trip has been the first opportunity that both of these veterans have returned to Japan since the war, the WTHR.com reports.
George recalls that when he was a prisoner of the Japanese, he didn't get any food and little water and that it seemed a long long time ago now.
Meanwhile Arthur says that he's unsure that his feelings can change towards the Japanese after what they did to him during the war, but he just hopes that there are no more wars. He believes that it is the country's leaders that bring about war, even though the people of the countries may be great.