The US Navy this week has kicked off the largest military exercise since the Cold War. The exercise spans different time zones and involves a large number of vessels and the US Marine Corps. This logistically enormous undertaking is believed to be a warning to both China and Russia that the US can fight a global war on multiple fronts all at once.
Named Large Scale Exercise (LSE) 2021, it will see the US employ a strategy similar to that used in the Cold War, and even borrow some practices from WWII. It will continue on until August 16 and includes simultaneous exercises in 17 different time zones according to the U.S. Navy.
36 ships and over 50 virtual units will take part in the major exercise, as well as five U.S. fleets, six naval and Marine Corps components, and three Marine Expeditionary Forces. Experimental and advanced technology will be employed too, such as unmanned vehicles.
The purpose of Large Scale Exercise 2021
Vice Admiral Gene Black, U.S. 6th Fleet commander, said "LSE will test our commanders across the spectrum of naval warfare from the tactical to the strategic, integrating the Marine Corps to demonstrate the world-wide fleet's ability to conduct coordinated operations from the open ocean to the littoral."
Previously, the US carried out an exercise that replicated an attack from a technologically advanced military on their communications systems and logistical networks. This highlighted a number of vulnerabilities in those systems. LSE will incorporate changes in the US' communications systems and logistical networks to improve their resistance to attacks.
Analysts believe the exercise is heavily geared towards sending a message to the United States' biggest adversaries and potential threats; Russia and China. Nations may hope to spread US forces thin in the case of war, but the Navy will display their ability to be present in the South China Sea and the East China Sea, Black Sea, and Eastern Mediterranean Sea simultaneously. On top of this, they will show their ocean-denying capabilities – where an enemy force will be prevented from taking control of an area of sea.
The large scale of the operation will allow the Navy to improve their synchronization of forces regardless of their positions, along with honing conventional strategies.
"LSE will test our commanders' abilities to deliver coordinated effects, from all directions, any time or all the time. It will help us build the necessary muscle memory to do this routinely at the operational to strategic levels of war," said Admiral Robert P. Burke, commander, U.S. Naval Forces Europe.
New strategies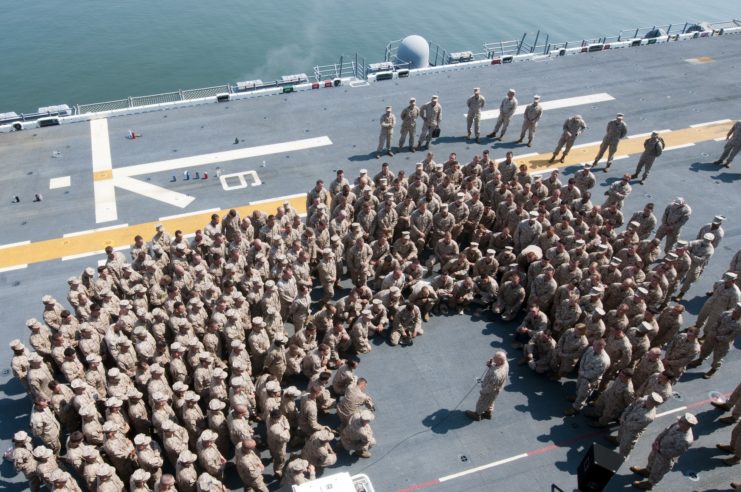 The Navy aims to be less reliant on small numbers of key vessels that significantly reduce the entire force's combat effectiveness if they are lost. Relieving the responsibilities of these vessels allows the entire force to become more fluid and able to absorb losses much easier.
This idea is reminiscent of the US Navy's strategy in WWII, which worked extremely well.
"In that sense, we're reverting to our World War II approach, when we had lots of inexpensive, good-enough stuff and could lose some of it and still carry on," James R. Holmes said, the J.C. Wylie Chair of Maritime Strategy at the U.S. Naval War College in Newport, R.I. "If we show our adversaries this approach works, we bolster our ability to deter them from assailing ourselves or our allies."
Admiral Christopher W. Grady, commander, U.S. Fleet Forces Command said "We have shifted focus from the individual Carrier Strike Group to a larger fleet-centric approach, challenging fleet commanders' abilities to make decisions at a speed and accuracy that outpaces the adversaries."
More From Us:
This particular exercise will involve civilian and military personnel from the US, but future exercises will see the US be joined by its allies.
Despite the huge efforts involved for what is thought to be a Cold War-like show of force, some believe that China and Russia may not interpret the exercise in this way.