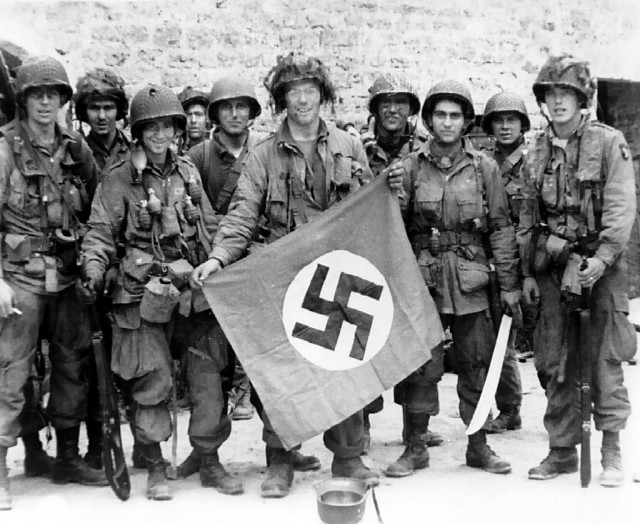 On the eve of, perhaps the most celebrated WWII victory 'the D-Day' the largest airborne fleets were about to write history by invading Nazi controlled France. Among the paratroopers getting reading for the historic invasion were soldiers from U.S Army 101st and 82nd Airborne Division.
The day was tough, enemy was well prepared and odds were against the Allies but the plan had to go through, despite all the fears. In the early hours of June 6, 1944 after taking heavy enemy fire two C-47 Dakotas with designated flight numbers 66 and 67 crashed, killing all the crew onboard. The wreckage and the bodies of 17 airmen were later recovered from a site near Beuzeville au Plain. The bodies were flown back to the United States and were buried with full military honors.
On June 3, 2015, paratroopers from U.S Army 101st Airborne Division took part in a commemoration ceremony held in Currahee region of Normandy. A number of local French nationals and family & friends of the paratroopers joined them. The ceremony was the part of 71st anniversary of the famous Normandy invasion in 1944.
One of the paratroopers from 101st Airborne Division had the honor to drop the wreath on the memorial during the ceremony.
The identities of the soldiers crashed on the morning of June 6, 1944 came to light in a very unconventional way. In 1991 a Belgian national Guy Leprete made a discovery on the site of crash; a ring and a soldier's dog tag. After investigation it was revealed that the ring belonged to Thomas Meehan III and the dog tag had the name of Technician 5th grade Jerry Wetzel. Both men belonged to Easy company, 2nd Battalion of 506th infantry Regiment, 101st Airborne Division, the Ameri Force reports.
Leprete said that they are still finding items belonging to the soldiers and that he tries to send them back to the families of the soldiers in the U.S.
Leprete and Jean Pierre, a French citizen have been running the 'Forced Landing Association' that works on the site of the planes crashed during WWII and look for the items and remains of the soldiers killed. They have raised a significant sum of money to build memorial for the soldiers who died on the morning of June 6, 1944 during the D-Day operation. Pierre said that they are determined to preserve the site and keep the memories of those alive who sacrificed their lives fighting against Nazism and fascism.