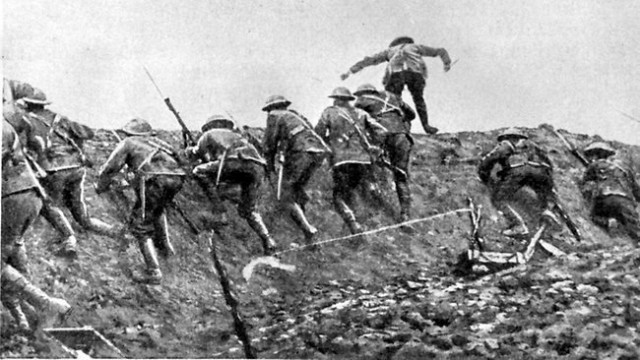 For many, the trenches are a "no man's land" where gruesome death and brutal injuries are a daily routine. But according to statistics, it is actually a different story and 9 out of every 10 British soldiers actually survived it. See six of the reasons why they did.
Not Always a Bloodbath
While most images of the trenches are those of bloodbath, the frontline has few days of great violence. As a result, only those who were on the frontline on the few dreadful days of ugly violence are killed or brutally injured.
Rare big attacks
A typical day at the trenchline is boring as there are rare big attacks that could lead to a lot of activity and cause several deaths and injuries. As a result, soldiers on the trenches filled their days by doing men chores, trench maintenance, writing letters, taking a nap, fetching rations, going on patrol, or taken out of the firing line. They also engaged on a daily ritual known as the "morning hate" which involves firing shots towards enemy lines. As a result, most battalions end up spending about five days a month on the trenches.
Less time on the frontline
No soldier spent all his time in the trenches. They were alternated. According to Charles Carrington, the soldiers spent just about 10% of their time on the front line – while the other 90% was used to cover behind the trenches. Carrington was with the 1/5th Territorial Battalion from the Royal Warwickshire Regiment.
Safe trench system
Because the trench system has many sections, some of them where safe places that kept soldiers alive. From dressing stations, to shelters and more – see how they created a safety system.
Dressing Stations – used for medical treatment. Treated soldiers were either sent to the backline or moved to British medical units for further treatments.
Shelters – several 'dugouts' that protected soldiers against bad weather as well as enemy shell-fire.
Firing Trench – The firing trench has 7 foot deep channel cleverly dug in "zigzag" at the front of the system. It helps in minimizing damage by providing cover for the most exposed groups. If attacked, only a small part of it would be affected by enemy forces or hit by a shell.
Support Trench – Dug between 200 to 500 yards behind the main firing trench, it acts as a second line of defence.
Reserve Trench – they're several hundred yards away from the support trench and used for storing supplies. They offer an extra security to troops going to the frontline.
Communication Trenches–by connecting the whole network, soldiers travel swiftly and kept contact. It also monitors its supplies, its reinforcements, those on the move – as well its casualties.
More time behind the lines
An average British army would spend almost 50% of their time behind the trenches which is less deadly. There, injured or sick British service men received medical attention and training – whilst others enjoyed a relaxing moment, the BBC News reports.
The Wrong place at the wrong time
Most death and injuries were caused by soldiers being placed on the wrong place at the wrong time. Since big attacks were rare, some soldiers were unlucky to be placed on the trenches on the rare days such attack takes place. One of such days was on the first day of the Battle of the Somme (1 July 1916) where over 20,000 British service men lost their lives. But on the average, about 88% of British soldiers survived the trenches and returned home.