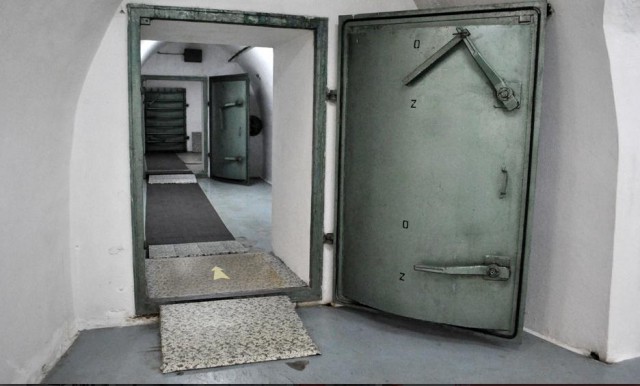 Yugoslavia was in a difficult situation at the end of WWII. The country was destroyed, devastated and robbed. Post-war reconstruction of the country implemented slowly because of the conflict between Tito and Stalin that took place in 1948.Another reason was the deterioration in relations between East and West. Therefore Yugoslavian leadership realized that Yugoslavia would be the most affected in the case of beginning WWIII. So, Tito and his General staff had to find a safe place for the headquarters in case of nuclear war.
Tito and his General staff decided to build a shelter in Bosnia. Bosnia was chosen because of its geostrategic position, situated in the center of Yugoslavia and it's high mountains. The object with code name "Object D 0 ARC" (Army Reserve Command) was built near the town Konjic on a right bank of the Neretva River below mountain Zlatar. The Object D 0 was build from March 1953 to November 1979. Around 4.6 billion US Dollars were spent for the construction. It has become the third most expensive military investment in former Yugoslavia. Construction of the D 0 ARC was classified as the highest TOP Secret. Each worker had to sign Contract of silence. Only four commanders knew the real purpose of the D 0 ARC.
D 0 ARC Known as "Tito's bunker"
Bunker consist of three parts:
Visible part (built as camouflage) with three objects: Tito's overground residence, object for security and object for technical support.
202-meter long tunnel that connects masked with the third part. When you pass through the corridor of the first house and open three metal door with a thickness of 1.20 meters, you will find yourself at the heart of nuclear shelter – at a depth of 280 meters.
The third part of the building is nuclear shelter. This nuclear shelter can withstand a nuclear blast volume 20 kilotons. It has the shape of a horseshoe. This area is a protected with several protection systems like a fire alarm system, a system for protection against nuclear attack, air preparation system and so on. It is divided into 12 blocks. The most important are blocks 6 (communication), 8 (Tito's bloc), 9 (lung object – air), 10 (fuel) and 11 (water).
Tito's bunker purpose
The main purpose was to provide shelter in the case of the threat of nuclear war. The bunker could accommodate 350 people. Those people could spend six months there without any contact with the outside world. The bunker covers an area of 6854 square meters and has more than 100 bedrooms, two conference rooms, five operational centers with direct telephone line, cable TV, two kitchens, five large toilets, hospitals with a surgical table, etc.
The Temperature in the interior of the bunker is 21-23 degrees with humidity of 60-70%, which represents ideal conditions for living.
There is an emergency exit from the building that is not marked on the map and leads to the mountain above. This leads out to facilities at a height of 170 meters.
In the period 1979-1992 a former military policeman Serif Grabovica was working on securing the Object D 0 ARC. He says that the secret about this shelter was so closely guarded. He was even not allowed to reveal anything about this project even to his wife. She only knew that he was working in Konjic. Nothing else.
On the night between 7. and 8. 1992, commander of the seventh army district of the JNA, General Milutin Kukanjac ordered to destroy the D 0 Arc. The order was to destroy everything that you can not take with you. It was necessary to activate the 4500 kilograms of explosives, which was already set. Shelter would be completely destroyed.
At that time Serif Grabovica was at work. Thanks to him, this has not happened. He secretary managed to uproot all the wires for explosives and the building was preserved.
A mixture of art and history
Tito's bunker is now a meeting place for artists from the region, Europe and around the world. It became Museum of Contemporary Art.
By the decision of the Ministry of Defence this military facility was handed to the jurisdiction of Common Affairs Service of the Federation BiH in February 2015. It means that you do not need a permission of Ministry of Defense to visit the bunker.
There is no evidence that Tito ever visited Object D0 ARC.
Sources:
Image used from private galleries
Talking to people who have visited the bunker
Ministry of defance www.mod-gov.ba
Nezavisne novine (newspapers), keepers of the biggest secrets in Yugoslavia
About The Author
My name is Edin Hardauš. I was born in Bosnia and Herzegovina, and I live in a small town Kakanj, near Sarajevo.
I am a professor of history. I graduated in November 2010 at the Faculty of Social Sciences (World history), University Džemal Bijedić, Mostar. After graduation, I taught history in primary and secondary schools. I am most interested in war history, military strategy, military weapons and vehicles, and of course the study of historical battles ( reading books and watching documentaries on this subject).