The new documentary film 'THE UNKNOWNS', which follows the training of the Sentinels at the Tomb of the Unknown Soldier in Arlington National Cemetery, is now available on DVD and Blu-Ray, and digitally through iTunes, Amazon, and Google Play.
'The unknowns' was created and produced by Army Veterans Ethan Morse and Neal Schrodetzki. Both had the honor of serving at the Tomb while in the service, and were given an unprecedented level of access from the U.S. Army while filming the training. This allowed them to bring a unique perspective to the rigorous and intricate process that soldiers must endure to be stationed there.
After raising the initial production budget through a successful Kickstarter campaign, the two Veterans, (turned filmmakers) captured the bulk of the footage to create 'The unknowns' documentary in May 2012. They would spend the next four years putting all the pieces together, to form a feature length film.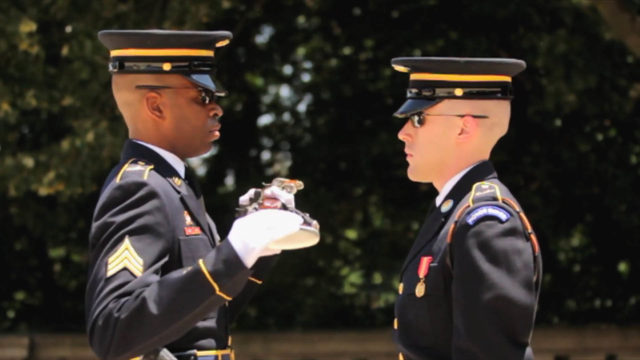 "Our fans have been waiting a long time to watch this movie," said producer Ethan Morse, Tomb Guard Badge #548. "I'm so excited to finally be able to announce its release. We hope it brings honor to the memory of each and every one of The Unknown Soldiers, and helps families across the country come together to remember what freedom, sacrifice, and patriotism are really all about. "We've been working on this film for the better half of a decade now, and really it began 8 years ago when we both got out of the Army, and began film school." said director Neal Schrodetzki.
"We are unbelievably grateful that we've had the chance to bring this previously undocumented story to such a large audience already, and hope to share the 'The unknowns' with every person in America. Ethan and Neal successfully screened 'The unknowns' in 50 theaters across the United States beginning on Memorial Day, 2016, and have signed a deal with Allied Vaughn Distribution, to bring 'The unknowns' to a wide audience on DVD and Blu-Ray on Veteran's Day, November 11th, 2016.
They are offering a special pre-order now at their website here, where you can use the promotional code 'Patriot' to receive 10% off all purchases.
Click here for more information.
https://www.youtube.com/watch?v=NFUR1zJih28