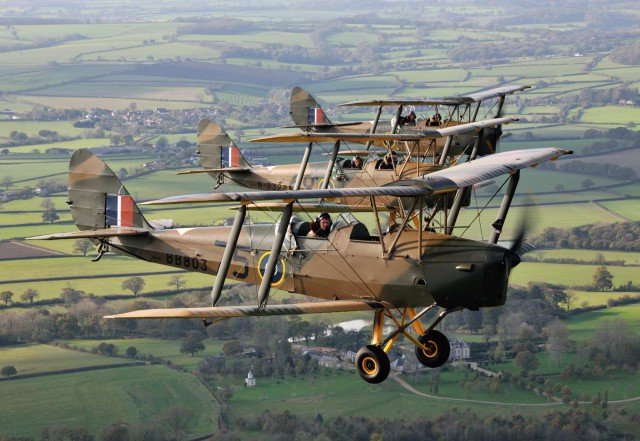 Three World War Two Tiger Moth aircraft took part in a flypast over southern England in honour of Armistice Day in the UK. The day is known as Remembrance Sunday and commemorates all of those who took part in the World Wars.
The three vintage aircraft flew over Dorset after they took off from Henstridge Airfield in Somerset and had dropped over 200,000 poppies when they reached the Bovington Tank Museum.
The Tiger Moths were piloted by aircrews from the Tiger Moth Training Company. The poppies honour all of those who lost their lives during both world wars.
Tiger Moths are vintage bi-planes and their pilots dropped their poppies at the moment that the country held a two-minute silence at 11:00 on November 8th, 2015.
A service was also held at the tank museum and was open to the general public.
The pilot, Kevin Crumplin, owns the bi-planes and has been in charge of their restoration over the years. He said that it was unusual to have all three Tiger Moths flying together in formation since they usually only operate with one or two together. It was also the first time that the planes took part in a poppy drop.
The flypast was requested and organised by the British Army.
The de Havilland Tiger Moth is a 1930s biplane designed by Geoffrey de Havilland and was operated by the Royal Air Force (RAF) and others as a primary trainer. The Tiger Moth remained in service with the RAF until replaced by the de Havilland Chipmunk in 1952 when many of the surplus aircraft entered civil operation.
Many other nations used the Tiger Moth in both military and civilian applications, and it remains in widespread use as a recreational aircraft in many countries. It is still occasionally used as a primary training aircraft, particularly for those pilots wanting to gain experience before moving on to other tailwheel aircraft
Many are now employed by various companies offering trial lesson experiences. Those in private hands generally fly far fewer hours and tend to be kept in concourse condition. The de Havilland Moth Club founded 1975 is now a highly organized owners' association offering technical support and focus for Moth enthusiasts.
Tiger Moth Training is based at Henstridge Airfield on the Somerset-Dorset border.
It provides immaculately restored, historic Tiger Moths and highly experienced instructors who can offer to train to a broad spectrum of training need catering from complete beginners to complex aerobatics and formation flying.
Image source: Tiger Moth Training