"Rosie the Riveter" refers to women who worked in factories during WWII, replacing the men who had been drafted or had joined the military.
Priscilla Elder, a ninety-seven-year-old "Rosie," passed away in January 2018, after years of service to the United States. She had worked at Kaiser Shipyards in Richmond, California during the war.
"Rosies" worked at jobs that would have belonged to their husbands, fathers, brothers, uncles, and cousins, who were away fighting. She was represented in an illustration created by the Westinghouse Power Company for a recruiting poster. It showed a woman flexing her arm muscles, clad in work overalls, with her hair tied up in a red and white polka dot scarf. The words, "WE CAN DO IT!" are splashed across the top of the poster.
When women started joining the workforce, they found the best opportunities were in defense manufacturing and assembly. By 1943, sixty-five percent of the aircraft industry workers were women. The industry achieved bigger profits, as the women were paid, at most, half of what the men were paid.
Women were urged by the First Lady, Eleanor Roosevelt, to support their country, by working in the defense industry and by joining the newly created Women's Army Corps in 1942. By 1945, 100,000 WACs were serving stateside and abroad.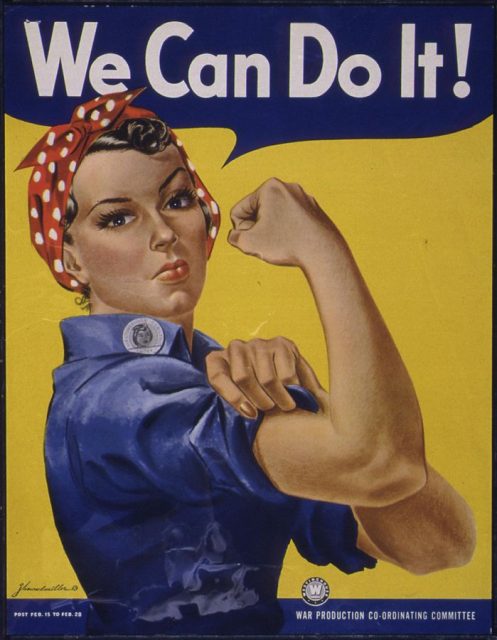 The numbers of those people who served in WWII are rapidly diminishing, as are the number of "Rosies" remaining.
A native of Iowa, Elder was born in 1920. In 1941, the US joined the war after the attack on Pearl Harbor. Her brother Tony served on the USS Dewey and her husband Donald served in Europe as a member of General Patton's Third Army.
Home alone with a two-year-old son, Elder was contacted by her sister who was working in Richmond, California. She encouraged Elder and another sister to travel to California to work at the Kaiser Shipyards. They were desperate for more workers to enable them to achieve their commitment to the government. Elder and her sister were hired and taught to be electricians. Elder wired circuit boxes for ships and helped keep track of the tool inventory.
She stayed at the Kaiser Shipyards until the end of the war, when the returning soldiers reclaimed their former jobs. She went back to Iowa to meet her husband when he arrived home and then talked him into moving to California. Once they were settled there, she earned her GED and graduated from cosmetology school.
After retirement, Elder joined a group of women who were working to keep the story of "Rosie the Riveter" from disappearing into history. Elder loved to talk about her time at Kaiser and volunteered at the Rosie the Riveter World War II Home Front National Historical Park, near the Kaiser Shipyards. There she gave interviews to the local newspapers, helped with clerical work and talked to visitors. The Rosie Meet & Greet was held every Friday, and Elder showed up for each one.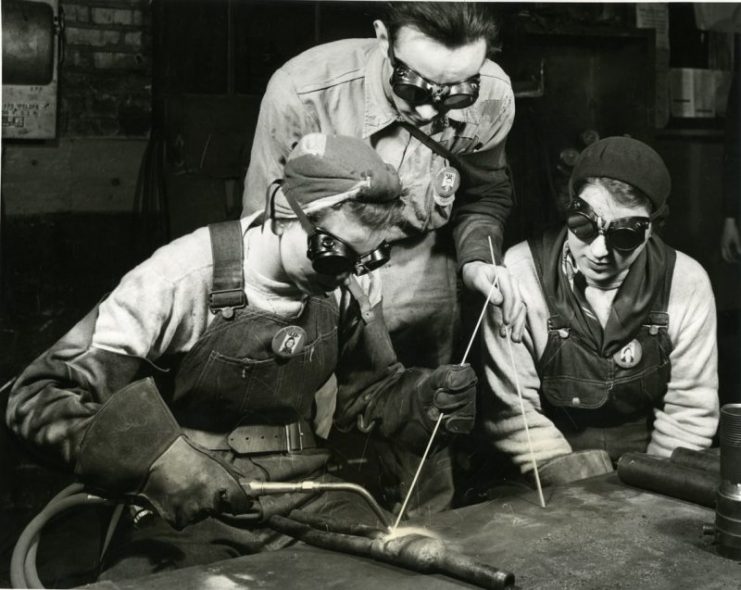 In 2014, the "Rosies" traveled to the White House, where they met President Barack Obama and Vice President Joe Biden. Elder remarked, "It turned out very nice. They let everybody know I was 96… I had all kinds of congratulations and kisses. I had people say 'You don't look 96,' and I said 'But I feel like it."
In 2016, the "Rosies" met with California Governor Jerry Brown and the Women's Legislative Caucus in Sacramento.
At the age of ninety-six, she painted porcelain souvenirs for all her fellow "Rosies", to commemorate the National Park Service's one hundred year anniversary in 2016. Elder had worked with the Park Service for ten years until her advanced age finally slowed her down last fall.
She will be laid to rest next to her husband of seventy-one years at the Sacramento Valley National Cemetery in Dixon.