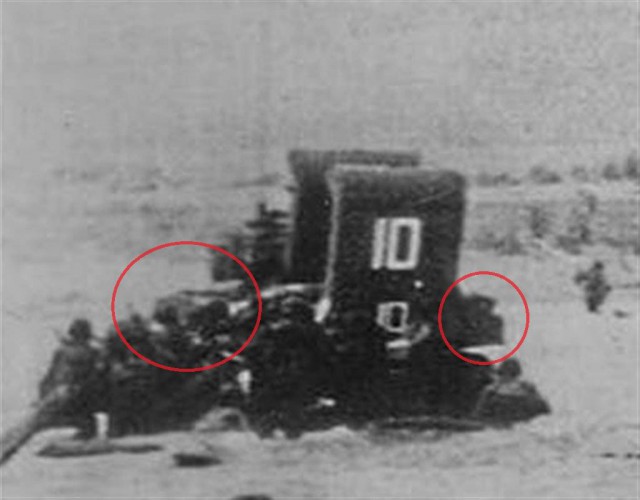 741st Tank Battalion Sherman on D Day
On D-Day, June 1944, a total of 50 M4 Sherman tanks stormed the Omaha beach, however by the time the battle concluded only 3 machines remained operational. 48 of the tanks were sunk or destroyed even before they could manage to touch the beach, as a result of heavy enemy bombings.
A Rockingham county native Cecil Dallas Thomas led the 741st tank battalion on beach. He was among the last few standing, and withstood the heavy assault.
Thomas was no ordinary leader, he was a well educated and brilliant minded human being. Born on January 22, 1912 in Bethlehem community. After completing high school in 1929 from Leakesville high, Thomas went to obtain a masters degree from Virginia Polytechnic institute in 1937. A few years after his degree, on Feb, 22, 1942 Thomas was a part of active U.S Army in the Second World War.
Cecil Thomas' nephew John Dallas has invested a lot of time and efforts to collect history of his uncle during the WWII, especially his part in the famous D-Day invasion.
John's research reveals that Cecil and his battalion arrived at the shores of Omaha beach at 0630 on D-Day. This day marks the most awaited march towards the end of the Second World War, and Cecil knew the significance of the day and his battalion's part in it.
A strong opposition was expected therefore after landing Cecil faced a barrage of enemy bombardment falling left right and center. The remaining tanks of Cecil's battalion began targeting the enemy infantry nests firing straight at them. Most of 741st Battalion perished even before getting on the shore, primarily because crafts were forced to drop the tanks in deep water and could not make landing in the shallow water due to heavy enemy shelling.
Cecil made a steady progress pushing into the enemy territory by destroying infantry and cleaning as much of land as possible.
In the immediate aftermath of the landing, 741st Battalion was given the task to help the infantry to capture the strategically important hill 192. The location was very significant for the capture of French town of Sian-Lo, the Rockingham Now reports.
Captain Cecil Thomas was awarded the command of 741st Battalion on March 15, 1942. The Battalion was then thrown into a number of exercises to horn the skills required for the war like the WWII. 741st Battalion left New York for England on 20th of August and arrived at Liverpool on November 2, 1943.
After arriving in Britain, Cecil and his men had no idea for their mission in the war. They went to undertake more exercises at Slapton Sand England. Cecil's Battalion was attacked during a training session and few of the soldiers were killed as a result.
Image via Armorama