The Tank Museum is partnering with leading Dorset auction house Duke's to present a new autumn militaria fair and auction.
Taking place on 6th November 2021, The Tank Museum will host an array of trade stalls, selling a range of military collectibles and memorabilia, vintage uniforms and insignia, plus second-hand books and reproduction militaria for reenactors.
Museum spokesman Nik Wyness said: "This is the first time The Tank Museum has held a militaria fair, and we are now welcoming applications for traders for what we hope will become one of the leading militaria events on the circuit."
The highlight of the event is set to be the Duke's militaria and medals auction, featuring an estimated 300–400 lots ranging from medals, militaria, arms, armour, and even military vehicles. Previous Duke's auctions have included a cigar box belonging to Winston Churchill, which was sold for £79,000 earlier this month.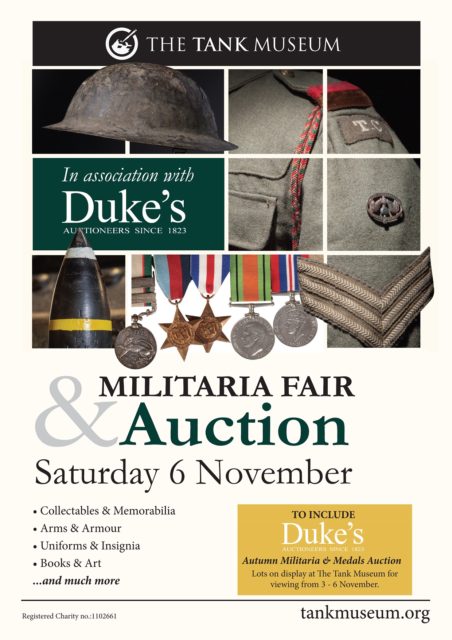 Julian Smith of Duke's said: "We are delighted to participate in this joint event with The Tank Museum. The historic venue partnered the wide variety of military-themed items to be offered, from medals to military vehicles, will hopefully attract exciting international bidding."
The auction will take place on Saturday 6th November 2021, with all lots on public display for browsing at the Museum between 3rd and 5th November. The auction will be livestreamed on Easylive Auction, The Saleroom, and The Tank Museum YouTube channel.
For traders wishing to exhibit at the event, please apply through The Tank Museum website.
For visitors, normal ticket prices will apply, with Annual Passes valid for the event — but booking in advance will be essential due to expected capacity limitations.
If you have items you believe may be suitable for listing in this Militaria, Medals, Arms, Armour and Military Vehicles Auction, please call Duke's on 01305 265080 or visit their website.
Find out more about the event on The Tank Museum website.