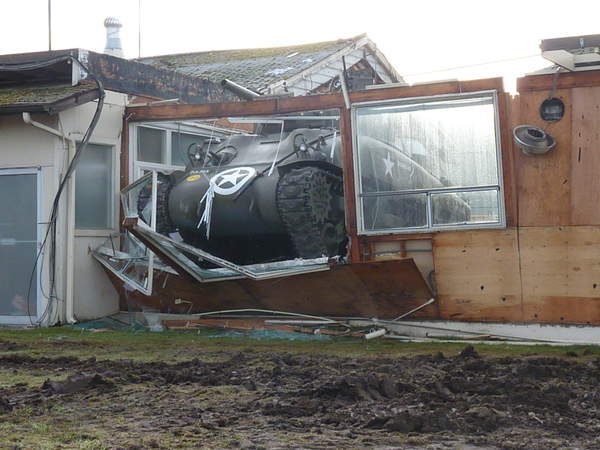 The fully restored tank went through the building on the south side of Paine Field to make space for the new 26,000 square foot arena where three of the collection's Second World War tanks will be displayed. After demolishing the old building, the tank fired a couple of shots to celebrate the beginning of the construction.
The executive director of the collection, Mr Adrian Hunt said this is a very new and important step for the Flying Heritage Collection and that he is very excited and can't wait to see the tanks displayed at the new arena and to hold the first TankFest there. He expects these great pieces of history to have the success they deserve and hopes they will educate and inspire the visitors at the new arena.
A Flying Heritage Collection said the construction of the arena should be finished before the next TankFest Northwest, which is going to be held on Memorial Day this year. The organizers plan to hold a couple of demonstrations of what these Second World War historical tanks can do.
As the first TankFest at FHC in 2011 was a success, the directors decided to build the arena just west of their main hangar, making it easier for demonstrations to take place there. Ashley Wilson, a spokesperson for the  Flying Heritage Collection said the tanks were very popular and many people came to see them and that is how the idea of the new arena came up. She hopes the directors will be able to bring in some other working tanks to use this new arena when it will be ready. The project is expected to be completed by May 26, the South Everett Beacon reports.
The three historical tanks which are to be used during the demonstrations at the new arena are the FHC's German Jagdapanzer 38(T) "Hetzer," American M4A1 Sherman and Russian KMDB T-34/85 with an open invitation for other U.S. vehicles to join in during organized events. According to Wilson, the new Paul Allen arena will be the first of this type in North America.
Before being demolished by a  A M4A1 Sherman tank, the Snohomish County Department of Emergency Management, a government agency, held their offices in the old building. Driving the tank during the demolishing was the restoration and maintenance manager, Mr Jason Muszala.
Paul Allen's Flying Heritage Collection held different models of some rare military aircraft and ground support from Germany, Japan, Russia, Great Britain and the United States, displayed in their two hangars at Paine Field.