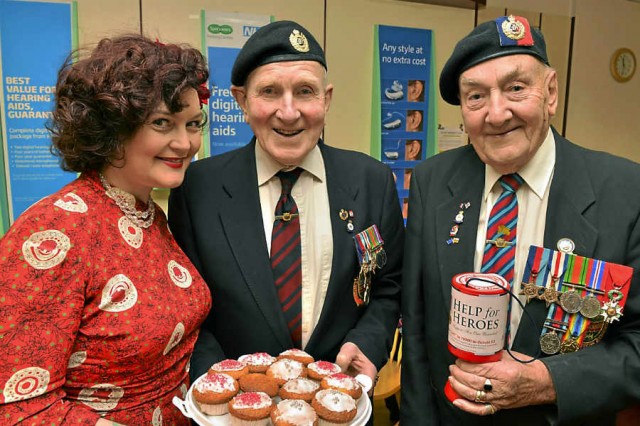 The Specsavers Hearing Center on Claremont Street in Shrewsbury, served coffee and sweets to help reach its Help for Heroes goal over the course of the next four months.
The store has already been able to raise £1,000 in order to commemorate the 70th anniversary of D-Day with a visit to the National Arboretum in Staffordshire.
The store manager and audiologist, Dennis Smallwood, said that the efforts had already been received by much of the town.
Mr Smallwood said: "We've received a phenomenal response already. Customers have shown us great support and encouragement along with local businesses from around the town."'
The firm will accompany 15 veterans to the war memorial in Staffordshire on May 14th to remember the fallen soldiers.
Leslie Stocking fought on the beaches of Normandy. He and his friend, Jim Backhouse, hope to attend the ceremony.
Both gentlemen fought in the Royal Engineers during the Second World War, and they recall their friends falling alongside them when they joined.
Mr. Backhouse, 88, from Coton Hill, said: "We had weeks of training in camps beforehand. It taught you how to be a man.
"I was 19 when I went into the Army and when I left I felt about 39."
Mr. Backhouse was awarded the Legion of Honor medal, which was the highest honor anyone could receive in France.
It recognizes bravery and honorable service to the country and those who are awarded with the medal are automatically made knights of the Legion.
Mr. Stocking, 88, also has a wide array of medals.
He said: "There were so many people who just never came back.
"The first thing I saw on the beach was where the marines had landed. Their bayonets were stuck in the ground along with their helmets and that was it.
"We lost 20,000 men in eight or nine weeks."
The friends will go to Staffordshire in a 1940s vintage bus. Mr. Smallwood hopes the day will be a good tribute to mark the 100th anniversary of the First World War.
He told the Shropshire Star: "We wanted to do something special for those who served and fought for our country."
Vera Lynn tribute singer, Sarah Raymond, also attended the coffee morning. The store also hopes to do a 100-mile swim to raise more cash.
For more information, or to make a donation, visit the store at 22 Claremont Street, or call (01743) 245455.