Spy gadgets disguised as everyday items aren't just a work of fiction for 007 in James Bond films, they exist for real and come into their own in wartime, writes Charles Hanson.
In recent weeks, Hansons' militaria expert Adrian Stevenson has been cataloguing a host of gadgets designed for use by special agents during the Second World War. And though the objects have been around for 80 years or so they are still perfectly functional.
The large private collection of WW2 spy gadgets, gathered by a private collector over 40 years, is set to go under the hammer in Hansons' Militaria Auction on November 20 – and they're fascinating. The ingenuity of the British can't be faulted when it comes to thwarting the enemy.
The items include an incendiary device disguised as a matchbox (below), hidden compasses galore, a camera in a 'matchbox' and a multi-purpose knife containing razor-sharp cutting blades. The utility knife is equipped with three small hacksaw blades, a tyre slasher blade and a wire cutter tool.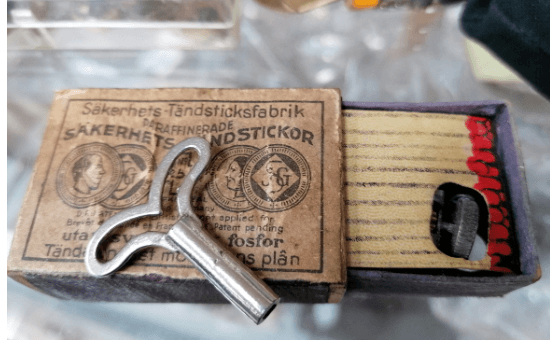 Compasses were essential tools to direct agents parachuted into enemy territory during conflict. Consequently, hidden compasses are found in all manner of everyday items in the collection. They are tucked away in pencils and hidden in collar studs and buttons.
In fact, we have a full set of battledress compass buttons in their original stores box (below). Escape compasses could become part of a serviceman's uniform. Compasses were even hidden in pipes, as another example in the collection demonstrates.
Items like this were produced by MI9, a department of the war office between 1939 and 1945, and were given to Special Operations Executive agents. The SOE was a British organisation set up to carry out espionage, sabotage and reconnaissance in occupied Europe against the Axis powers – Germany, Italy and Japan.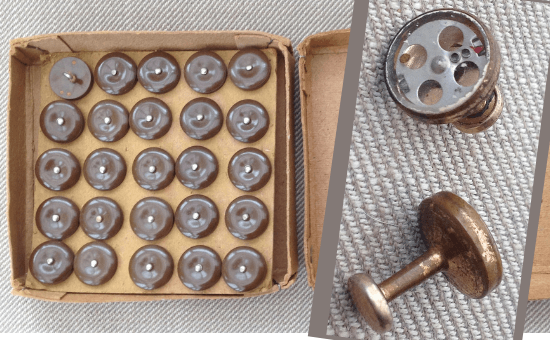 During the Second World War, M19 was tasked with supporting European Resistance networks and making use of them to assist Allied airmen shot down over Europe in returning to Britain. MI9 agents were parachuted into occupied Europe.
These would link up with a Resistance cell and organise escape-and-evasion efforts, usually after being notified by the Resistance of the presence of downed airmen. The agents brought false papers, money and maps to assist trapped service personnel.
The usual routes of escape were either south to Switzerland or to southern France and then over the Pyrenees to Spain and Portugal. The group also facilitated the escapes of British prisoners of war and smuggled supplies into their camps.
Many escape or spy gadgets were based on the ideas of Christopher Hutton (1893–1965), a Birmingham-born soldier, airman, journalist and inventor. Hutton proved so popular he built himself a secret underground bunker in the middle of a field so he could work in peace.
Hutton made compasses that were hidden inside pens or tunic buttons. He used left-hand threads so that, if the Germans discovered them and the searcher tried to screw them open, they would just tighten. He printed maps on silk, so they would not rustle, and disguised them as handkerchiefs, hiding them inside canned goods.
For aircrew he designed special boots with detachable leggings that could quickly be converted to look like civilian shoes, and hollow heels that contained packets of dried food. Then there was the magnetised razor blade which would indicate north if placed on water.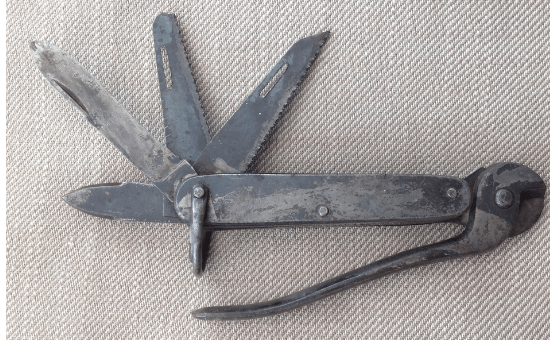 Hutton also designed an escaper's knife – a strong blade, a screwdriver, three saws, a lockpick, a forcing tool and a wire cutter.
MI9 even used the services of former magician Jasper Maskelyne to design hiding places for escape aids including tools hidden in cricket bats and baseball bats, maps concealed in playing cards and actual money in board games. Forged German identity cards, ration coupons and travel warrants were also smuggled into POW camps by MI9.
Finds like this display the ingenuity of the British but there are many more fascinating lots in our militaria sale. Foe example we are selling two First World War British Royal Naval Air Service Pilot's Flying Log books which belonged to Sub Lt, later Wing Commander, Harry Laurence Nunn, DFC, DSC. His notes inside reveal that he downed German U Boats.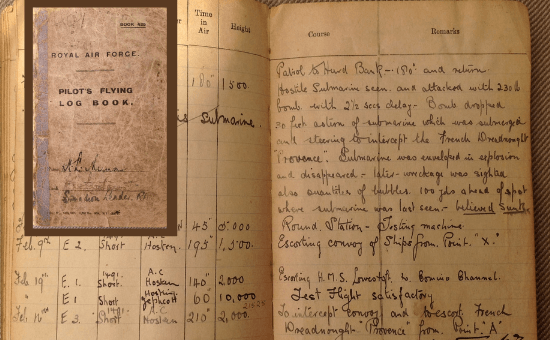 To browse the militaria lots and all of our latest auction catalogues, please visit our online bidding platform www.hansonslive.co.uk.
Though we are in lockdown, you can still arrange free remote valuations, free home visits and collections of consignments by emailing service@hansonsauctioneers.co.uk.
The first log book, dated May 1916 to November 1,, 1918, states that on February 8, 1918 he was awarded a Distinguished Service Cross for sinking a U Boat. An entry for July 26, 1918 stated that another U Boat had been sunk by his aircraft.