"The Soldier Who Came Back" by Steve Foster with Alan Clark
'The most audacious true story of friendship and indomitable British spirit you will ever read!' – Dan Snow
A book based on Steve Foster's painstaking research into his father's life as a POW and his escape.
In Northern Poland in 1940, at the Nazi war camp Stalag XX-A, two men struck up an unlikely friendship that was to lead to one of the most brazen and remarkable wartime escape stories ever told.
Antony Coulthard (nicknamed 'The Professor') was the privately educated son of wealthy parents with a first-class honours degree in modern languages from Oxford. The other man, Fred Foster, was the son of a bricklayer from Nottinghamshire who had left school aged 14.
Held in captivity, this seemingly mismatched pair would bond together and hatch a risky plan: they would perfect their German, forge travel documents, disguise themselves as travelling salesmen – and simply walk out of the camp.
Their journey would take them into the very heart of the Third Reich, stopping en route to sightsee and drink at a notorious Nazi watering hole.
'It was a clever strategy, but a high-risk one. Success or failure would depend entirely on one thing: their ability to pass themselves off as native German speakers. The weight of this rested largely on Antony,  whose fluency would be their passport to freedom. The serious challenge was to get Fred's skills up to a level where he could just about pass muster during the time required. It would be, as Fred put it, "one big bluff".'
What happened next is both heart-stopping and tragic.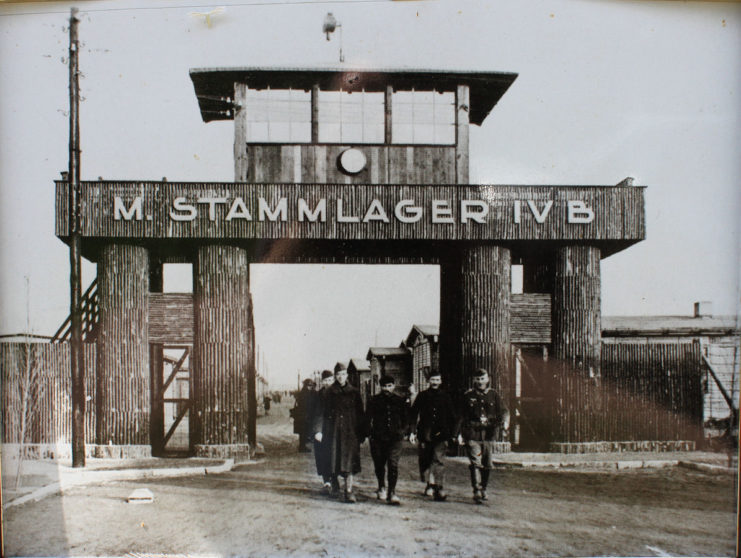 Extract  from "The Soldier Who Came Back"
'I don't believe it, Freddie,' said Tony. 'Look, another lot.'
Right outside the main entrance to Torun station was yet another gang of our fellow prisoners. They had just arrived back by train from some outlying work site. We got some very strange looks, but again nothing was said. Later on, we'd find out that they'd got back to Stalag XXA, telling people that Coulthard and Foster had 'gone Gummi', which meant we'd gone over to Adolf, as we'd been seen at the station in civvy clothes without a guard. Thankfully, nobody had given us a raspberry.
There was next to no time before our train left at two o'clock. But even those last minutes in Torun were destined to be heart-in-mouth. In the booking hall, we nearly collided with one more familiar figure from the camp, a Jerry guard who knew both of us by sight. Yet again though, this one also sailed passed us with no hint of recognition. In my pocket, my fingers were crossed so tightly my nail had drawn blood.
It was a central plank of our escape plan that, unless it were unavoidable, Tony would always do the talking. If I really had to speak, and people struggled to understand me, he would explain about my Hungarian extraction.
While Tony went to the ticket office, I stood looking at the train timetables posted on the wall. My ears were pricked up, waiting for us to be rumbled at any second. But no, all went perfectly and he came back quietly triumphant with two tickets clutched in his hand.
'Fancy a late summer holiday?' he asked.
The next barrier was a literal one. After handing your tickets to the collector, you had to go through a turnstile to reach the platform. This was where a member of the Gestapo was often posted, double-checking travel passes. But not today. Thank you Lord for another small mercy. Our train was already at the platform in full steam, doors slamming, ready to move out. We had only just made it. We dived into the nearest carriage. It wasn't the greatest choice. We had leapt into a compartment jam-packed with Jerry soldiers and NCOs who were now staring straight at us. We gave the Hitler salute, had it dutifully returned and sat down. I knew I'd have to make plenty of these bloody salutes before we reached freedom. I could hardly wait to be standing on Swiss soil, finally able to give two fingers to the Third Reich.
I hid myself behind my German newspaper, but not Coulthard. Cocky as you like, he asked the Jerry NCO sitting opposite if he could borrow his magazine. These troops were on leave from the eastern front and soon Tony was chatting away.
'How's it going out there then?' he asked a burly Wehrmacht officer. It was like watching David having a natter with Goliath. But the diminutive Tony had never been intimidated by men bigger than him. His brain was always a match for their brawn.
'We are making excellent progress,' replied the giant.
'That's what I like to hear,' said Tony. 'Damn communists. We must wipe them off the face of the earth.'
'We hope to be in Stalingrad before long,' said the giant, leaning forward confidentially and lowering his voice. 'That should be the turning point. Not long before the swastika is flying over the Kremlin.'
'I envy you,' said Tony. 'How I'd love to be fighting alongside you, but my colleague and I are in a proscribed profession.'
'Don't apologise, my friend,' replied the giant. 'We all serve the Fatherland in our different ways.'
'True,' said Tony. 'Indeed we do.'
I hid behind my newspaper, wishing he'd give it a rest but knowing he was enjoying every second of it. At the same time it came home to me that nobody would have guessed in a million years that he wasn't German. I felt a surge of real confidence that this crazy escape might just work.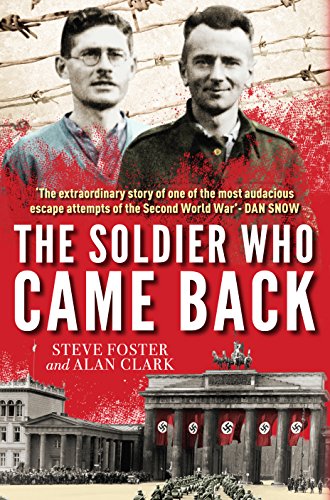 The Soldier Who Came Back
By Steve Foster with Alan Clark
Published: May 2018
Hardback, £16.99
About Steve Foster
Steve Foster was born in Grantham, Lincolnshire. He joined the Royal Navy in 1966 and went on to be the Marine Engineer Officer in the frigates HMS Andromeda and HMS Sheffield and the destroyer HMS Cardiff, being promoted to Commander in  1997.
After retiring in 2003, he and his wife lived in Brittany, before returning to the UK in 2009. Since then he has researched the story told in this book. Steve is married to Christine and has two grown up children. He lives in Hampshire where he enjoys motorcycle touring, mountain walking and military history. The Soldier Who Came Back is his first book.
About Alan Clark
Alan Clark is a writer, novelist and biographer. His recent novel, the widely praised Rory's Boys, is currently being turned into a screenplay in Hollywood. Alan's ghost-writing skills and ability to capture the essence of a story and those involved have been used to great effect recreating the friendship and courageous lives of Fred Foster and Antony Coulthard. He lives and works in London.