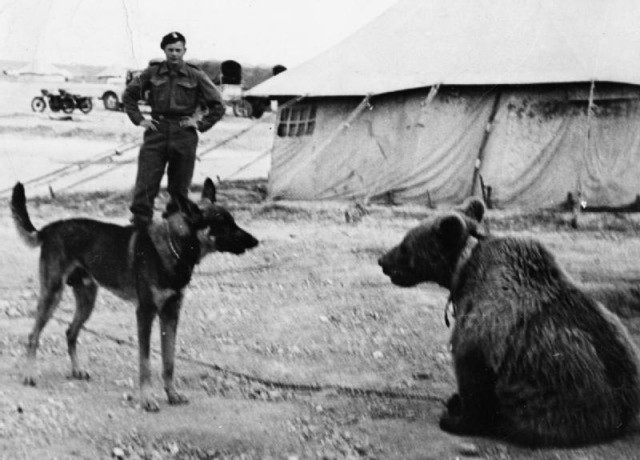 Wojtek the 'Soldier bear', who served with Polish troops in the Second World war has been commemorated, fifty-two years after his death in Edinburgh zoo.
In April 1942, troops of the Polish II Corps 22nd Artillery Supply Company were travelling from Russia to Palestine, where they came under the command of the British army. Passing through Iran, a group of soldiers came upon a boy who had found a Syrian brown bear cub after its mother had been shot. A young woman, one of many refugees who were traveling with the troops offered to care for the bear, which subsequently travelled to Tehran with them.
Adopted as a mascot by soldiers of the 4th Platoon, the bear was named Wojtek (pronounced: Voytek) and he swiftly became a great attraction. His favourite drink was beer, and he was soon enlisted with the 22nd Artillery Supply company as a Private with his own pay-book and army serial number.
Wojtek's company moved to Iran, and then to Palestine and Egypt from where they sailed to join the British 8th Army in Italy. Seemingly oblivious to the sound of gunfire, Wojtek took part in the Battle of Monte Casino, carrying many ammunition boxes and crates of food for his unit. After the battle, the 22nd Supply Company adopted a badge of a bear carrying an artillery shell as its official symbol. A bear of character, Wojtek liked cigarettes, but he ate them, always insisting that they were lit first. Unlit cigarettes were firmly rejected.
In 1945, the Polish 22nd Artillery Supply Company went to Scotland and Wojtek went too, becoming very popular with local residents. In November 1947 the Company was demobilised, and Wojtek was sent to Edinburgh zoo, where he was to remain until his death, aged 21 years, in December 1963. Wojtek appeared on 'Blue Peter', the BBC Television programme for children on several occasions. Polish war veterans visiting the zoo would give the ageing bear cigarettes to eat, and talk to him in their native language. Several of his old army colleagues even jumped into his enclosure and wrestled with him, the BBC News reports.
Wojtek's story lives on. There are commemorative plaques in the Canadian War Museum in Ottawa, the Imperial War Museum in London, and in Edinburgh zoo. A bronze statue, showing Wojtek with a Polish soldier 'walking in peace and harmony' was recently unveiled in Princes Street Gardens by the Wojtek Memorial Trust.