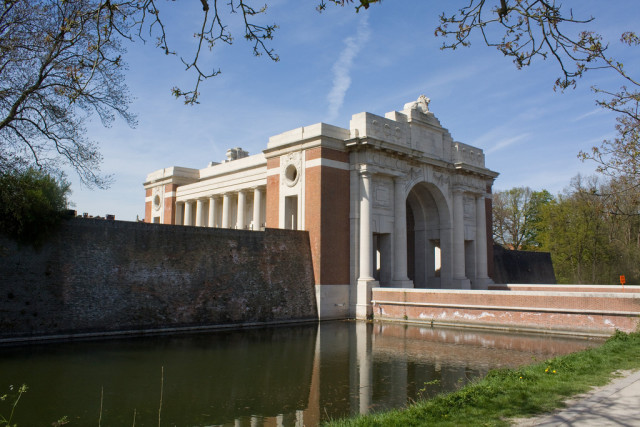 The History of WW I is very important for children today. Our age is still shaped by that horrific event. The younger generation often familiar with WW II have little understanding of WII. However, many schools, are trying to teach children the importance of WW I.
One English school, has taken its pupils on a trip to France and Belgium, to learn about WW I. In total 28 students went on the trip. Teacher Lynsay Ashton organized the visit, which was designed to show just how much the battles fought between 1914-18, still affect the world today.
The students visited the scenes of some of the bloodiest battles of WW I, including the Somme in France and Ypres in Belgium. These battles saw thousands upon thousands of men died or suffered horrifying injuries. During the visits they also visited the cemeteries where the fallen from those battles lie.
During the trip to Ypres, the 28 students from Clyde Valley High S4 and S5 donned their most formal full school uniform and joined the residents of Ypres village to pay homage to those who fell in the war. At the landmark Menin Gate for the Last Post ceremony, each student attempted to mourn the passing of one of countless unnamed fallen soldiers.
The Menin Gate is a monument to the countless British and Commonwealth all those who died in the battles of Ypres. The Gate stands on the road, that the Allied troops, travelled upon the reach the front line and from which, many did not return. There were several battles for Ypres, because of its strategic importance and they were among the fiercest of the war.
During the ceremony, some of the children laid flowers, some recited poetry, and some simply held lit candles to pay tribute to soldiers who paid the ultimate price in World War I. While they recognized the tragedy associated with the event, the pupils also acknowledged the value of honoring those who fell in one of the largest global conflicts in history.
This visit to the battlefields of Belgium and France was part of their National Qualification courses. These courses give students, experiences and events, that allow them to have a better understanding of a historical period. By their mourning of the heroic deaths of these unnamed soldiers, these men were once more honoured for their sacrifices. It was a tremendous display of respect and recognition for those who gave the greatest sacrifice a person can give.
Image by Johan Bakker – Own work, CC BY-SA 3.0, https://commons.wikimedia.org/w/index.php?curid=16483671