Affectionately known as the "Russian Spitfire" due to her combat heritage flying with the Soviet Air Force during WWII,  Supermarine Spitfire Mk.IX PT879 has completed her flight testing following a long-term restoration effort. Following a number of successful engine runs on October 26th, at Biggin Hill, near London, England, she then underwent preparations for final CAA inspections and the issue of her all-important "permit to test" approvals which took place soon after. The momentous occasion of her first flight took place in the morning of October 28th, 2020, when she went up for a 25 minute hop, thus marking her first foray into the blue in 75 years.
Set to become part of the Hangar 11 Collection at North Weald, PT879 is a rare bird indeed. Despite a relative plethora of airworthy Spitfires around the world, this aircraft represents a significant milestone, being the first Soviet Lend-Lease Spitfire to fly since the late 1940s. She rolled off the production line at Vickers-Supermarine's Castle Bromwich Aeroplane Factory near Birmingham on August 4th, 1944. That October, after flight testing, PT879 made the long journey by sea from Cardiff, Wales, to the Russian port at Murmansk. Here she joined the 2nd squadron, 767th Regiment, 122nd Division of the Soviet Air Force, operating in the Murmansk region.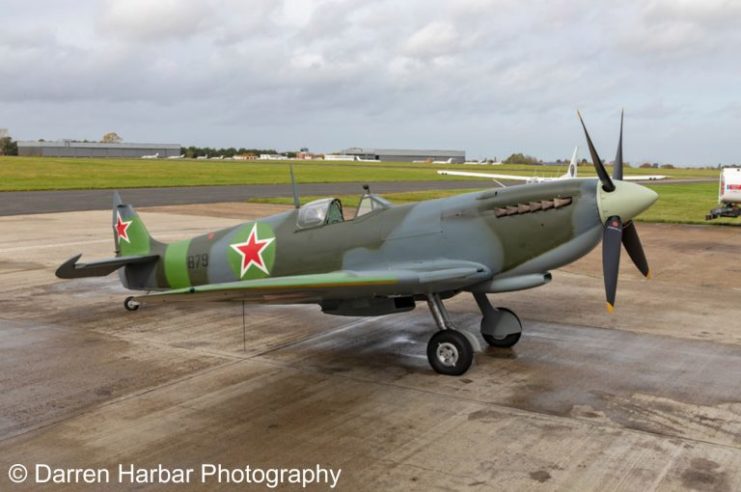 PT879 did not enjoy a long flying career, being involved in a collision with another Spitfire over the Kola Peninsular on May 18th, 1945 with just 18 hours or so on her clock. Inverted and in a flat spin, Lt Semyonov thankfully managed to escape his stricken Spitfire before she hit the ground. In 1997, a recovery team moved PT879's badly battered, but substantially complete airframe from the battlefield to St.Petersburg. After some 'interesting negotiations', noted Spitfire restorer, Peter Monk, acquired the wreck and returned her home to England. Monk initially sold PT879 to Angie Soper in 1998, and she in turn passed the project on to Peter Teichman.
Teichman stored the airframe for a number of years before commissioning Airframe Assemblies to restore the fuselage at their facility on the Isle of Wight. The world-renowned workshop completed this assignment after three years, returning the fuselage to her proud owner in 2014. In the interim, Teichman collected a lot of the missing parts for the rest of the airframe, before moving the final rebuild to Peter Monk's Biggin Hill Heritage Hangar in 2018. They have now completed this magnificent restoration in the same livery PT879 wore in the Spring of 1945. This Spitfire is the eleventh example which the Biggin Hill Heritage Hangar have completed – a remarkable achievement! Interestingly, a substantial number of components from the original wreck were reported to be of sufficient quality to refurbish for reuse in the restored airframe, which is unusual these days.
Peter Teichman, who operates the Hangar 11 Collection, entrusted former British aerobatic champion Pete Kynsey, to be PT879's test pilot. Following the taxi trials on October 26th, Kynsey indicated that everything seemed to be functioning correctly with all system temperatures and pressures at optimum levels, and brakes performing properly.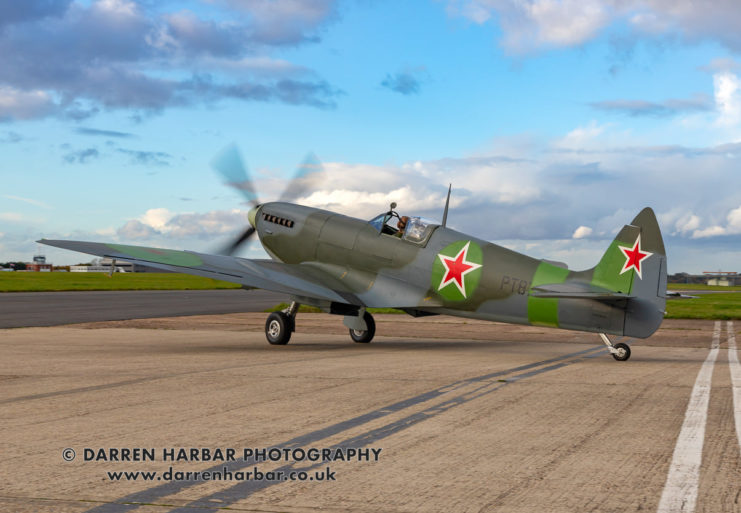 So then it was off to fly! Following the initial flight on October 28th, the aircraft underwent some minor adjustments before flying again on November 6th. Since that time, PT879 has undertaken the rest of her scheduled test flight regime, with Pete Kynsey reporting ecstatically about her exceptional performance. So now the team at Hangar 11 are just awaiting the CAA's approval before she can make her way to her new home following a marathon rebuild at the Biggin Hill Heritage Hangar.
Commenting on the restoration in a recent press release, Peter Teichman stated, "This joyous day brings me to the final chapter that started back in year 2002. I acquired the whole aircraft, complete with original engine and prop hub, inside a 20ft container on a farm in Essex. So starts a new chapter in the life of this unique Mk IX Spitfire, which it was my dream to restore to the skies. I always said that was my legacy, my promise, and today it came to pass.
I feel deeply indebted and thankful to the many people involved in this wonderful project. Peter Monk of course and his whole brilliant and talented team at BHHH. Airframe Assemblies, RAS and I should also pay tribute to Steve Atkin of Warbird Colour who has ensured that she is presented today as she flew on her last mission in 1945 along of course with my whole team at Hangar 11."
Bravo to everyone involved in this magnificent resurrection, and many thanks indeed to the superlative Darren Harbar, whose magnificent images grace this article!