War History online proudly presents this Guest Piece from Jeremy P. Ämick, who is a military historian and writes on behalf of the Silver Star Families of America.
The Kansas City Royals have for decades demonstrated their reverence of the nation's veterans through a number of initiatives, all of which recently earned the American professional baseball team a distinguished honor.
In recognition of their support of the military community, the Missouri team was presented with the 2017 Silver Star Families of America (SSFOA) Commendation Award during pre-game ceremonies last month at Kauffman Stadium in Kansas City.
A non-profit based out of Clever, Missouri, the SSFOA's primary mission is to recognize and support veterans who are wounded, injured, or have acquired an illness related to their service in a combat zone—regardless of service branch or military conflict.
The commendation can be awarded to military or civilian personnel, departments or organizations who have positively affected the lives of wounded and ill veterans.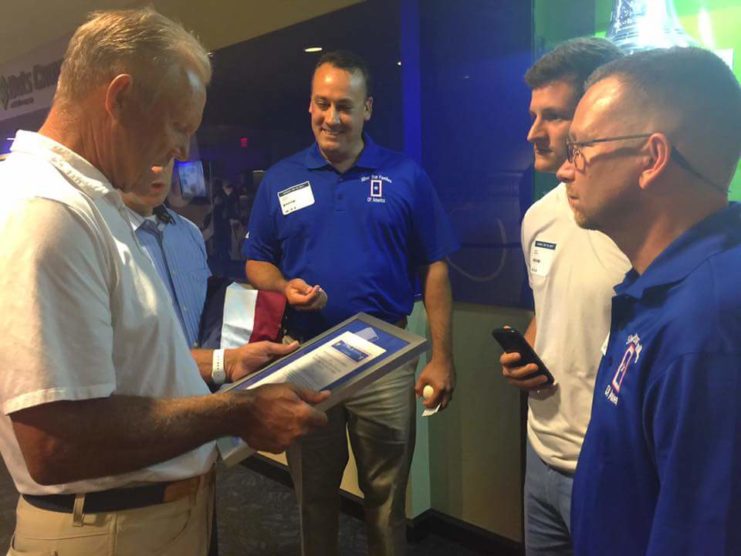 Previous commendation recipients include President George W. Bush, Ann-Margret, Gary Sinise, WWE, in addition to the bands Mötley Crüe and 3 Doors Down.
This year, the SSFOA founders selected the Kansas City Royals for this distinction because of their "unwavering support of the military community by offering discounted tickets to members of the military and their families; honoring veterans and the military in pre-game ceremonies; visiting troops at military sites such as Ft. Riley, Kansas, and Whiteman Air Force Base; hosting Memorial Day tributes; and visiting veterans at VA hospitals," the award citation read.
Steven Newton, founder and CEO of the SSFOA said, "It is pleasing to note that there are organizations in major league baseball, such as the Kansas City Royals, who appreciate the sacrifices of members of our Armed Forces and utilize their resources and notoriety to support causes benefitting these great warriors with no expectations of recognition for their efforts."
As part of the presentation, the team was presented with a plaque, a Silver Star Families service flag and challenge coins.
Following the official presentation, SSFOA representatives had the opportunity to share the history of the SSFOA organization and discuss the award with former Kansas City Royals third baseman George Brett.