Relatives of Ronald Balfour are enraged that George Clooney missed the British historian in his coming WWII movie The Monuments Men; he was one of the two members of the unit who were killed during the war.
Almost 7 decades after his death during WWII protecting art masterpieces from Hitler and his goons, the amazing but mostly untold story of art historian Ronald Balfour – the timid yet courageous Academic from Cambridge honored in Germany but relatively unknown in his own country – has begun to come out.
However, the few people who knew Ronald Balfour fear that the WWII hero's feats during the war, the very same ones that made him lose his life, will soon be forgotten especially now that Hollywood's A-list actor George Clooney overlooked him in his upcoming WWII movie about the arts and history detachment of the Allies which worked to save arts and culture pieces during the war, The Monuments Men. 
Ronald Balfour worked for the unit. But his character could not be seen in the movie.
The people who knew Balfour so well felt that he was unjustly left out to make The Monuments Men a "good adventure cinema".
Who is Ronald Balfour?
Ronald Edmund Balfour was a short-sighted, lanky historian and associate at King's College, Cambridge who specialized in Medieval History. He was forty when he enlisted for the Allied Forces' new unit made up of civilian art museums and heritage professionals which set up to work in company with the Allies after D-Day; their main goal was to save up as much cultural and art heritages like paintings, statues, ancient landmarks and historic documents as they can from the destruction brought about by the war and from the looting Hitler's army was doing.
The unit, known formally as  the Monuments, Fine Arts and Archives (MFAA) section of the Supreme Headquarters Allied Expeditionary Force, was dubbed by seasoned WWII soldiers as "the Venus fixers" because they were puzzled at their appeal to respect cultural treasures.
Unfairly Overlooked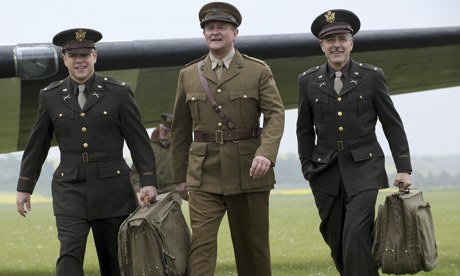 The WWII film The Monuments Men, its screenplay partly written and directed by George Clooney, centers on the story of these MFAA officers and their mission to save art masterpieces from D-Day until the end of WWII. Clooney also stars in the film along with Matt Damon, John Goodman and Cate Blanchett; the whole film is adapted from the book written by Robert Edsel due to be released in UK next month.
The movie also stars Downtown Abbey actor Hugh Bonneville. As a matter of fact, Hugh is only British lead actor in The Monuments Men  and portrays a fictional character named Donald Jeffries, an English academic, who is part of the MFAA unit led by Clooney's character, George L. Stout, a real MFAA officer in WWII, a vital key person in the making of the unit and was a prominent American art conservator.
Balfour and WWII
Balfour had an intricate and intrigue-laden life. His acquaintances most likely included Anthony Blunt, the art historian who spied for the Soviets, other scholars connected to the group Cambridge Apostles as well as EM Forster and perhaps Brenan Bracken who was PM Churchill's close friend and adviser.
However, movie-wise, Balfour has little appeal to the film scene. he was unmarried, was probably even gay, the Eton-educated man devoted most of his life to academics and was reportedly even considered as the future administrator of King's had he not died in war. His only great possession was his 8,000-book library which he left to the college.
The MFAA unit may be American-led but it was an international campaign with over 350 men and women members coming from about 17 countries with Britain being the second country with most members. MFAA volunteers who were sent behind the enemy lines and in WWII's front lines underwent basic military training, a military uniform, a rank and an area in Europe to work in.
It was the last months of WWII in Europe which proved to be the most chaotic of all as armed gangs roamed and operated at their own will.
In the middle of this turbulent scene were MFAA officers laboring greatly to preserve the cultural wealth of Europe. Balfour, who was ranked as a major and was attached to the Canadian army, was given custody of the area which included Northern France, Belgium and Northwest Germany – a sector where countless cultural heritages in forms of paintings, key sites and historical architectures are found.
Balfour had to hitchhike his way from one war-torn location to another frequently just so he could look over the damages and the losses. In the end, his passion to preserve culture and arts costed him dearly – it asked for his life.
Early 1945 – Balfour was in Cleves, the heavily contested city in northwestern Germany. Fresh from saving a 14th-century archive, he pleaded to the Canadian army not to blow up the  medieval Steintor city gate at nearby Goch. On March 10, he then went beyond allied lines with two German civilians in an attempt to protect church artifacts but was unfortunately killed by a shell burst while he was moving pieces of a medieval altarpiece to safety.
Balfour was only 41 years old when he was killed in action; one of the two MFAA officers to die in line of duty. The other one was an American architect – Walter Huchthausen was shot near the city of Aachen on April 1945.
The MFAA officer was buried in the Reichswald forest war cemetery which is near Cleves, his papers were left in the custody of the college. To honor his feats and passion to culture, King's named an archive room after him.
IN Germany, Balfour was not left forgotten. A Cleves woman, whose brother died during WWII, has been leaving flowers on his graveside for years. A local archive and eventually a street were named in his honor and in 1985, his family received the highly esteemed German bravery award in his name, the Johanna Sebus Medaille.
Forgotten by His Own Country
Balfour's relatives found it disappointing that the WWII hero was ignored in the upcoming movie The Monuments Men. Yes, the film is based on the real thing – it at least adhered to the history of the MFAA unit and features an English historian with a rank of a major who worked in the front line – but that character was given a fictional name when it could have been Balfour instead.
"We were astounded when we heard that Hugh Bonneville was going to play the character we thought might be Ronald. He is so different," Polly Hutchinson, one of Balfour's nieces, said.
Though George Clooney's The Monuments Men is billed as "based on the true story of the greatest treasure hunt in history" – the film's central theme being the search of art masterpieces looted by the Nazis, filmmakers did admit they had taken a few liberties on the film's characters for "dramatic purposes". They further acknowledged that the film has no character by the name of Ronald Balfour and that Bonneville's character in the movie is entirely fictional.
"I feel that Ronald has now been twice unrecognized. First, that his own country has not recognized him, and then when there's a film, he's unrecognized again," Hutchinson commented.
The Monuments Men also went under fire last month when Austrian author Konrad Kramar criticized it for crediting the MFAA officers for saving a huge horde of art pieces stolen across Europe, stored in the alpine salt mines of Altaussee, Austria and was targeted by Hitler for destruction during the last months of WWII. In Kramar's new book, he claimed that in truth, it was the salt miners who removed the explosives from the mine and that the Monuments Men, the MFAA officers, came there about two weeks after.
Remembered
Virginia Cardwell, one of Balfour's nieces, said:
"There is a lot of family pride in what he did. He was brilliant, and would have had a great future. But after 1945 Ronald was overlooked. But in the family we've talked about him all our lives."

"He's a family legend, if you like," added another niece, Delphie Stockwell. "Often it's hard to work out what he was doing, and who for, even before his monuments work started."
The US Senate passed a resolution in 2007 recognizing the feats done by MFAA officers during WWII; last month their importance. That and the coming premiere of The Monuments Men paved way for a Congressional gold medal award.
On the other hand, Germans were quite perplexed why the British government doesn't recognize Balfour's courage and achievements as one of The Monuments Men.
As Cleves local Paul-Gerhard Küsters voiced out:
"Here he saved the last great medieval building standing. Cleves was 97% destroyed in the war, but Ronald Balfour saved archives and buildings here. It is a pity that the English do not know about him."