Sabaton is a power metal band from Falun, Sweden formed in 1999. The band's main lyrical themes are based on war and historical battles. This is heard in the albums Primo Victoria, Attero Dominatus, Coat of Arms, Carolus Rex and Heroes in which all of the songs contain these motifs, except final tracks which are tribute songs for influential heavy metal bands. Lyrical content drawn from World War I, World War II and other conflicts is prevalent and includes songs about battles and leaders on all sides of said conflicts.
As well as extensively touring internationally, the band have a festival in their home town of Falun, Sabaton Open Air in August and an annual cruise, 'Sabaton Cruise', in November
They are tour and we sent WHO Man Kevin to interview the band and he was on the guest list too. He is a die hard metal head himself so was more than happy to get on a train to London. We told Kev that he was too old for the mosh pit but he didn't listen. This is how the interview went:
Hi guys, I am a big fan of yours in fact I have been to many of your gigs. I always wear the same T shirt and I have never washed it – it has this great 'lived' in look and smell! It's great to be here and thank you for the invite and as an ice breaker here is my first question:
What is heavier a Panzer IV or the riffs and lyrics for the Cliffs of Gallipoli???!!!!
Of course a Panzer IV!!!!
Is there any specific reasons why Germany didn't invade Sweden? It did not invade all the other Scandinavian countries?
Sweden was a vital source of iron ores to Germany, an important strategic resource for her war effort. Because the allies controlled the seas, Scandinavia was Germany's main source of good quality iron. Attacking Sweden would have disrupted the supply for no real gain. If the war had gone on we would have been invaded or we would have brokered a deal.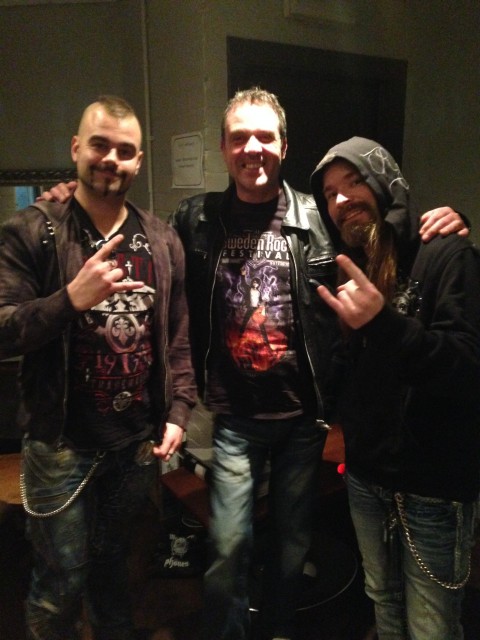 L-R, Joakim Broden, Kev WHO Man & Pär Sundström
Sweden seems to be the epicentre for rock bands, amazing bands, Hammerfall, Opeth, Tallisman, Dream Eagle, Every Grey and of course Europe,. Why do you think rock metal is so popular in Sweden?
I think one of the main reasons could be the climate for the musicians in Sweden it is very very friendly. When you are young and start a band, there are so many things from the government that can assist you and help you. To help you get a place to rehearse and when you get to a level when you can actually put on a show, then there is a big support structure out there, free festivals and local gigs. It makes it easier to start a band.
In the UK when you have your first show or gig when you are 14 years old and you are excited as hell to go and play in this club. You get to the club and they treat you like shit, they say you are worth nothing and you have to play for absolutely nothing. That destroys a lot of dreams, you have this dream that rock stars are cool and playing gigs is cool but everything turns out shit. So this brings a lot of people down and sucks the energy out of a lot of the youngsters and they say ****** this guitar and I will do something else with me life.
When in Sweden, you are 14 years old and you come into a club, the quality of that club, even if it's just for 200 people is going to be a lot better than this one in the UK. We would have hot showers and food after the show and you are made to feel very welcomed. This helps you believe in yourself and practice.
Would you say this was the same for all Scandinavian countries in general?
It is, it is the same for Sweden, Finland and Norway. And to be fair it is the same in Denmark too.
Bands like Dream Eagle and Hammerfall unashamedly write songs about the Crusades. What is your take on what happened in Paris?
We aren't touching that. You are right, we do write about history but we do not write about politics. We could write about the crusades because that is history but we wouldn't write about what is going on today. Because that is religion and politics. We could write about in 50 years but we will be old then………
If we wrote about it today then we would change from being an historical band to a religious and political band that's not us. We just step away from that as we aren't here to tell people what to think, what to believe in.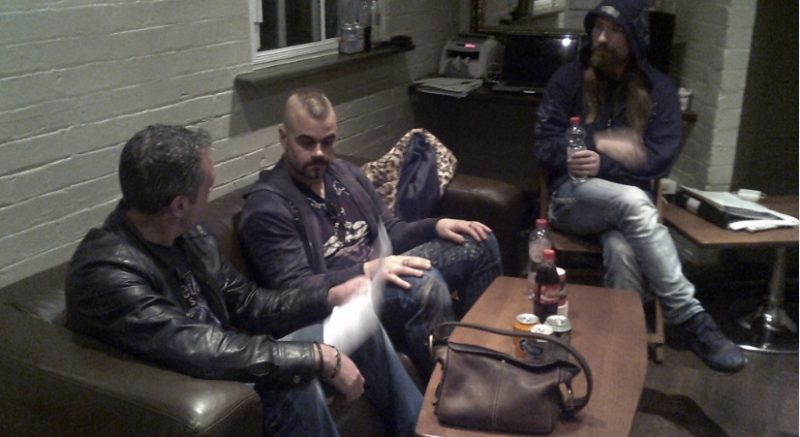 You can see the look of shock on Joakims & Pärs face as Kev gets his questions out of what looks like a handbag…
That's interesting as I saw Iron Maiden play in Belfast, the night before I had seen them in Birmingham but they didn't play the Trooper in Belfast. Would you consider not playing a song in fear of upsetting someone?
No, we would play the song anyway as it is an historical fact. If it was popular and made reason to play it then it would be on the set list. The chorus of one our songs is 'and Berlin was burning'. We played this in Berlin and everyone was singing along. It's more the promoters who are putting on the show that say we can't play this song or that song. 9/10 the promoter is scared of public opinion when 9/10 the public just want to sing along.
I saw you play in Brighton and your support band classified themselves as 'power rock'. Would you classify yourself in a genre??
A lot of people say we play power metal. There may be some of those elements in here but the main elements of power metal is the high pitch vocalist and fantasy lyrics and Sabaton has none of that. So the easiest why is to say Sabaton plays heavy metal.
As you guys know, last year was the 100th anniversary of the beginning of WWI. Did you guys follow it, what did you think. Great press coverage or not enough?
We were on the road throughout last year so we didn't get to see a lot of it. We followed it online as much as we could and always check in on War History Online. But Sweden didn't make too much noise about it. It was on the front cover of the big magazines but you have to remember, Sweden wasn't in it. Swedes don't like to talk about such things, especially WWII.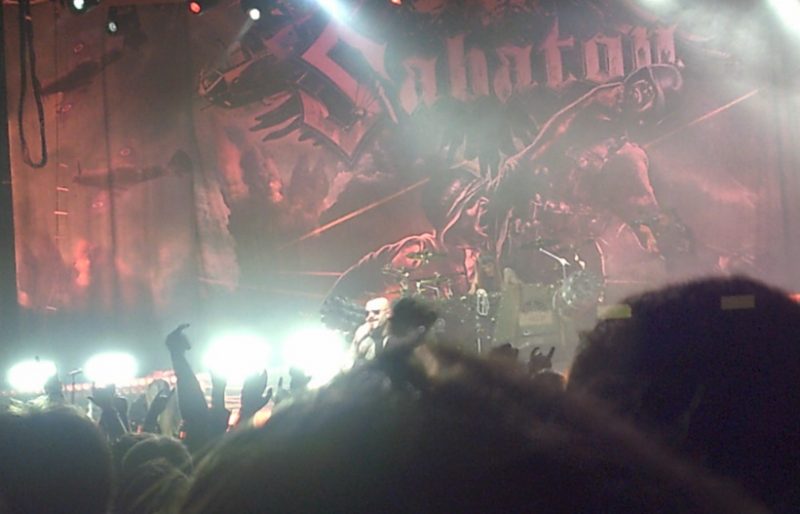 These guys are stunning live and if you get the chance to see them then make sure you do.
When on tour to say, St Petersburg or you are in Europe, do you get to see the museums and the battlefields?
We do, when we were on tour in the US we played at San Antonio and I missed getting to see the battlefields of the Alamo – I corrected that the next time we went. When in Europe we always visit the tanks museums and they all say they have the only running Tiger tank in the world. The only one we know of that is running is the Tiger at the Bovington Tank Museum in southern England.
So guys, you have a gig to play so last question. What are you plans for the future, do you think the subject matter of which you write is exhaustible?
No! There is enough material for 1000s of Sabaton albums, they is so much of it. We do try and change the point of view on it. The last album we called Heroes, the one before that we worked on Swedish history and the album before that was on WWII. This is great for us as in WWI not so many stories were written down and not everyone could write. That changed in WWII and that's why we have some many stories and records and of course we still have oral history. The impact of TV and the movies just makes it more assessable.
Take the Band of Brothers series, what better way to tell people the stories but the veterans themselves being interviewed at the beginning of each episode. You can't argue with that. They are telling you what happened. Yes there is some Hollywood going on but it is a perfect mix of fact and fiction. We saw the veterans show their pain and sorry in the interviews, this can't help but touch you.
And a question for next time guys………
What is heavier, a Sherman tank or a full stack of Marshal amps??????????
Many thanks to all of the guys at Sabaton and a massive thank you to Lisa at the Nuclear Blast Records UK label for making this happen and a real professional to work with and a big thank you to Kev for the interview.
You can still catch Sabaton on their world tour and you can find dates here www.sabaton.net and you can follow the band on Facebbook