The Monuments Men – the arts and history scholars detachment of the Allied Forces. They volunteered to troll along and behind the enemy's lines, risking their lives on the way, just so they could get back and protect priceless art masterpieces from Hitler and his army.
They were reality's blend of Indiana Joneses, WWII's A-Team when it came to arts and Dad's Army.
They were your bunch of untypical WWII heroes. When war broke out, most of them were in their forties and fifties and had spent the majority of their existence poring over books and other "nerdy" stuffs in museums and libraries.
Men similar to George Stout, James Rorimer, Kenneth Steer and William Gear may be individuals you would not likely imagine to sign up for the Army and would really look queer wearing the service uniform but these bookworm-slash-secret-daredevils were part of one of the Allies' most important and vital units to ever execute offensive attacks against the Nazis.
And as one expert voiced out, we should all express a silent act of gratitude to this tiny unit whenever we visit a museum. After all, they were the Monuments Men – the ones who ensured the safety of countless art masterpieces from the looting of the Nazis in WWII.
But no matter how heroic their feats were during the war, it is not until recently that this band of men begun receiving contemplative praises for their deeds. Their story will soon hit big screen in George Clooney's The Monuments Men.
Clooney stars in the film alongside other Hollywood artists Matt Damon, John Goodman, Bill Murray, Cate Blanchett and others as the chief lost art raiders of WWII, the men and woman who were able to save about five million artworks from Hitler and his goons.
Monuments Men: The Origin
About 350 men and women coming from 13 various countries enlisted for the Allied Forces' Monuments, Fine Arts and Archives (MFAA) unit when war broke out and after it ended. They signed up as volunteers and came from museums, art galleries and academia; a considerable group came from UK along with a number of notable Scots.
Fife-native William Gear, was an artist when he signed up for MFAA; Professor Kenneth Steer, a professor based in Edinburgh and had spent much of his civilian life protecting artistic and historic landmarks in Scotland, became one of the unit's most famous British members. He is believed to have saved a cathedral in Cologne single-handedly by reinforcing its damaged steeple.
But the Monuments Men's central figure was George Stout of Harvard – he was the one who strove to have the unit created then became the group's leader leading his comrades from France's front lines to Austria's salt mines. Portrayed by George Clooney in The Monuments Men (Matt Damon, on the other hand, did James Rorimer, director of New York's Metropolitan Museum of Arts), it was Stout who started the campaign.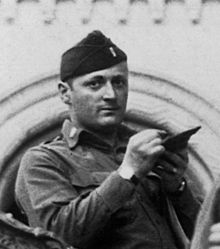 Introducing George Stout
Stout was a WWI veteran. An art conservation expert, he was one of the key persons in the setting up of the American Defense Harvard Group as well as the the American Commission for the Protection and Safe Storage of Artistic and Historic Monuments in War Areas. The latter paved the way for the formation of the Monuments Men.
As Bret Witter, who wrote the book with Robert Edsel where the movie The Monuments Men was based upon, pointed out, Stout was one of war's greatest champions.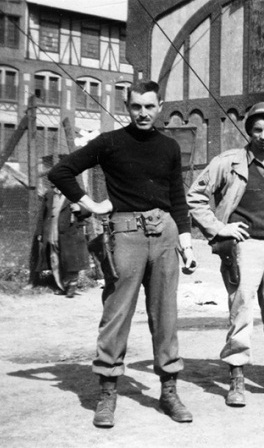 "Stout had started thinking about the project in the 30s and worked tirelessly for a decade to make it happen.

Even though he was 47 – and had a son in the Navy during World War II – he went out to Europe and worked every day, from D-Day to VE Day, without a single day off.

It's an incredible project. None of the guys were in service – most were too old – but they all realised how important it was to protect the art and they were so dedicated to it.

It's also incredible when you think of the numbers involved. At first, there were about 15 people while the Nazis had hundreds or thousands in their looting teams," Brett commented.
WWII, Culture and the Monuments Men
As Hitler and his Nazi forces charged all over Europe, art looting was also acted upon quite passionately.
Artworks were either destroyed or embezzled predatory Nazi soldiers and commanders. However, the art masterpieces were saved, collected, sorted and then shipped back to Germany right into Hitler's personal collection.
The Einsatzstab Reichsleiter Rosenberg (EER) was the particular Nazi unit which had this responsibility and it was their large-scale pillaging that the Monuments Men were determined to put an end to.
The MFAA officers arrived in Europe after D-Day where they split into two teams and joined two different armies. In every town they come into, they work to classify the local artifacts which they need to protect. When more of Europe got liberated, they went through museums to investigate which art items went missing.
The MFAA were backed by top officials who helped create the unit but the filed commanders who had the responsibility of saving lives and winning as much territory as they can were less sympathetic of the group's work on culture defense.
According to Brett:
"General Eisenhower supported the idea a couple of months before D-Day, which made it happen, but there was a lot of opposition on the ground.

They also didn't get a lot of material support, no basic things, like typewriters or vehicles for clearances. They had to figure it out as they were going along.

And they would be back and forth to the front line."
Nevertheless, even with little funds and manpower, MFAA flourished and went on to have extraordinary successes in their field. They were able to recover artifacts stored in castles, prisons, country piles and even in down mine shafts.
It was Stout who who found about 6500 paintings stashed inside Austria's Altaussee salt mine. The stash had included Michaelangelo's Madonna of Bruges and Vermeer's The Astronomer.
Their Legacy Forgotten
Brett came to know the story of the Monuments Men through Robert Edsel, a close follower of the group's history.
"You see their legacy any time you go into a museum in the western world, as much of the artwork that's in there will be because of these guys' efforts," he said.
He also pointed out that after WWII, a group who stood in defense for culture during war has never been put up again.
"Look at the way Baghdad Museum was looted, because there was nobody to think about preservation of culture," he cited as an example then added, "When America got involved in the Korean War in the 50s, Stout tried to volunteer to go in to put together a Monuments Men unit. But when he approached the military, they had actually never heard of his work. Ten years later, they had already been forgotten."
The Monuments Men will be out in cinemas on February 21 this year.
Robert Edsel and Bret Witter's book, The Monuments Men: Allied Heroes, Nazi Thieves, and the Greatest Treasure Hunt in History, by Arrow Books is available at £8.99. Check www.monumentsmen.org for more information.