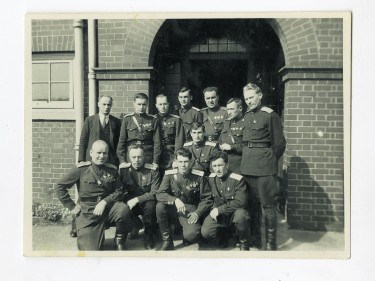 Some of the Soviet airmen who came to Scotland in 1943 to undertake top-secret training at Errol Airfield, including Commander Peter Kolesnikov, front row, left. Photo: Anna Belorusova [Via]
For more than 70 years it was a top military secret but just last week in an exhibition public came to know the secret of Russian pilots getting trained in Scotland. The event was held at Montrose Air Station in Angus district; it revealed all the details about 24 Soviet airmen getting trained during the prime years of the Second World War.
The curator of the exhibition 'The Russians are coming', Dr. Dan Paton explained that the training started as a top-secret mission. Soviet pilots came from the 10th Guards air Division to Scotland to learn the Operations of Whitworth Albemarle bombers.
This was made possible by the detective work of Anna Belorusova, whose grandfather was among the group of Soviet pilots trained in Scotland. Belorosova joined the exhibition organizers along with a delegation of the descendants of some of the original pilots and official from Vnukovo Aviation Museum in Moscow.
Talking about her grandfather Pilot Cmdr. Peter Kolesnikov, Anna said that her grandfather died soon after the end of the war. No one in his family really knew about what Peter really did during his service in the War. But later they found a map of the coast of Britain, some manuals, postcards and most importantly a group photographs of pilots in Scotland. She added that all these things always intrigued her, and her curiosity eventually forced her to find out the real story behind all that.
She then painstakingly went through all the possessions of her grand father, where she found a number of clues. The milestone discovery was an English phrase book which had some notes written on its pages. Anna came to a conclusion that her grandfather was the part of a Secret mission that was sent to RAF airfields in Scotland and Dorset to learn how to fly certain bombers. Britain had agreed to provide these aircrafts to Soviets prior to the training mission, the Sputnik International reports.
The whole affair was kept as a secret at the time. Only the relevant personnel had the information about the training mission. During the mission certain senior Russian officials visited Britain but they landed on RAF airfields to keep the secret hidden from the press.
The original Soviet pilots who were involved in the mission almost 70 years ago could not make the trip to Britain, while the British participants of the training mission have all died. Instead, a group of Scottish World War II veterans was present at the opening of the exhibition.