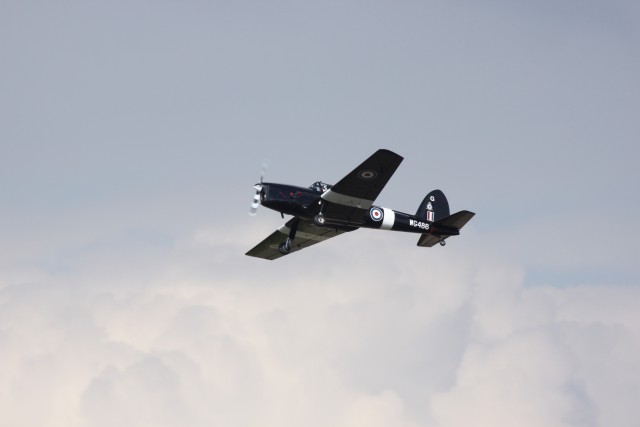 To the surprise and excitement of many in the Britain and across the globe, Prince William took to the skies of Britain to pay tribute to the fighter pilots and crewmen who served and died during the Battle of Britain.
Initially, Prince William had plans to join the crew of a Dakota that was used in the Second World War campaigns, as a part of the Battle of Britain Memorial Flight. However, the Dakota had a technical problem and could not be used in the Memorial flight, instead Prince William was asked to fly an Royal Air Force's Chipmunk which was all ready to operate as a back-up to the initial plan.
The command of the Battle of the Britain flight squadron and the controls of the Chipmunk was given to Squadron Leader Duncan Mason. Mr. Mason took a fair amount of time explaining the controls and systems of the Chipmunk to the Duke to make sure everything went smooth. The sky was blue, and sun was warm in the autumn afternoon, the legendary Spitfire flown by Flight Lieutenant Anthony Parkinson joined Duke's aircraft. The two aircraft made perfect synchronized formations in the air to the amusements of many present on ground and watching the broadcast.
After the Memorial Flight, the Duke was seen pretty excited by the sight of the Spitfire. He told his fellow pilots and crewmen that seeing the legendary aircraft from the Battle of Britain flying alongside his aircraft was one of the greatest moments of his life. Squadron leader Mason told the media after the flight that it was an absolute privilege for him to take Prince William in his aircraft. He also added that the Duke performed the fly pass with utmost professionalism and took the control of the aircraft once they were in the air, The Telegraph reports.
Squadron Leader Mason said that one of the amazing aspects of the whole situation was the fact that Prince William is already an expert Pilot and he instantly got engaged with the controls.He added that although Duke has never flown a Chipmunk before, however he has flown helicopter on numerous occasions, which has a stick and rudder control system, very similar to that of a Chipmunk they were flying on the day.
Commenting about Prince's excitement after seeing Spitfire flying next to his aircraft, Squadron Leader Mason said that Spitfire has this character and beauty that could send anyone in a momentary trance especially when the Spitfire is in action due to its sheer beauty and history associated with it.