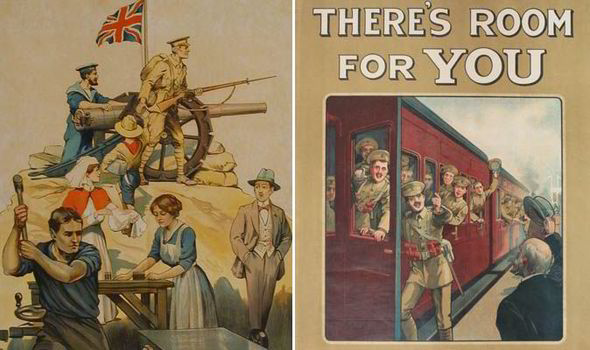 A rare collection of nearly every original WWI recruitment posted has recently been discovered after the collection has been hidden away in an attic for 30 years. The archive of close to 200 posters from 1914 and 1916 were circulated in Britain to encourage men to sign up and join the fight on the Western front. The posters highly the growing menacing tone that was used leading up to the compulsory conscription which began two years after the Great War began.
The collection was inherited by Arthur Maxted from his grandfather who worked for a printing company during WWI.
For the past 30 years, the posters were kept in the loft of his home in Kent. Arthur forgot about them until recently when he realized how valuable the posters had become. The posters are being sold at an auction by Onslows Auctioneers in Blandford, Dorset in the centenary year of the First World War. The pre-sale estimate of the collection is £20,000. Arthur told the Express, "The posters were collected by my maternal grandfather who worked for a printing company during the war.
"Sadly it is a mystery as to why he kept hold of them, as they were not of any monetary worth back then. "My aunt passed them on to me about 30 years ago and they spent many years in my loft. "It was only recently that I started to document them and realized they might be quite valuable." The posters were created by the Parliamentary Recruiting Committee, which is a board set up to bolster the numbers joining the British military.
The posters were displayed in public areas around towns and cities such as train and bus stations and on billboards and hoardings. At first, the response to the posters were strong because the British believed the war was an opportunity to explore the world. When it became certain that victory was more than a few months away and death was a very big and unavoidable factor, enthusiasm for enlisting quickly died out. The messages on the posters quickly began to play on the conscience of the Britons with messages like, "Don't stand look at this – go and help!"
Patrick Bogue added: "This collection is almost complete – it includes every poster issued by the Parliamentary Recruiting Committee apart from about eight. "A collection like this is incredibly rare and serves to remind us of the iconic images used to recruit soldiers for this historic war." The posters will go on public display at Chalke Valley History Festival in Wiltshire from June 23 to 29 ahead of the auction on July 9.