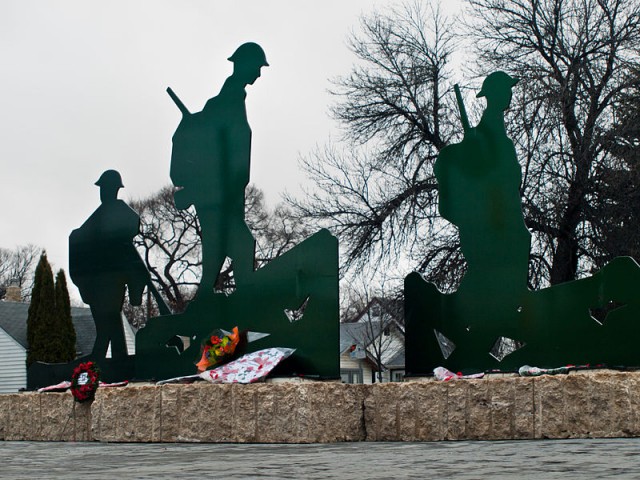 Corporal Lionel "Leo" Beaumaurice Clarke, Sergeant-Major Frederick William Hall, and Lieutenant Robert Shankland all received Victoria Crosses for their heroic deeds in WWI. All three were Canadian immigrants who lived in the same city, in the same district, and even on the same street. Thus was born Valour Road.
Clarke was born in Ontario, Canada in 1892, but spent his childhood back in England where his parents were from. In 1903, the family resettled in Winnipeg, Manitoba in a house on the 700 block at 785 Pine Street. Clarke worked as a surveyor for the Canadian National Railway in the north when WWI broke out in 1914, so he returned to Winnipeg to enlist and became part of the 27th Battalion.
Upon arriving in the UK, however, he applied for a transfer. Wanting to be with his brother, Charles, he became part of the 2nd Eastern Ontario Regiment Battalion of the Canadian Expeditionary Force.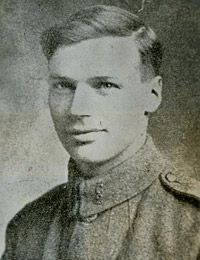 Hall was born in Kilkenny, Ireland in 1885. His family emigrated to Canada in 1910 and also moved into a house in Winnipeg's 700 block at 778 Pine Road – across the road and four houses down from Clarke's. Since Hall's father had been a soldier with the British Army, he decided to join the military, as well. By the time WWI broke out, he was a Company Sergeant-Major in the 8th Winnipeg Rifles Battalion of the Canadian Expeditionary Force.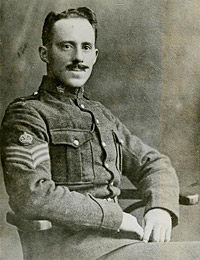 Shankland was born in Ayr, Scotland in 1887, but moved to Canada in 1910 to work as an assistant cashier for the Crescent Creamery Company in Winnipeg. And yes, he also lived in a in a house on the 700 block at 733 Pine Street – roughly 100 meters further south of Hall's house.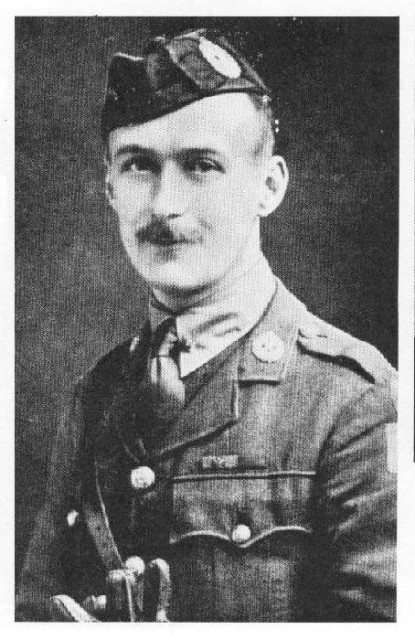 Clarke earned his VC at the Battle of Flers-Courcelette, notable for its first use of the tank (which they called the Land Battleship). Scheduled to begin on 15 September 1916, its aim was to create a breach in the German line of trenches near the French villages of Flers and Courcelette in the Somme region.
This conflict also marked the final phase of the Battle of the Somme, as well as the first use of the Canadian and New Zealand Divisions on the Somme war front. Though the British, Canadians, and New Zealanders failed to achieve their objective, they were able to retake the two villages, including that of Martinpuich.
Clarke entered history when his battalion tried to take a line of trenches which stretched between Martinpuich and Courcelette. Their first objective was a 50-yard-long enemy salient that lay between their position at Mouquet Farm and Courcelette.
On 9 September 1916, Clarke's battalion split up into four companies. A reserve stayed behind near the village of Pozières, while three began their attack. Acting Corporal Clarke was to take the left flank so that his company sergeant could build a dugout securing the Canadian position once they had taken the salient.
The Germans didn't make it easy, however. Most of Clarke's men were either killed or wounded in the attack, so he was the only one left standing. Seeing they had the advantage, some 20 German soldiers and two officers boiled out of their trench and attacked the lone Canadian.
Rather than surrender, Clarke continued firing with his revolver. When he ran out of ammo, he grabbed two enemy rifles and emptied them into the enemy, as well. A bayonet got him in the knee, but Clarke managed to shoot the German who put it there, forcing the rest to retreat. Despite his knee, Clarke staggered after them, killing four more and capturing one. In the aftermath, he acquired one POW and managed to kill 19 men.
The following month, his battalion captured the German-held Regina Trench near the village of Le Sars when a shell buried him under tons of earth on October 11. Dug up by his own brother, he survived but was paralyzed, and later died of his wounds at a hospital on October 19.
It was at the Second Battle of Ypres in Belgium that Hall entered fame. On the evening of 23 April 1915, he was in his trench when he heard the moans of his wounded comrades. At great risk to himself, he twice climbed out and dragged two wounded men back to safety.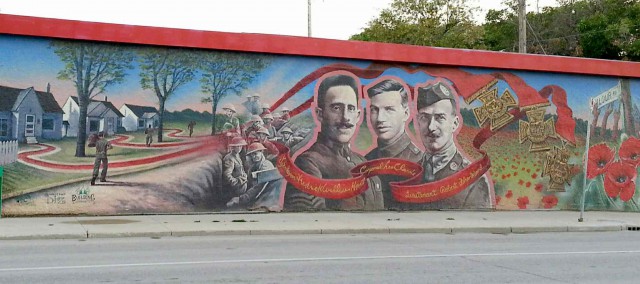 The exchange of fire intensified the following morning. At around 9 AM, Company Sergeant-Major Hall heard another man calling out for help some 15 yards from the trench. Despite orders from his superior to stay where he was, he jumped out and was joined by two others – Corporal Payne and Private Rogerson. The enemy then focused their fire at the three men, forcing Payne and Rogerson back into their trench.
Hall went ahead, however, and managed to bring one wounded man back to safety. Hearing yet another soldier crying out for help, he made a second sortie when his luck ran out. Hall was shot in the head, while the man he was trying to save also died.
Shankland had already received a Distinguished Conduct Medal earlier in 1916 for his bravery at Sanctuary Wood in Belgium, where he led a party of stretcher bearers. For his actions, they made him an officer of D Company with the 43rd Battalion.
On October 26 of that year, his platoon attacked a trench on Bellevue Spur – the major line defending Passchendaele. Though they captured it, they came under heavy barrage, losing many men. The only solution was to call for reinforcements, so Shankland handed his command over to another officer.
He then ran a gauntlet through enemy fire toward battalion headquarters. There he explained the situation and gave his suggestions for a battle plan. That done, he ran back through the gauntlet toward his post and continued to hold his position till reinforcements came from the 52nd and 58th battalions.
Shankland was the only one of the Pine Street boys to survive the war. When WWII broke out, he served yet again, though no longer in a combat capacity since he was 53.
No one knows if the three men had ever met before the war. After the war, however, they were symbolically reunited in a mural and in a monument set up on the street where they had lived. In 1925, Pine Street was renamed Valour Road in honor of what they had done.