If you have $3 million to spare, you can own an exceptionally rare piece of history: the only privately owned airworthy F-4 Phantom in the world. This aircraft is painted in United States Navy livery and is in excellent condition. It will come with a number of spare General Electric J-79 turbojets, crew survival kits, parachutes, and even live ejection seats. This aircraft, F4H-1F 145310, was even involved in a record-setting attempt.
The Phantom is listed on Platinum Fighter Sales' website, who are no strangers to dealing with incredible aircraft. Just in the past few years, they have sold a B-17 Flying Fortress, two P-51 Mustangs, two F-4U Corsairs, and a number of Spitfires. However, even for them, a Cold War jet of this caliber is a rarity.
F-4 Phantom II
The Phantom was an interceptor and fighter-bomber designed by McDonnell Douglas in the 1950s. It was an extremely capable aircraft and became an icon of the Cold War, and in particular, the Vietnam War. It first flew in 1958 and entered service in 1961. At this time, the capabilities of the Phantom were simply unheard of and it rapidly set a number of world records. In total, the Phantom would set 15 world records, with the 16th set in a slightly modified aircraft.
Its two General Electric J-79 afterburning turbojet engines could propel the Phantom to speeds of nearly 1,500 mph.
The Phantom was a two-seater aircraft. It was famous for its lack of an internal cannon on early versions, something that would prove problematic in the dogfights that had been deemed as 'in the past' when the Phantom was designed.
It served with the US Navy first, but would eventually be used by the United States Marine Corps and the United States Air Force.
It remained in combat service until the mid-1990s with the US, and much later with other countries. The US used the Phantom as a target drone until 2016.
Its production run ran from 1958 to 1981, by which time the F-14 Tomcat and F-15 Eagle had entered service. In total, 5,200 Phantoms were built, making it the most produced American supersonic military aircraft in history.
Phantom 145310 for sale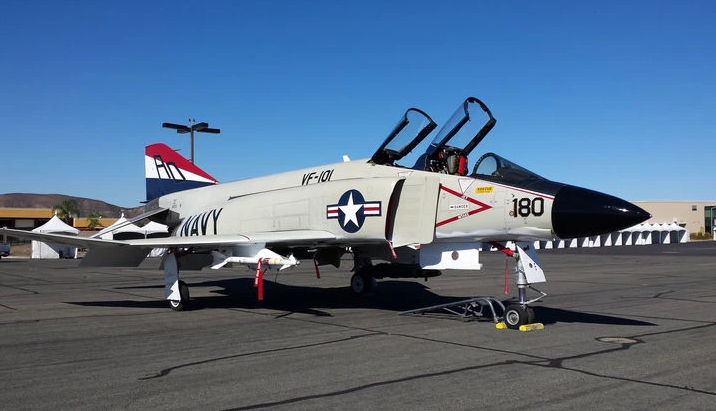 The example for sale is not only special because it's a Phantom, but this particular airframe had an eventful service life. F4H-1F 145310 was the 11th pre-production Phantom built, so it is a very early model. It was delivered to the US Navy in 1959.
In 1961, 145310 carried 22 Mk83 500lb bombs on its hardpoints and dropped them over Fort Bragg, North Carolina. This demonstration of the Phantom's capabilities convinced the US Air Force to also order the jet.
Later that same year, 145310 was one of three Phantoms of the same type involved in Operation Sageburner. Operation Sageburner was a US Navy low-altitude speed record attempt to commemorate 50 years of naval aviation.
145310's sister aircraft achieved the record, flying at 902 mph over a 3-mile course, at a height no greater than 125 ft.
Part of 145310's underside and fuselage were later burnt during a Sidewinder missile weapons test. The aircraft was retired by the Navy in 1964 after flying for 461 hours. It has been under restoration by Aircraft Restoration Services LLC at the French Valley Airport, California, for the past 10 years.
Platinum Fighter Sales' listing can be found here.
Specification
145310's specification is as follows:
Engines: to be overhauled
General Electric J-79-8 upgraded to -15
3x engines currently at Aero Turbine awaiting overhaul
2x engines in California as spares
Ejection Seats: Will be Hot
Martin Baker Mk 7 seats "0/0"
New Crew Parachutes and Survival Kits
Pyro Charges Available
Centerline and Outboard droptanks
2x Drag Chutes
Restoration: Currently 80-85% complete
Airframe has undergone a complete IRAN per U.S. Navy standards
Dual Controls installed in the rear cockpit
All components overhauled to "0 time" condition
Aircraft has been completely rewired
Fuel system rebuilt with new fuel cells
All hydraulics rebuilt with Stainless Steel lines
All three hydraulic systems overhauled
Pneumatic systems overhauled
New wheels and brakes