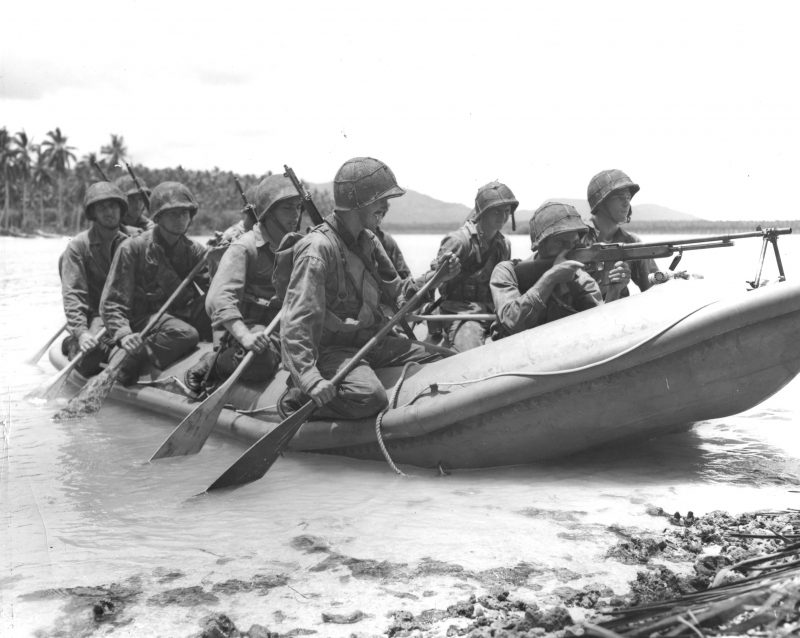 The Marine Raiders were elite units established by the United States Marine Corps during World War II to conduct Reconnaissance, raids and other special prjoects
Ahrens was dying from multiple gunshot and stab wounds. His last whispered words, according to Walt: "The idiot tried to come over me last night-I guess they didn't know I was a Marine." PFC Edward H. Ahrens, twenty-two, unmarried, from Dayton, Kentucky, died in Major Walt's arms.
Navy Cross Citation
Awarded for actions during the World War II
The President of the United States of America takes pride in presenting the Navy Cross (Posthumously) to Private First Class Edward Henry Ahrens, United States Marine Corps Reserve, for extraordinary heroism and devotion to duty while serving with Company A, FIRST Marine Raider Battalion, during the landing assault and seizure of enemy Japanese-held Tulagi Island, British Solomon Islands, on the night of 7 – 8 August 1942.
While a member of a security detachment protecting the right flank of his battalion, Private First Class Ahrens, with utter disregard for his own personal safety, single-handed engaged in hand-to-hand combat a group of the enemy attempting to infiltrate the rear of the battalion.
Although mortally wounded, he succeeded in killing the officer in command of the hostile unit and two other Japanese, thereby breaking up the attack. His great personal valor and indomitable fighting spirit were in keeping with the highest traditions of the United States Naval Service. He gallantly gave his life in the defense of his country.
General Orders: Commander South Pacific: Serial 804 (March 13, 1943)
Action Date: August 7 – 8, 1942
Service: Marine Corps
Rank: Private First Class
Company: Company A
Battalion: 1st Marine Raider Battalion
Division: 1st Marine Division
The Marine Raiders were elite units established by the United States Marine Corps during World War II to conduct amphibious light infantry warfare, particularly in landing in rubber boats and operating behind the lines. This elite unit was considered by the Marine Corps to be its first US Special Operations force. However most combat operations saw the Raiders employed as regular infantry, and combined with the resentment within the Marines that the Raiders were an "elite force within an elite force", led to the abandonment of the experiment. Four battalions served operationally but all were disbanded in February 1944 when the Corps made the doctrinal decision that standard Marine infantry battalions would be trained to perform their missions. The personnel from the Raider battalions were then used to reform the 4th Marine Regiment, which had been lost in the Philippines early in the war.
Via