The Persian Gulf War was a swift victory with a low casualty rate, which is why Marine Corps veteran Rob Relford II believes it has essentially become a forgotten conflict. This experience, he affirms, reveals it was a conflict that left its mark on many of those who served, including lingering health effects that have yet to be fully identified.
A native of Chamois, Missouri, Relford graduated from the high school in 1986 and almost immediately departed for training to become a Marine. As he explained, it was a decision motivated in part by both a relative and a former resident of his hometown.
"My uncle was a Marine in Vietnam and I remember seeing him in his dress uniform when I was kid, and that really inspired me," he recalled. "Also, we had a town marshal in Chamois years ago who was a retired Marine, and I was impressed by the way he carried himself."
A week after finishing high school, the 18-year-old was at the Marine Corps Recruit Depot in San Diego, spending the next several weeks undergoing his initial recruit training. From there, he was sent to infantry training at Camp Pendleton approximately 40 miles north of San Diego.
"I chose infantry because I wanted to fight—that's what Marines are supposed to do!" he exclaimed. "I had no desire to sit behind a desk or drive a truck," he added.
Upon successful completion of his training in the fall of 1986, Relford returned to Mid-Missouri for 30 days of leave before reporting to his first duty assignment at Camp Pendleton.
Shortly after his arrival, he became a member of the Marine Security Forces at Diego Garcia—a British-controlled island in the central Indian Ocean. Their primary responsibilities during the one-year assignment consisted of guarding ammunition and fuel depots.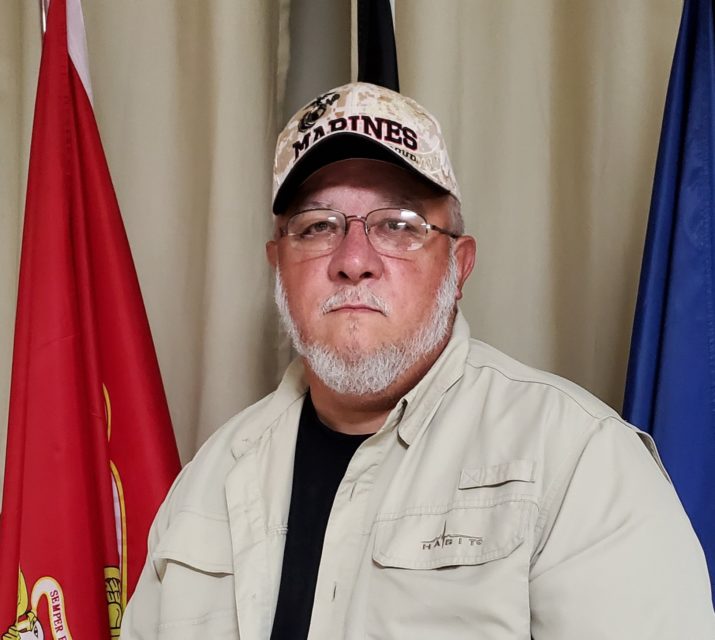 "The Royal Marines provided port security and customs at the airport," he recalled. "There was also a landing strip for the SR-71 Blackbird (high-speed, high altitude Cold War reconnaissance aircraft) there."
In late 1987, he returned to Camp Pendleton as a member of E Company, 2nd Battalion, 9th Marines. As a rifleman, he participated in brief overseas deployments to locations including Okinawa. However, anxious for an opportunity to "see some action," he requested—and was granted—a transfer.
"I was told that the 7th Marines were preparing to become the new desert warfare specialists," he said. "We trained for a while in desert warfare maneuvers at bases in California in addition to jungle warfare training in the Philippines."
When the invasion of Panama occurred in 1989, he was part of a team of Marines deployed to the country but the victory was achieved before they were needed. Returning briefly to northern California for further desert warfare training, he and his fellow Marines were advised that Iraq had invaded Kuwait on August 1, 1990.
"Then it was back to Twentynine Palms," he said. "A couple of weeks later, we were aboard civilian airlines and flew to Saudi Arabia. When we got there, we were sent to stay in warehouse facilities in the port city of Dhahran."
During the early stages of the Persian Gulf War, he and his fellow Marines moved into fighting positions under camouflage netting south of the Kuwait border. From there, they operated patrols using Amphibious Armor Assault Vehicles, engaging and neutralizing enemy troops.
Eventually, they received approval to cross into Kuwait.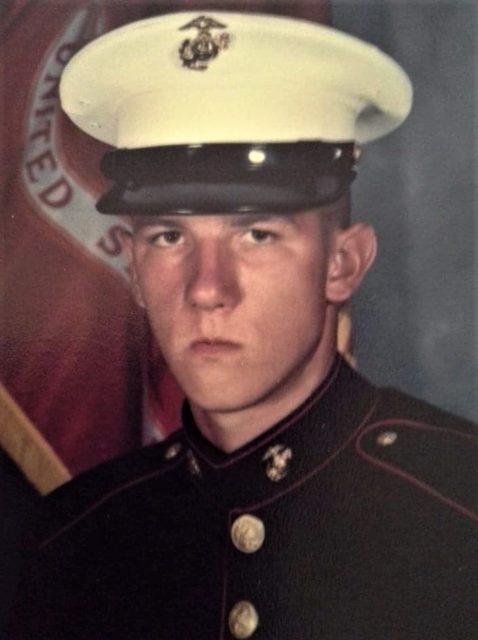 Given the mission of taking enemy prisoners of war when feasible, the Marines also had to clear minefields installed by the Iraqi military. Utilizing line charges, the mines were neutralized to prevent the destruction or disabling of U.S. tanks and vehicles.
The push into Kuwait also meant they had often had to clear bunkers and other structures to ensure concealed enemy soldiers were not extended an opportunity to fire a rocket-propelled grenade at U.S. tanks or personnel.
"We cleared Kuwait City and although we initially encountered resistance, the naval and air bombardment—and the fact the Iraqis had not been resupplied—made sure they had been badly beaten." He added, "Many of the Iraqi troops were seasoned fighters from the Iran-Iraq War, but we had managed to completely overwhelm them."
He continued, "My proudest moment from that time is that I never lost a guy in my platoon."
When returning from deployment in the spring of 1991, he was again stationed at Twentynine Palms. The following year, he was discharged after being injured in a training accident. Since then, he has married, become the father to two children and enjoyed a career in law enforcement.
With medical complications tied to his time in the service, he now receives disability from the Department of Veterans Affairs and enjoys spending time with his grandchildren, hunting and fishing.
The Persian Gulf War was but a brief moment in his military career that has since become a lesser recognized conflict in the annals of the nation's combat history. But as Relford maintains, it was not an experience without lasting and unforeseen consequences for the men and women
involved.
"The war happened so fast and there wasn't the high death toll like we saw in Vietnam," he affirmed. "Also, it didn't turn into a situation where we were dealing with roadside bombs and IEDs like they saw in Iraq and Afghanistan or in more recent engagements."
He continued," But it was a war and there were people affected. We used depleted uranium rounds to destroy Iraqi armor, and were kicking up dust and breathing fumes and chemicals from oil wells and buildings full of unknown chemicals that were destroyed."
With a pause, he concluded, "God bless those who aren't sick from their service over there, but many of us are suffering and left to deal with the effects."
---
Jeremy P. Ämick writes on behalf of the Silver Star Families of America