The Battle of Peleliu began on 16 September 1944 and lasted until 27 November of that same year. United States Marines of the First Marine Division landed on the island, which was defended by troops from the Empire of Japan. The Marines were reinforced during the battle by soldiers of the U.S. Army's 81st Infantry Division.
The objective was to secure an airstrip on this small coral island which would be used in the invasion of the Philipines. As it turned out, the airfield captured on Peleliu never played an important role in subsequent operations.
USMC commander of 1st Marine Division Major General William Rupertus predicted that the island would be taken and secured within four days. Unfortunately, because of Japan's well-crafted fortifications and stiff resistance, the battle lasted well over two months.
In the United States, this remains a controversial battle because of the island's questionable strategic value and the incredibly high casualty rate, 2,336 Americans were killed and 8,450 were wounded in the battle. This far exceeded that of the other amphibious operations during the Pacific War. It was called the "bitterest battle of the war for the Marines" by the National Museum of the Marine Corps.
This relatively unknown battle was made famous by the HBO miniseries "The Pacific" which featured the invasion of Peleliu in three of the ten episodes.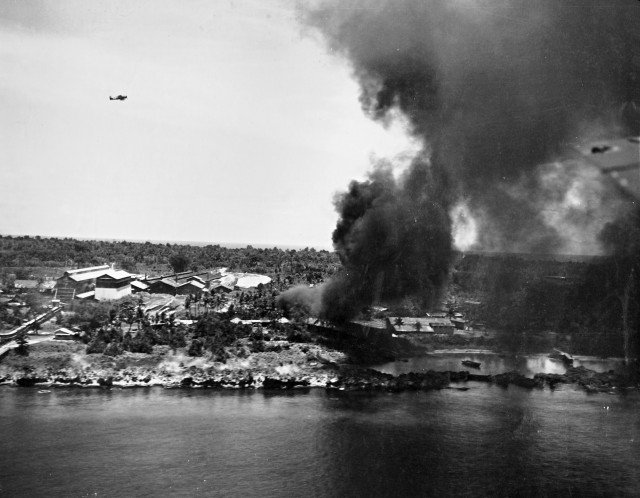 Peleliu, Palau Islands under attack by US Navy carrier aircraft, 30 Mar 1944; note F6F Hellcat fighter in flight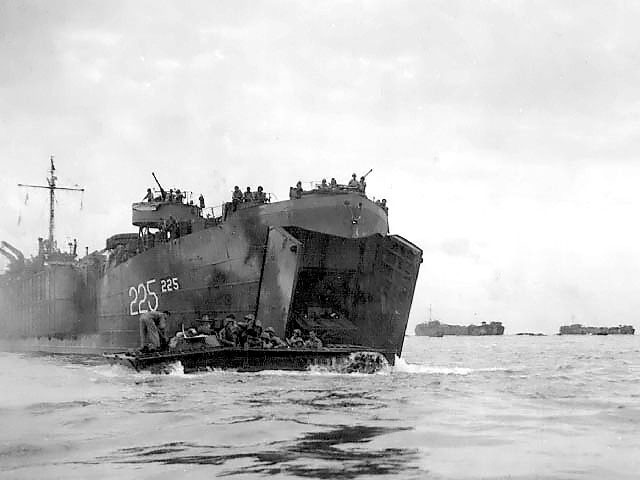 Amphibious tractor coming out of LST-225, delivering the first wave of landers on Peleliu, Palau Islands, 15 Sep 1944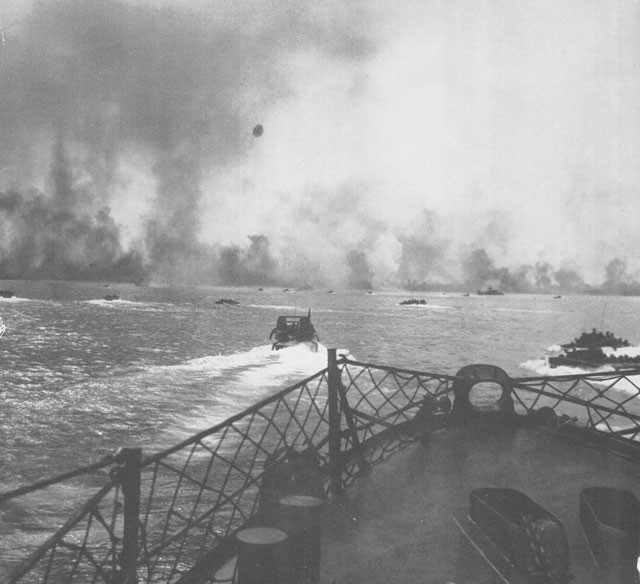 Assault craft approaching Peleliu's beaches, 15 Sep 1944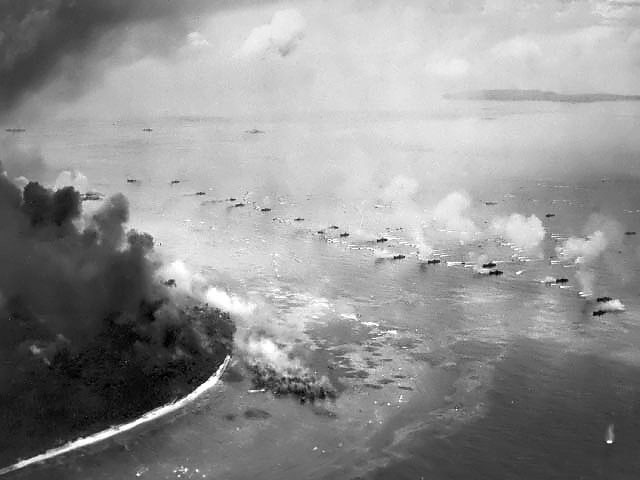 The first wave of LVTs moved toward Peleliu invasion beaches, Palau Islands, 15 Sep 1944; note the bombardment lines consisted of LCIs, cruisers, and battleships; photo taken USS Honolulu aircraft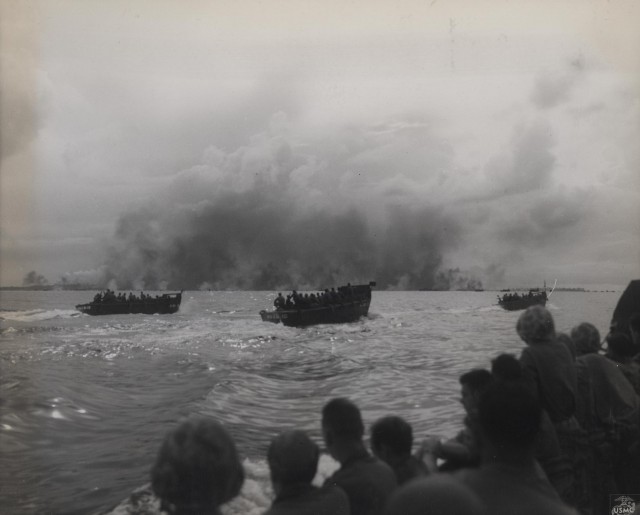 US Marines in assault craft approaching Peleliu, Palau Islands, 15 Sep 1944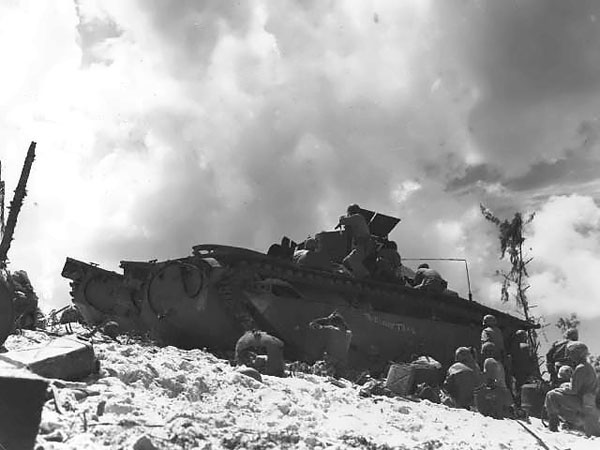 Using an Amtrac as shelter, American Marines fought on the beaches of Peleliu, Palau Islands, 15 Sep 1944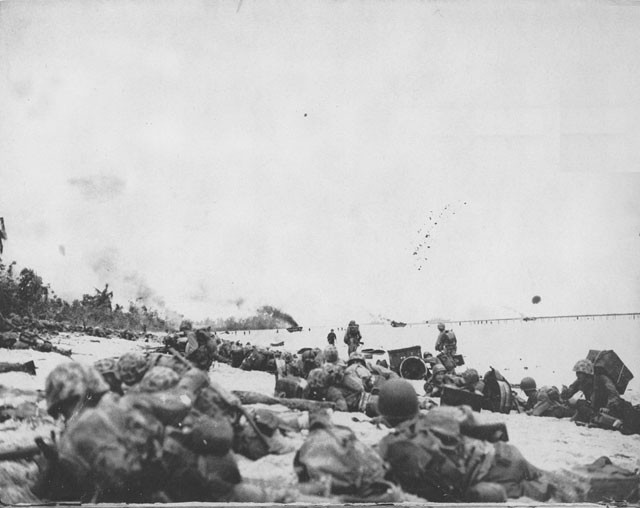 United States Marines attacking Orange Beach on Peleliu, 15 Sep 1944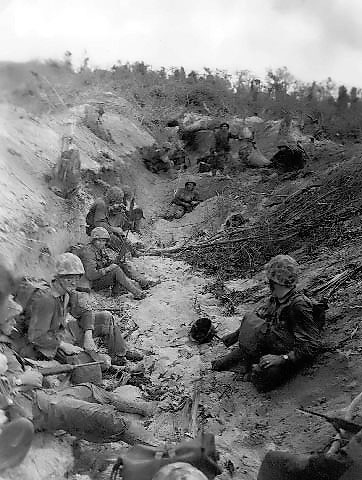 US Marines on landing beach Orange 2, Peleliu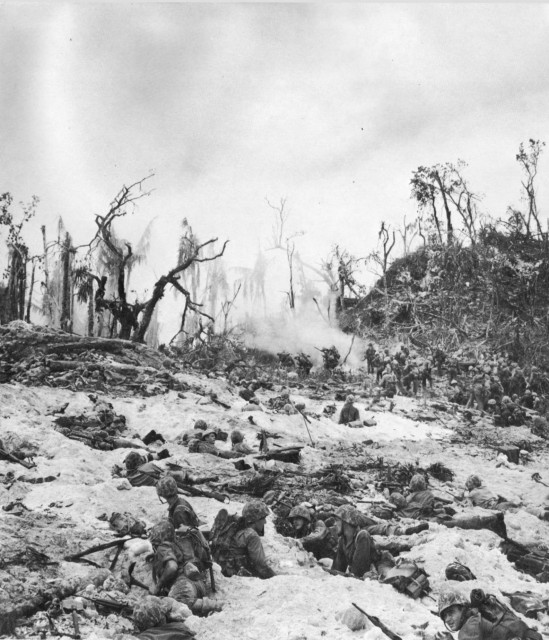 Men of the US 1st Marine Division fighting just beyond White Beach, Peleliu, 15 Sep 1944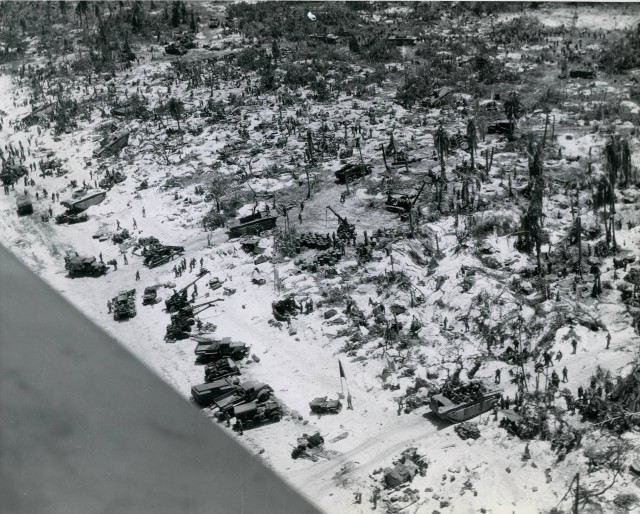 US Marines moving supplies ashore across the beachhead on Peleliu, Palau Islands, late Sep 1944. What appears to be water in the lower left is actually the wing of the photo plane.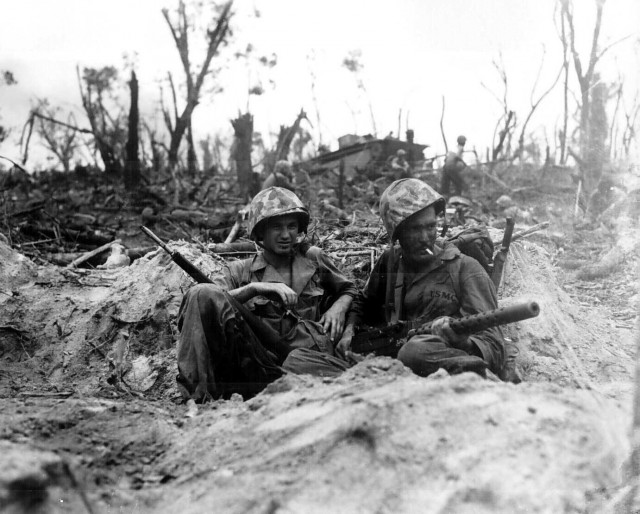 Two American Marines, Douglas Lightheart and Gerald Thursby, resting during Battle of Peleliu in the Palau Islands, 15 Sep 1944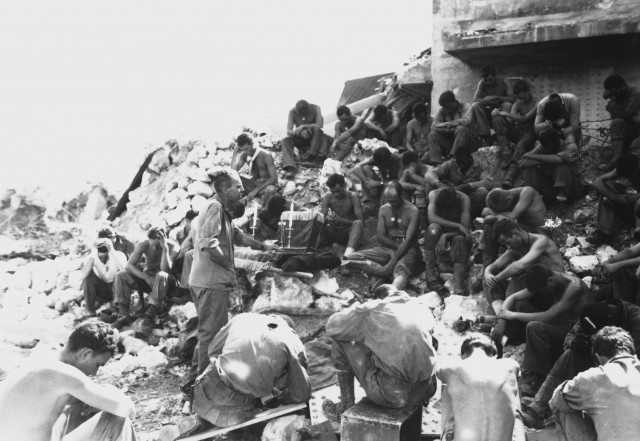 Rufus W. Oakley holding a Protestant Christian religious service for US Marines on Peleliu, Palau Islands, Sep 1944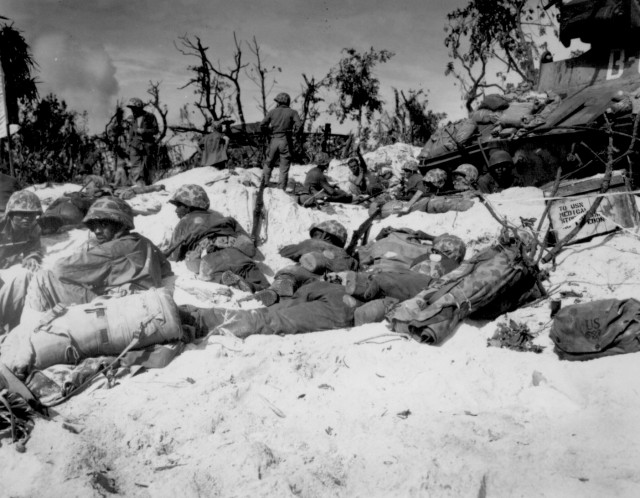 African-American US Marines resting during the campaign for Peleliu, Palau Islands, 15 Sep 1944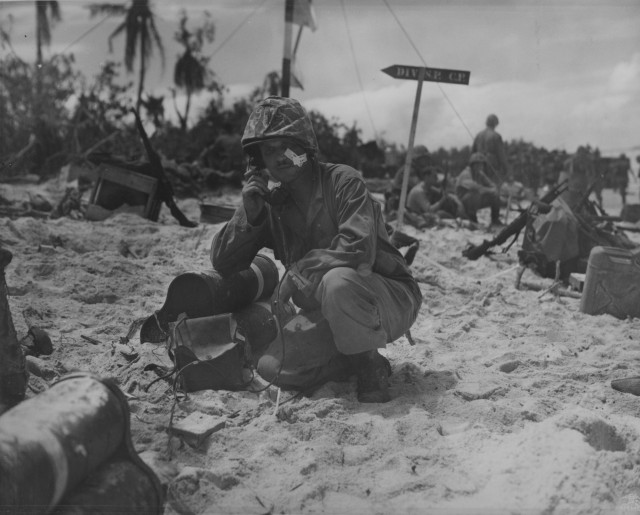 Lieutenant Colonel R. G. Balance of US 1st Marine Division at the shore party command post, Peleliu, Palau Islands, Sep 1944; note treated shrapnel wound on his left cheek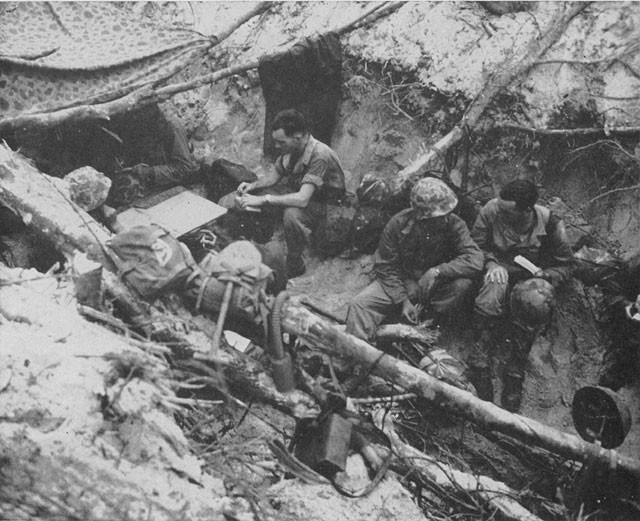 US 7th Marine Regiment's command post inside a former Japanese anti-tank ditch, Peleliu, Palau Islands, 15 Sep 1944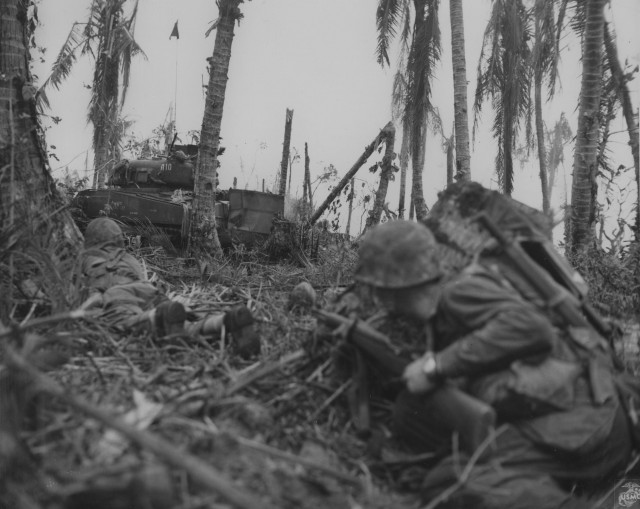 US Marines fighting on Peleliu, Palau Islands, Sep 1944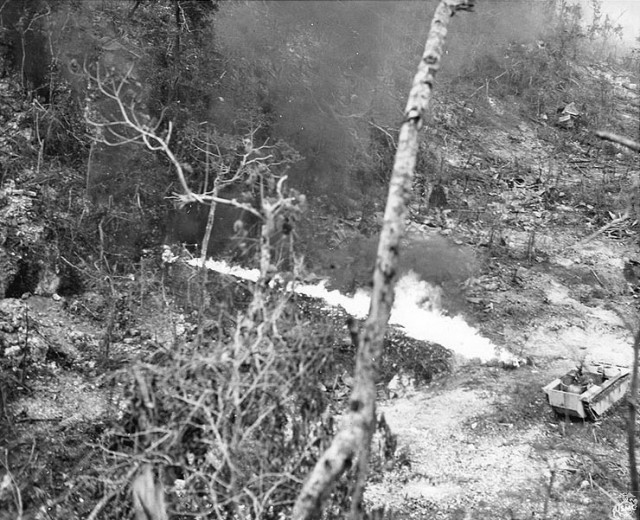 An American LVT equipped with flamethrower attacked a Japanese position at Peleliu, Sep 1944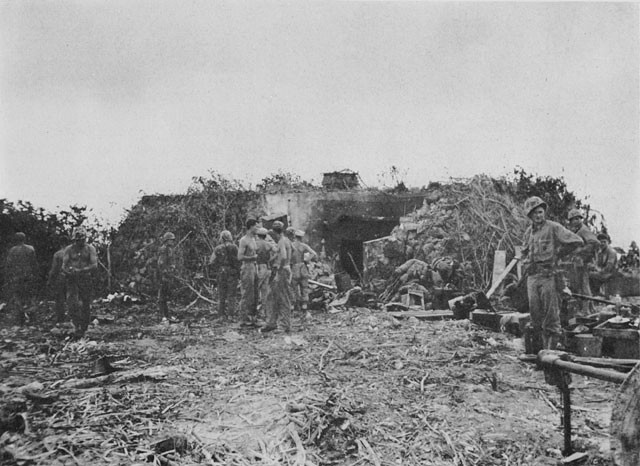 US Marines resting in front of a recently destroyed Japanese blockhouse, Peleliu, Palau Islands, 16 Sep 1944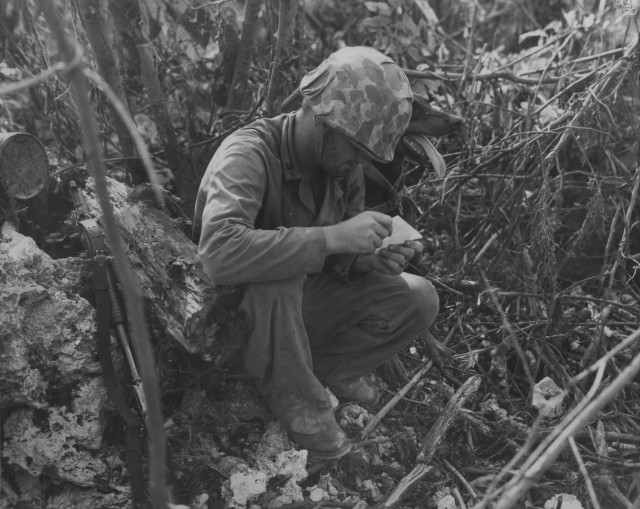 USMC war dog handler reading a message that his dog had just delivered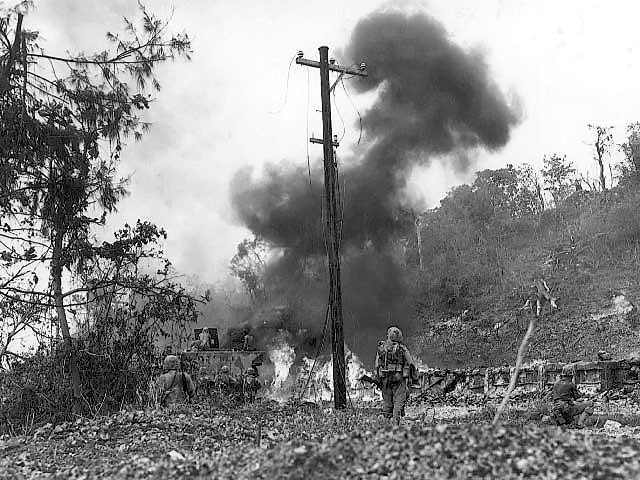 US Marines moving through an area that saw recent action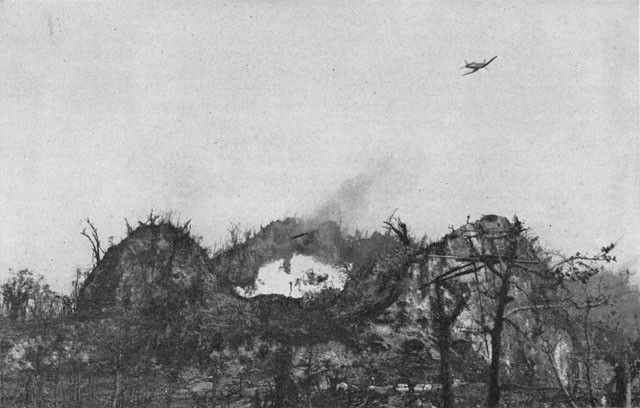 F4U Corsair aircraft dropping napalm on a Japanese position on the Umurbrogol Mountain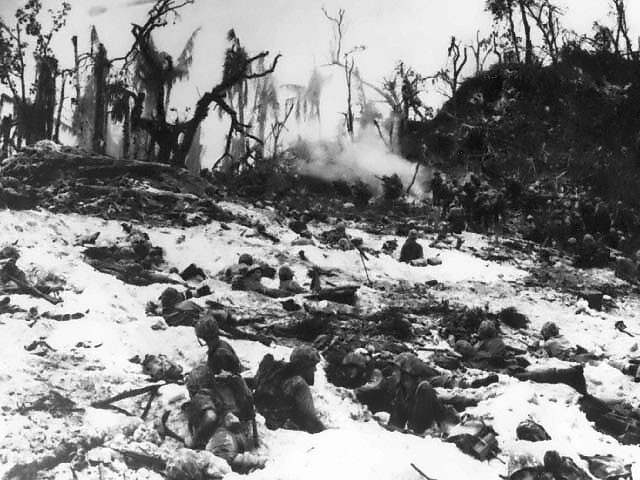 US Marines waiting in their foxholes as others blast a Japanese held cave in the nearby hill,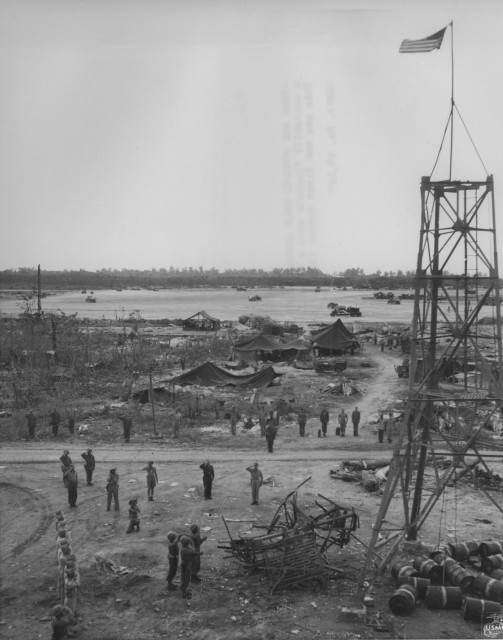 The first formal raising the American flag over Peleliu, Palau Islands, 27 Sep 1944; note Japanese observation tower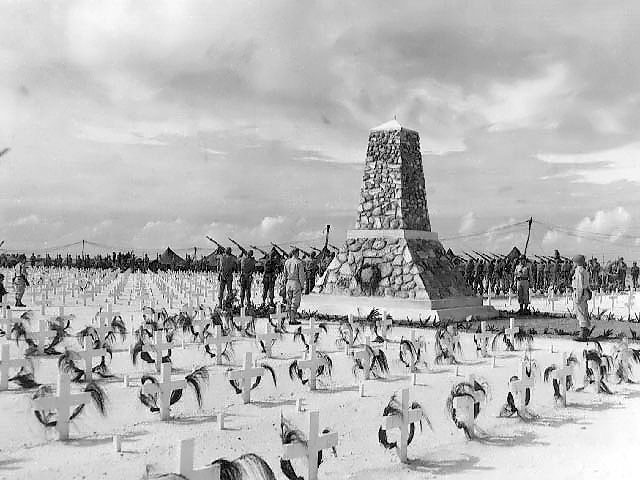 A volley of rifle fire memorialized Americans fallen during the attack on Peleliu, Palau Islands, 27 Dec 1944
All Images Courtesy of WW2DB