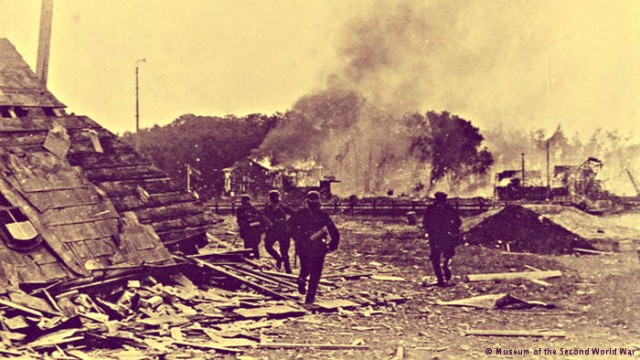 Outbreak of WWII's 75th anniversary came amidst growing concerns on security in European Union particularly within its eastern states.
German President Joachin Gauck and Poland's head of state Bronislaw Komorowski commemorated the outbreak of WWII's 75th anniversary together along with the Polish Prime Minister Donald Tusk.
President Gauck and President Komorowski placed candles on the graves of the soldiers who perished in the struggle that marked the start of the Second World War. They also laid wreaths on the memorial erected for the Polish coast defenders located at Westerplatte. Finally, part of the itinerary was for the two leaders to answer questions – part of a discussion group – with several students.
WWII's 75th Anniversary: A Look Back at How It Started
The fighting ensued in the wee hours of September 1, 1939 with the Germans making the first assault on Westerplatte, the Polish coast, using the battleship Schleswig-Holstein.
The nearly 200 Polish soldiers posted in Westerplatte fought courageously against the Germans. They were able to held out their ground for seven days before their commander eventually bowed out in defeat and surrendered.
That attack against Poland by Hitler without any declaration of war prompted France and Britain to condemn and announce war against Nazi Germany. It happened two days later after the invasion — in September 3 of the same year.
Before the Poland invasion, Hitler and his army staged an attack dubbed as Gleiwitz Incident. The town now is part of Polish territory.
Remembering Gliwice
The bishops of both German and Poland held a joint service in commemoration of the outbreak of WWII's 75th anniversary. The chairman of the German Bishops' Conference, Cardinal Reinhard Marx, along with his Polish counterpart, Stanislaw Gadecki, held a ceremony done to remember the destruction, suffering and even death the notorious German dictator imposed against the people of Poland.
Cardinal Marx pointed out that Germans and Polish being allies now despite of the horrors that marred both these two countries' pasts is a 'miracle of God's mercy'.
Growing Concerns on Russia, Ukraine
The outbreak of WWII's 75th anniversary was commemorated in the event of growing concerns over Russia's aggression against Ukraine which also raises the alarms over Europe's security, most especially on the eastern states of the European Union as well as the Western military alliance together with NATO.
Representatives from Russia, Ukraine as well as the Organization for Security and Cooperation in Europe held meetings in Minsk, Belarus' capital, Monday, September 1 —- the latest move to put an end to the bloodshed currently occurring.