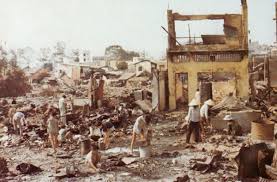 Campbell was only a baby went he was put on a plane to Canada in 1975, during the final days of the Vietnam War. When he arrived to Canada, little Thanh was adopted by a lovely family, but he always wanted to meet the other orphans who were with him on the plane so he and his friend Trent Kilner went searching together.
One day, Campbell was telling his hairdresser at Jackson Square about this big desire of his, when she stopped him saying that she might know one of them. And this is how he met Orphan number 1, at a restaurant in Burlington.
Keith Seggie is now 39 years old. He was adopted by a nice couple who had a big house and other adopted children and he went to St. Mary's Catholic High School in Hamilton. For 16 years he has been living in Montreal. Seggie was only one year old when he was rescued and he doesn't know anything about his parents, place of birth or name. All he has is a picture with him when he was brought to Canada. His name was 'Orphan 1'. His adoptive mother told him, long time back, that he was very lucky to be on that plane and to be such a healthy baby.
At that point, Campbell remembered that someone told him there was a baby who wasn't supposed to be a on the plane and that someone ran to the nurses while holding this baby, and begged them to take him on the plane, thespec.com reports.
He explained to Seggie that most if not all of them were suffering from malnutrition. "The majority were malnourished, with parasites and dysentery," he said. Campbell, who is now 40 years old, was very excited to meet Seggie, as he was the last one he has seen since 2006. He said he liked Seggie because they have plenty in common and both of them are very 'entrepreneurial'.
Seggie went into foster care when he was 12 years old and by the age of 16, he moved through 14 homes. At 16 he was helped by the Children's Aid Society to find his own place. He had several part-time jobs, which sustained him during school years. He attended Sheridan College's classical animation program and got a job with a Montreal production company, which won him and his team three Emmys.
"It was definitely a challenging childhood. There were a lot of tough times, but a lot of good stuff came out of it too," confessed Seggie, who is now headed to Gibraltar, for a job with a British company.