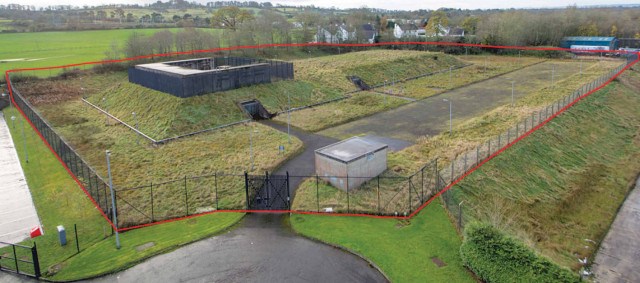 How do you fancy owning a nuclear bunker? You heard right, it is possible.  In the green hills of Ballymena, County Antrim in Ireland you can buy a fully functioning nuclear bunker for the knock-down price of £575,000.
This bunker, whose existence was a complete surprise to the local residents, was built in the 1980's to protect the Government of  Northern Ireland in case of a nuclear war.  Ballymena was apparently chosen as the location for this bunker as it is mid-way between Belfast and Londonderry and it is on the M2 highway.  The bunker called the Regional Government Headquarters is one of several similar bunkers built at a cost of many hundreds of thousands of pounds all over Britain between 1955 and 1965 as the world lived in the shadow  of a possible nuclear war.
There are many mysteries about this bunker, why the British government started building a bunker fifteen years later after it finished the last one, why it took ten years to complete it, and then mothballed it for fifteen years and now wants to sell it.  This sounds like a colossal white elephant.  It is of no use today as a nuclear bunker, irrespective of the fact that North Korea is testing rockets.  Modern nuclear weapons are so powerful that this bunker would be of little help in the event of a nuclear strike, sadly all the government officials that believed they would be safe will end up burned to a crisp like the rest of us.
So what did the Northern Irish Government envisage to provide protection to the privileged few?  Well, it is hidden away on its own 3.74-acre site, has 46,000 square feet of usable space and is disguised with a grass roof.   It has three-foot thick concrete and steel walls, three entrances each equipped with blast doors and living space for approximately 200 people.
This concrete rabbit warren under the Irish soil is a maze of corridors leading from a central area that would have been the nerve-centre in the event that the bunker was used for its original purpose. Most of the offices are decorated with signs indicating the area of responsibility for the resident such as transport, or shipping or water supply while others were for Army, Police and Intelligence.  One can only wonder what the officials in charge of shipping or transport would have had to do as the outside world was completely uninhabitable – what would they have been able to ship or transport and to whom?
The sleeping accommodation shows the government believed that humans needed to be very close together in a post-apocalyptic world. The bunk beds in the dormitories all come with comfy mattresses, but the people would have all been packed like the proverbial sardines and getting up at any time could have proved dangerous to your fellow bunk mates.
The government did also make provision for feeding those in the bunker  A sparkling stainless steel kitchen was laid on though the provisions that are in place would be a recipe for disaster if used now.  Plans were also made for life's little luxuries and the storerooms contain an odd mixture of items that the government deemed necessary to ride out an atomic apocalypse, but perhaps gravy boats could have been left out in favour of something a little more necessary.
It is fairly obvious that the government anticipated saving twice as many men as women as there is double the number of facilities for men as there are for women.  Perhaps the scientists would repopulate the world with test tube babies so fewer women were needed than men or perhaps ladies occupied so few responsible positions that they were not worth saving?
Another oddity is the television studio.  Just who did they think they would be broadcasting to?  If the nuclear meltdown happened who topside would be in a position to receive television broadcasts and what could people safely ensconced underground possibly have to say to those struggling with radiation sickness and millions of bodies?
If you were interested in buying this relic of the Cold war, what could you do with it?  Well it sits in a so-called "white zone" which means that it can be used either for residential or commercial purposes and it is already surrounded by both houses and commercial properties.
Many of these bunkers have been turned into museums but this is a little out of the way, but it could certainly be converted to house a museum of perhaps Irish history.  The climate controlled environment would house ancient artefacts extremely well and security would not have to be improved substantially.
If not a museum, perhaps a  holiday theme park? Other people have made money turning old prisons into themed holidays parks where people spend a week in jail. Could people spend a week locked in a bunker with only their fellow holiday makers for company?  You have parkland around the bunker that could be used for all kinds of exercises.
Slightly more realistic would be installing top class air conditioning and beefing up the security to install banks and banks of computer servers, thus turning it into a data storage area.  If data is not your forte then how about document storage or secure storage for valuables.  There is always a market for the storage of fine art, classic automobiles or any other valuables that have been purchased for investment purposes and need secure climate controlled storage.
The opal miners of Coober Pedy all live underground and seem to cope extremely well, so I suppose this bunker could, with the help of a good interior designer be turned into a very unusual residential property.
This property that the Northern  Irish politician class seem to know nothing about, will be going on sale soon and some enterprising person is sure to make it over into a useful space.  If you have imagination and a half million pounds to spare, it is waiting for you nestled in the Irish countryside.