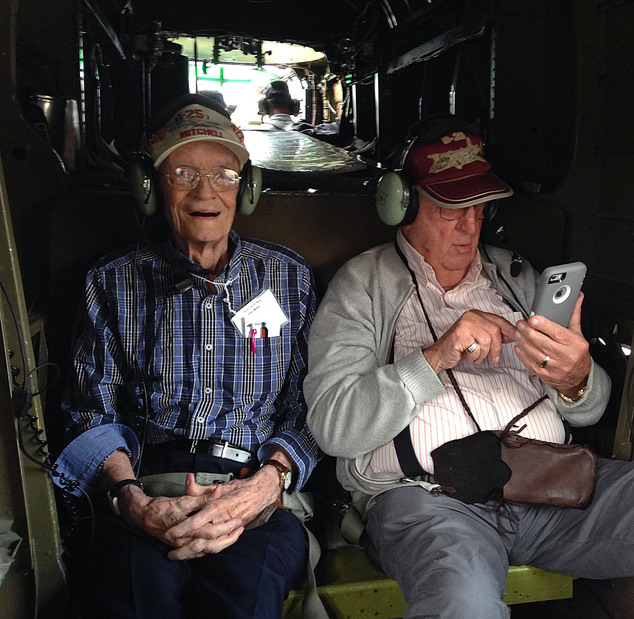 New Orleans has made a program change in its annual airshow put on by the National World War II Museum and the Commemorative Air Force.
The museum takes special care of aircraft used in the war; this year, the show has featured a B-29 Superfortress, which was used in the Pacific for long-range bombing and a B-25, a plane which saw much service in Europe.  War veterans who were able to attend the show were given the opportunity to ride in the planes again.
Victor J. Hancock, 92, flew a B-25 during the war and said he thought back to Corsica as he rode in the aircraft again during this year's show.  He flew 22 missions in Italy and Austria, generally targeting the Brenner Pass, used by the Germans to move their troops and supplies into Italy.  During the airshow, though, Hancock was a passenger who got to look out the windows and enjoy the view for a change.
Martin Biener, 93, flew 51 war missions over Europe in a B-25 nicknamed the Yellow Rose.  On his ride during the show he sat in the middle by the gunner position, which he noticed was made differently than the original.  He and the other five veterans in the plane took photos with their phones while enjoying the ride.
Although this was an enjoyable ride at the airshow, Biener recalls the near-fatal incident that happened when he was on a mission.  A cluster bomb failed to drop when the bomb bay doors opened; Biener was the one who went to the back of the plane to cut the bomb loose before it could take out the crew and their plane.
Bernie Peters, 92, was another veteran who took a ride during the show.  He recalled, during the safety talk advising him of the location of emergency exits, that he knew all too well where they were.
While, on a mission, one of the plane's brakes went out, and the plane and crew ended up going over the end of the runway, where they eventually came to a stop in a vineyard.  He recalled the complete chaos as the crew darted out of the plane and through the emergency doors in case of a gas leak explosion.