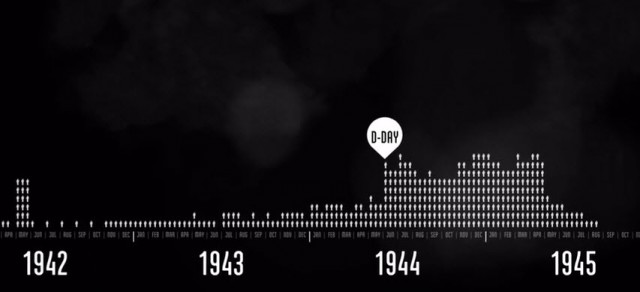 Just over 70 years ago the US Army established the first war cemetery in Europe. Thousands of US soldiers were killed during the D-Day invasion and it was two days later that the cemetery was created.
Even though it was the beginning of the Allied liberation of Europe against the Nazis the death toll on both sides was immense. Records show that around 60 million people were killed during World War Two.
The cemetery created by the US Army was named the Normandy American Cemetery and Memorial and while it was the first, it was the first of many cemeteries that had to be created as the war and the death toll continued to increase.
A new online documentary has been created to tell the story of World War Two's dead, called 'The Fallen of World War Two'. It was released on Memorial Day in the US and was created by director Neil Halloran.
Neil said that when the documentary was released on the internet it generated a lot of attention and received around three million views in its first few weeks.
Neil had been working on a World War Two documentary about the hundreds of air raids that the US and Allies took part in over Europe. It was during the making of that film that he had the idea to focus on all of those soldiers who gave their lives in the fight for freedom.
Neil said that during his research he found that the number of fatalities was so high during the war he just could not fathom how so many people could have died, and each with a story to tell.
He says that he was going to just create an online timeline to show when the death toll began and how many people were killed over time. But he said that when he started talking to people about the project it grew into a fully-fledged documentary, The Washington Post reports.
Instead of using video, Neil used computer coding to create the documentary so that he could manipulate the statistics he wanted to portray on-screen.
Neil is now looking to make similar online documentaries to portray death tolls of other military activity such as drone strikes and peacekeeping.
The Fallen of World War II from Neil Halloran on Vimeo.