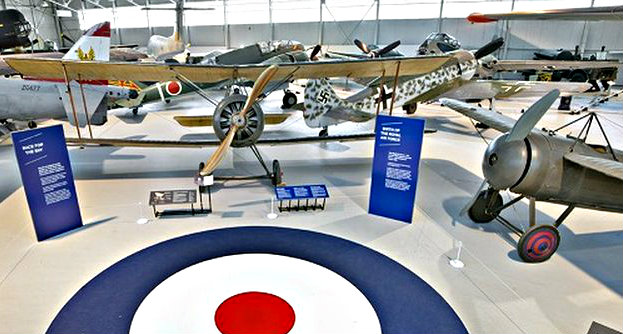 A New Cosford Exhibit, tackling air services during the Great War, recently opened at the RAF Museum in Cosford, Shropshire.
The Cosford exhibit opened alongside another display at the museum's London site, all thanks to a grant from the Heritage Lottery Fund which amounted to £900,000. The Cosford exhibit, like its sister display, features various planes, documents, films and photos of air services at play during the First World War. Additionally, it also takes a look at the aircraft manufacturers that are located in the Midlands.
Personal accounts coming from the pilots and the ground crew of the Royal Flying Corps who lived within the region are also featured in the Cosford exhibit. The centerpiece of the new Cosford exhibit is made up of three exemplary aircraft from the Great War – the Bristol M.1c, the Sopwith Pup and the Sopwith 1 ½ Strutter.  According to RAF Museum's director of public programs, Karen Whitting, the putting up of the Cosford exhibit is extremely important as it tells tales and first-hand experiences of RAF personnel from a century ago to the locals living within the community of Cosford. Furthermore, the Cosford exhibit also serves as the start of a vital phase for the museum as it works its way up to commemorate the centenary of RAF which falls on the year 2018.
The Cosford exhibit opened on Thursday, January 15, with representatives coming from the RAF Museum Trustees, the Heritage Lottery Fund and BAE Systems in attendance.