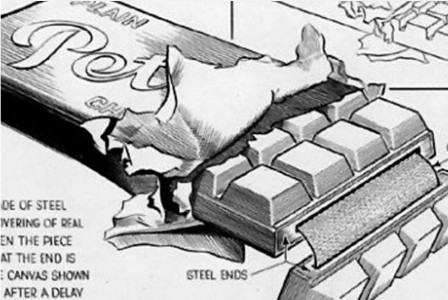 Part of Nazi Germany's strategy to take Britain out of the war was to starve the nation by preventing supply and merchant ships to cross over the Atlantic from the US. The ships carried valuable cargo of food and goods to keep Britain working as it fought the Nazis.
The Nazis sent dozens of U-Boats to the Atlantic where they targeted and torpedoed hundreds of Allied shipping vessels, military, merchant and civilian.
However, another way the Nazis tried to target the British was to deploy exploding bars of candy to the nation, along with a myriad of other Nazi spy gadgets.
The discovery of this strategy has come from drawings of German weapons which have only recently come to light. The drawings have uncovered secret weapons that were sent or smuggled into the UK throughout the war. These included an oil can with a hidden bomb inside, a soldier's food tin with sausage and mash but with a bomb inside as well, and a chocolate candy bar that had been created to detonate about seven seconds after the chocolate bar was broken up.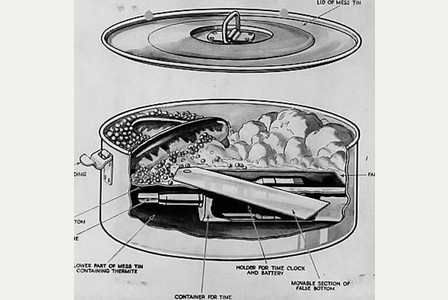 The Nazis actually hoped to use it as a weapon to assassinate war time British Prime Minister, Winston Churchill and are said to have tried to smuggle the chocolate into other items that were being taken into the War Cabinet's dining room.
The details of these plots were discovered in a letter written by Lord Rothschild who also included small sketches of these Nazi booby traps. Rothschild was a scientist himself and was part of MI5's counter-espionage unit during the war, so he had an inherent interest in these kinds of spying methods, the Newser reports.
Rothschild sent the devices he came across to an artist so that he could capture them on paper and begin a manual for MI5 agents so they would know what to look out for during operations.
The letters have only just been uncovered by Lord Rothschild's daughter a few weeks ago.