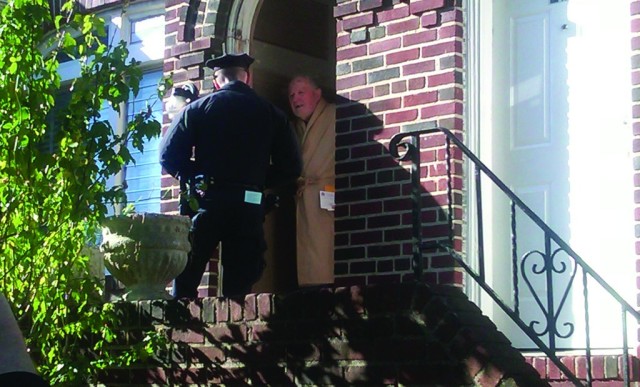 Jakiw Palij lives in Jackson Heights, Queens, New York City and is thought to have been a Nazi guard at one of the regime's concentration camps during World War Two. However, Jakiw is now 92 years old living a quiet life in his Queens' apartment.
Jakiw is the sole remaining active case involving the World War Two Nazi regime being investigated by the US Justice Department's Office of Human Rights and Special Prosecutions, also known as the Nazi hunters.
The Justice Department has tried many times to deport Jakiw, but all have failed. In 2004, he was ordered for deportation, but none if the European countries that could take him wanted him.
Jakiw worked at the Trawniki concentration camp in Poland, yet he has continuously denied doing anything wrong. He says that he and other young local men at the time were forced to work for the Nazis during the war.
Eli Rosenbaum is the director of Human Rights Enforcement Strategy and Policy for the US Justice Department and has helped to hunt down and around 137 Nazi supporters from the war and have them deported. These include John Demjanjuk, who was deported and then found guilty by a German court of accessory to over 28,000 murders for his role as a guard at the Sobibor concentration camp. Michael Kolhnhofer was also investigated but was so annoyed with his impending deportation he ended up in a shoot-out with local police in Kansas City and died.
Eli had grown up in New York but didn't remember his family talking about the Holocaust much. However his father did talk about his military service during the war and told Eli the story of how they arrived at the Dachau concentration camp a day after it had been liberated. Eli recalls how his father was in tears as he recalled the memories of that day.
The US Justice Department began the search for tracking former Nazis now residing in the US, as well as those involved in other war crimes including in Bosnia and Guatemala. Eli oversees all of these kinds of cases.
When Eli began there were around 70,000 possible Nazis living in the US, and it was Eli and his team's job to investigate them. However, they now find it increasingly difficult to find original records and documentation, especially since many were locked up in the Soviet Union. Also, many of these people did a good job of covering up their identities and got into the US disguised as refugees.
Eli says that his cases are the ultimate cold cases since they took place so long ago and on another continent.
Source: http://ift.tt/1SOsREp