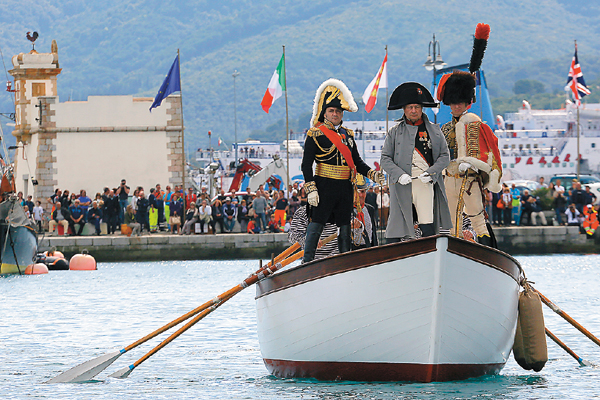 A year of commemoration festivities has culminated in re-enactors making the same journey as Napoleon Bonaparte did 200 years ago from Elba to the French coast.
Napoleon the First came to power as the Emperor of France from 1804 to 1814, and again in 1815.
For twenty years, Napoleon governed European politics through the Revolutionary and Napoleonic Wars in Europe. He won many of his battles and eventually controlled most of Europe, until his defeat at the Battle of Waterloo.
In the Treaty of Fontainebleau, Napoleon had been exiled to Elba, while his wife and son fled to Austria. But he heard rumours that he may soon be banished to another island further away. This is when, in February 1814, Napoleon escaped back to France.
Napoleon had quietly escaped by boat for the French coast, where he intended to make his way north to continue his battle for France.
French Army soldiers marched with him to Paris, where Louis XVIII fled. He was not recognised by foreign powers and they came together to stop his attempt to regain power.

Napoleon gathered 200,000 troops, which he decided to send on the attack of the advancing Allied troops of Britain, Prussia, the Netherlands, Hanover, Nassau and Brunswick (now Germany).
It was at the Battle of Waterloo that Napoleon's final fate was to be sealed. Allied troops held their line, and fought off repeated attacks from Napoleon's army.
Now 200 years later, re-enactors dressed in full 19th-century costume came together on Elba to re-create the Emperor's great escape, the France 24 reports.
Napoleon, the re-enactor, gathered together his Grande Armée in the main central square of Elba's Portoferraio. He led them past the British Fort and his prison residence of the Villa dei Mulini.
Napoleon then attended a mass and gala to commemorate his escape. After which he boarded the Pandora and set sail for the French coast.
Since the commemoration festivities began a year ago, more than 20,000 visitors have made the trip to the Italian island of Elba to see where Napoleon was kept prisoner and learn more about his epic life and journey.
Next week, commemorations move to the French coastal town of Golfe-Juan. Another Napoleon re-enactor will take over and they will re-create Napoleon's return to France.