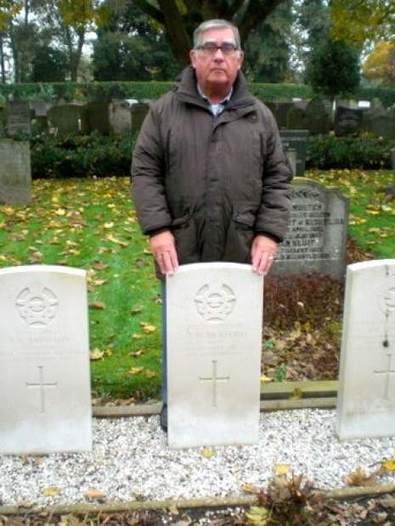 During a radio speech she gave from England in 1942, Queen Wilhelmina promised that the Netherlands would never forget those who fought and gave their lives for the liberation of the country and that every person and every name will be remembered and will live on forever.
Tony Myres and Peter J. Bickford, his cousin, will be traveling 270 miles from where they live in Bristol, England, to go to Strijen and Oud-Beijerland in South Holland, western Netherlands, on May 2, 2015. Myers says he is very excited about his and Pete's journey and that he has already circled the day on his calendar. He says Strijen is a wonderful town and that he can't wait to return there for such a special occasion.
Myers, who is 56 years old and Bickford, who is 58 years old, are the nephews of Flight Lt. Peter William Bickford. Before he joined up to fight in the Second World War, Lt. Peter Bickford lived in Monongahela, went to school there and worked at The Daily Republican newspaper in Monongahela. On Sept. 16, 1944, the Royal Canadian Air Force pilot was killed when his Lancaster Bomber M693 crashed near Strijen. The 24 year-old airmen and his crew died and are buried at the Strijen Cemetery. Now the reason why Myers and Bickford are traveling to Strijen on May 2, 2015, is so they can attend the ceremony dedicated by the Dutch citizens to those airmen who lost their lives in the Second World War. A monument will also be dedicated in their honor.
Other airmen who were on the Lancaster Bomber M693, on Sept. 16, 1944, were F/O Arnold Ney Johnston, P/O Douglas Dawson, F/Sgt. U.B. Butters, P/O Donald George Flood, P/O P.L. Dooley and F/O Winifred George Scanlan, the Trib Live reports.
According to Anton de Man, who organizes the memorial campaign in Strijen, the monument is being built to pay tribute to the 87 Dutch and Allied airmen who were killed in these aircraft catastrophes during the Second World War and to emphasize the fact that these young and brave men, along with Flight Lt. Peter W. Bickford, gave it all for the freedom of the country.
De Man said many crew members died over the Hoeksche Waard island between 1940 and 1945, as they fought against the German occupation of the Netherlands. While some of them were put to rest in little villages across the Hoeksche Waar, others were buried abroad. To honor and remember these young men, who gave their lives for the Dutch people to live in a free country, for them "we plan to erect the monument."