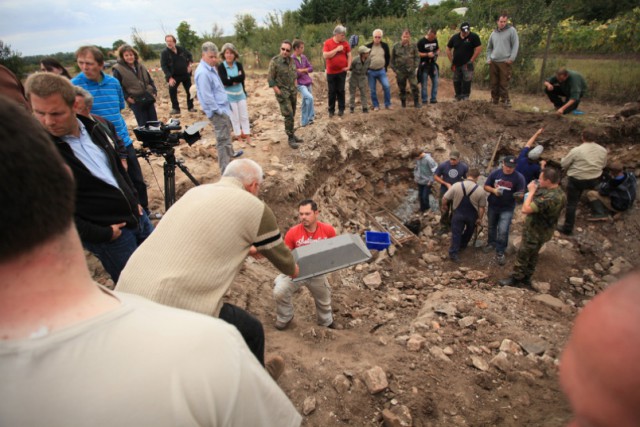 The remains of five men, who were part of the crew of an RAF Lancaster shot down over Germany over 70 years ago have finally been laid to rest in the same coffin.
Lancaster ED427 from 49 squadron RAF Fiskerton, took off on the evening of 16th April 1943, bound for Pilsen in Czechoslovakia. The aircraft was to take part in a raid on the Skoda engineering works, but Pathfinder aircraft had mistakenly dropped their flares on the wrong target, and a large psychiatric hospital received the brunt of the attack.
German casualty reports later stated that 300 patients were killed, and 1,250 German soldiers and civilians were killed or wounded.  The crew of ED427 who could not have known this dropped their bomb load and turned for home, some 800 miles away.
Tragically, they were never to return. The Lancaster and its crew were lost without trace, and the 7 crew members were listed as missing in action. It was assumed that the aircraft had crashed into the sea on the return journey, and the families of the crew were notified accordingly.
In 1946, an RAF officer was investigating crash sites in Germany, when he received an eye-witness report saying that on 17th April 1943 a large aircraft had crashed in flames just outside the village of Laumersheim, 14 miles west of Mannheim. The witness said that some body parts had been recovered at the time. The investigator subsequently discovered that these had been buried in the military section of the Mannheim cemetery, with an inscription saying they belonged to unknown British fliers.
The remains were later exhumed and identified as being those of two crew members from ED427. They were exhumed and reburied in the Durnbach war graves cemetery. The official file on ED427 was closed in June 1949, the Mirror reports.
The story doesn't end there, however.
German archaeologist Uwe Benkel began to research the mystery surrounding Lancaster ED427 in 2006 and spoke to an 83-year-old witness who led him to the crash site.  The wreckage was buried deep in the ground, and It was not until September 2012 that it was located and excavated, and the un-recovered crew remains were finally exhumed.
The remains of Flying Officer Alex Bone, Sergeant Cyril Yelland, Sergeant Norman Foster, Sergeant Raymond White and Sergeant Raymond Rooney have now been laid to rest with full military honours in Durnbach war graves cemetery.
Uwe Benkel said 'They flew together and died together, it is only right that they should stay together.'